Starting a tour company is a daunting challenge! Here Amanda, our Executive Director, shares her experience as an entrepreneur with her tour company in Chicago, which was founded in 2018. In 2020, the tour company became a virtual events company. Here are her thoughts on going into small business in the travel and events industry.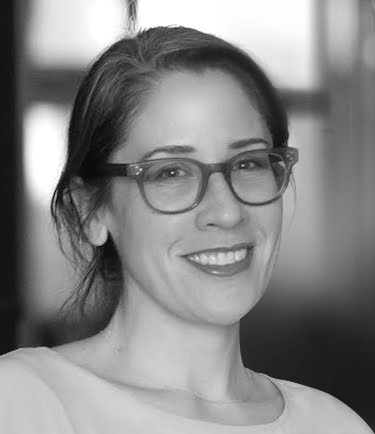 How do you start a tour company?
I launched Chicago Detours in July 2010 in order to share the architecture, history, and culture of Chicago through guided tours. I'd always loved storytelling, art, architecture, and travel and had never imagined that I would be able to make these interests come together into a career. During my first year of college, I was awarded a summer scholarship to travel to Italy for language study. That trip solidified my love of learning languages and exploring the world.
Since I wanted to return to Italy, I thought I could try getting a job in tourism there! Rick Steves' Europe hired me on as a Tour Guide and Guidebook Researcher. My specialty was Southern Italy. For a decade, I worked as a tour guide and traveled back and forth between Italy and the States. I took Americans around the country on guided multi-day tours. I learned a lot about being an educator and trip organizer from my tour guide work with Rick Steves.
Living between two countries over the years was a bit disorienting. I decided to bring my travel expertise back home, with the goal of starting a tour company. Before launching Chicago Detours, I wanted to really know Chicago history and architecture inside and out. I pursued an advanced degree and got accepted to the University of Chicago. My interdisciplinary degree, an M.A. in the Humanities, allowed me to study anything from Black Chicago History to the history of skyscrapers. So that, in short, is how I came to make Chicago Detours happen!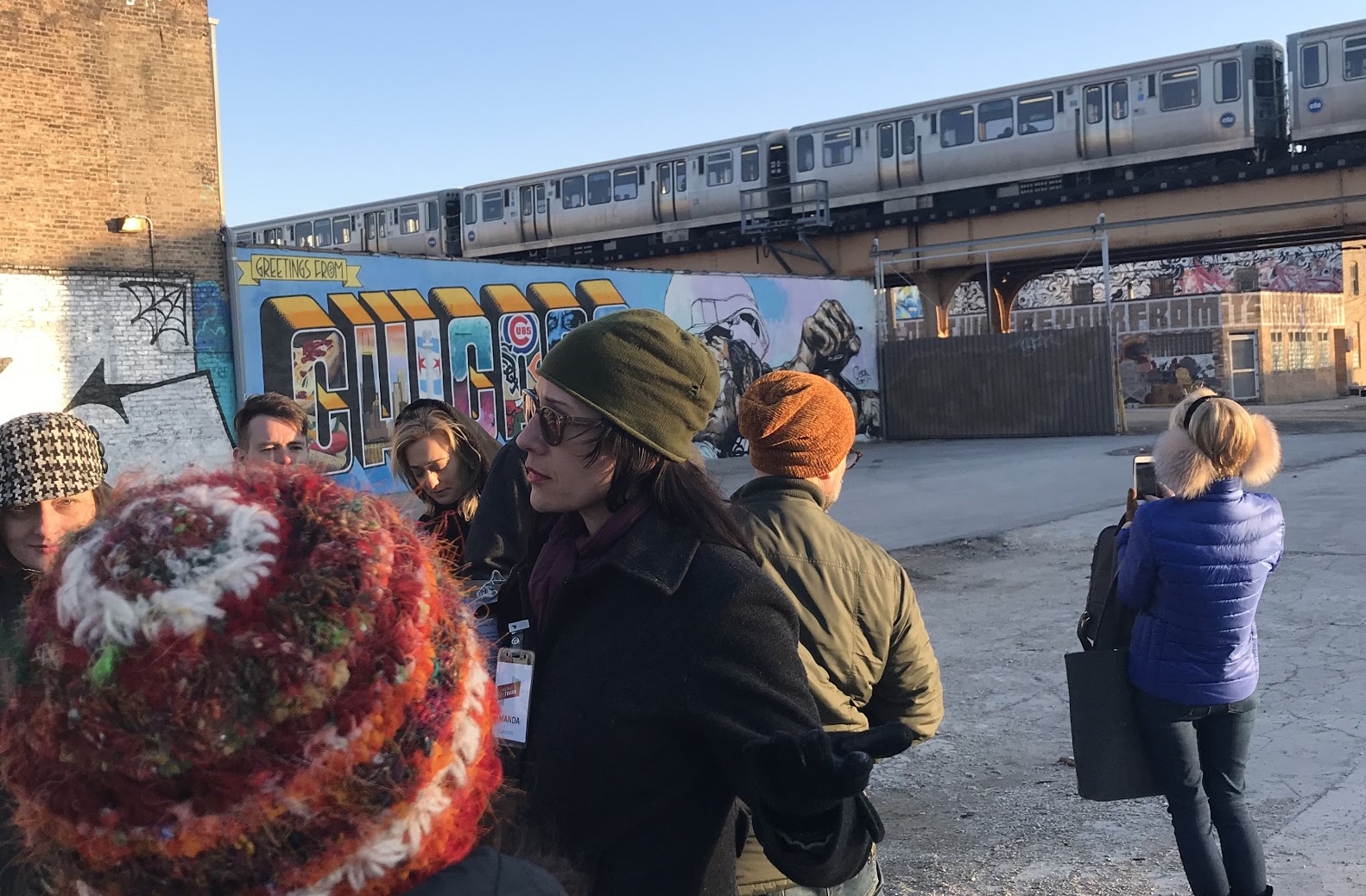 Getting a tour company off the ground
Being a new small business owner is never a smooth road! In the beginning, I arrogantly thought that I'd be different. I was very quickly proven wrong. It was really hard those first couple years!
My fantasies of being a business owner were, indeed, complete fantasies. I thought I might do a tour or two a day, pop into the office for an hour, and then go hang out on the beach. I quickly found out that marketing was a much larger task than I'd imagined. The difficulty of even getting people to notice you meant that I often rejoiced at getting two people to come on a tour! I also realized that I would not be able to make Chicago Detours happen as a one-person venture.
One of the big issues in the early days was that I didn't know I was offering something unique. I wanted to bring people to explore stories and places locals don't even know (which is our tagline today). This travel philosophy meant I would, for example, take them into buildings, instead of just talking about architecture from the sidewalk.
In those buildings, I'd share concepts, ones I'd pared down from scholarly research, and told forgotten stories that I'd culled from archives like personal diaries or vintage travel guidebooks. I wanted to make a fun and educational experience. Something more than a guide who lists dates and names and tosses out rehearsed corny jokes.
The learning curve for starting a small business
But I didn't realize that the tours I was creating were much different than traditional expectations. I often got frustrated when people like hotel concierges didn't understand what I was trying to do. I forgot what we all learned in business class – for new products, there's a bell curve. You'll get early adopters and then only later do you get the masses that follow.
That's exactly what happened with Chicago Detours.
Part of growing as a company is making mistakes, too. You have to make mistakes to learn. For example, I lost thousands of dollars because I trusted a recommendation instead of digging in myself.
A friend connected me with an agency for a marketing project. This guy's company and its services were not honest.
I got charged $100 an hour for a PR project which he assigned to a woman whose job was actually to order cafe equipment for him.
I got scammed out of thousands of dollars, which was a ton of money for a new business owner. I learned to always shop around, even when I'm urgently trying to get something accomplished.
More recently, it's a struggle to stand out because a number of tour companies have opened up with similar concepts, tour routes, branding, and even language straight from our website. Imitation is the best form of flattery, right?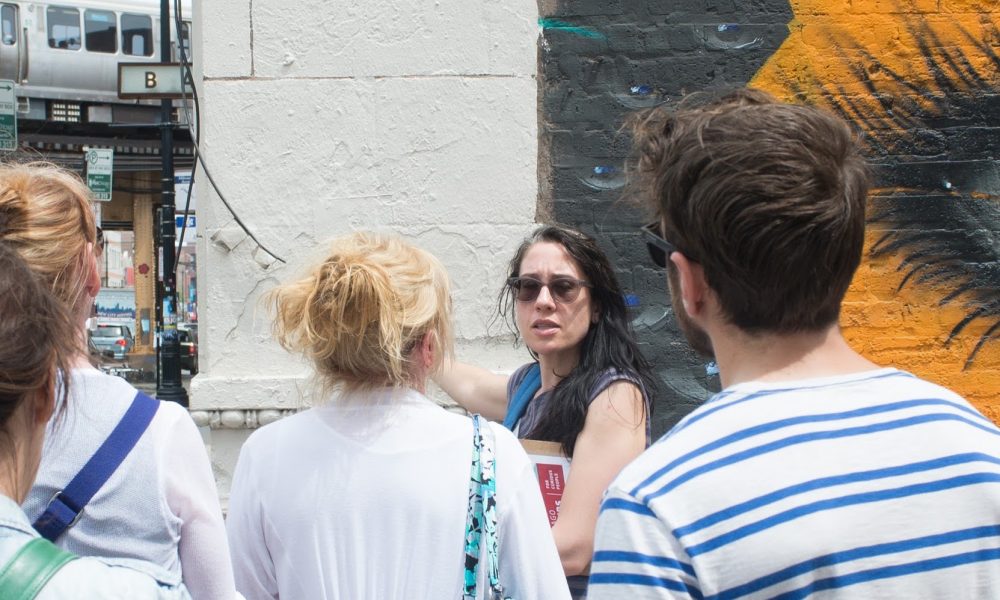 What are you most proud of as a tour company owner?
When starting a tour company I knew it'd have to be unique. Chicago Detours offers guided walking and bus tours of architecture, history, and culture to public and private groups. We do fun stuff, like jazz and blues, Chicago neighborhoods, interior architecture downtown, and historic bars.
We also blog about overlooked or forgotten stories of Chicago architecture and history.
I'm proud of how awesome our professional Chicago tour guides are. I hire smart, fun and passionate people who are good educators. They have a lot to do with how we are one of very few Chicago tour companies with five solid stars on both Yelp and TripAdvisor.
Our tours also employ the presentation of media, like historic photos and film clips, through the use of either shared iPads or video screens on a bus. And then our ethos! We like to say that we bring people to explore stories and places locals don't even know. The content of our tours comes from digging through old books, newspapers, magazines, and various archives as well as scholarly articles to share stories and ideas that don't exist elsewhere.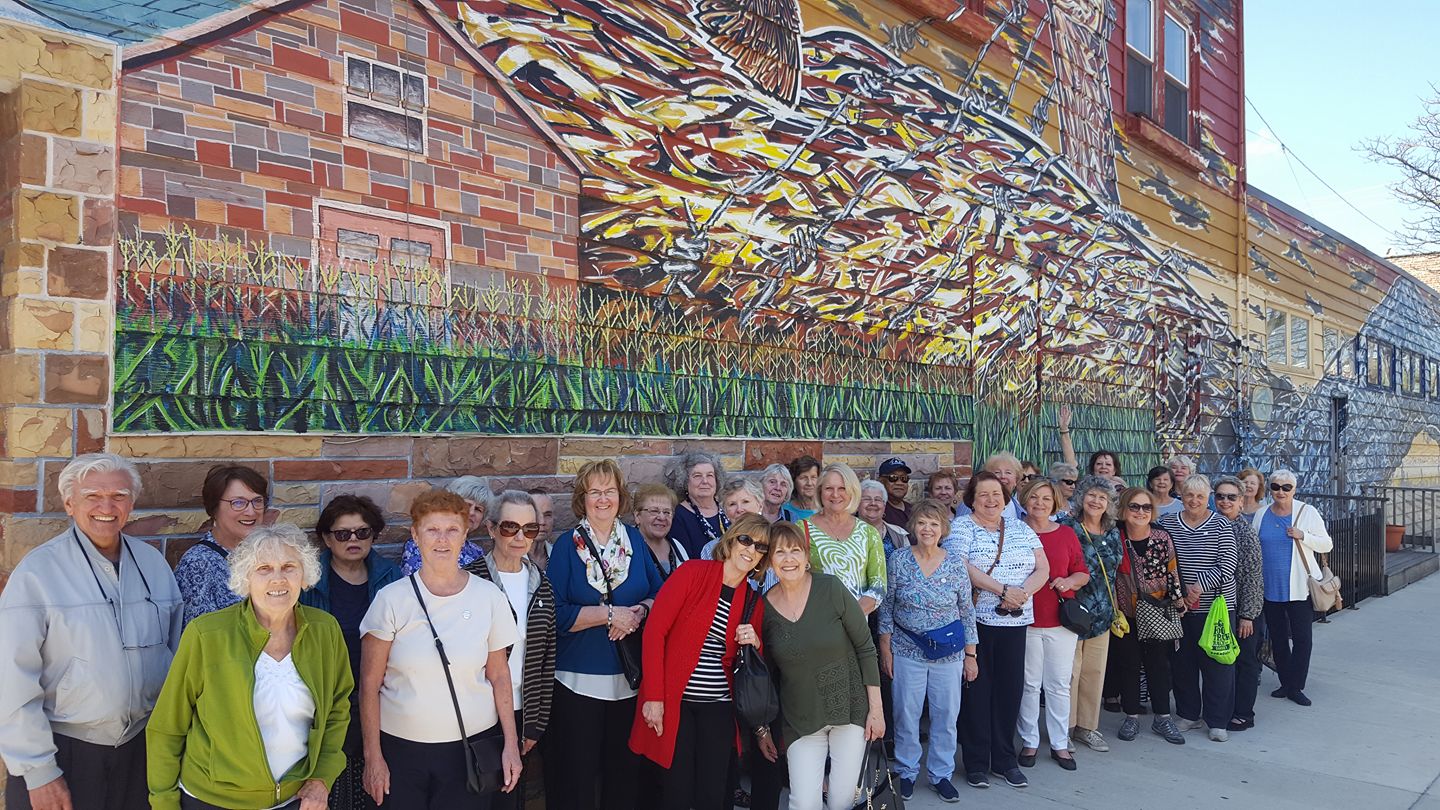 Where do you see the tourism industry going?
Travel is changing so rapidly because of the access to information that people now have at their fingertips, and as a result, people are making plans last-minute, from booking their trip to finding a restaurant to eat at.
This is a huge trend. Even just being able to look at a building and google the history of it means that anyone – whether on a trip or a resident walking down a city street – can decide in the very moment as to what kind of information they want when they want. It's very different than walking a route outlined in a guidebook. Now you just go anywhere and make your decision as to when and what kind of information you want to access.
Recently, people want to find what makes a place unique. Gone are the days of being on a trip and shopping at chain stores. People want experiences, and when they travel they want experiences that they cannot get elsewhere.
Making Chicago tourism a unique experience
That being said, a person cannot necessarily curate a special experience on their own. Airbnb Experiences, for example, is trying to connect people with opportunities that they could not create on their own (yet are still available to book through their smartphones of course). Airbnb Experiences are crafted both around an activity as well as the unique character of the host themselves.
We see experiences becoming more developed in the ever-competing market of bars, for example. "Barcades" are popping up all over, as well as escape rooms with bars. There's even a place where you can throw axes for fun. Speaking of bars, we will continue to see a rise in interest in food and drink!
I believe the future of travel is in curated travel experiences that give people the personal connections. It's about learning, entertainment, and enjoyment that phones cannot replicate. And this is indeed what Chicago Detours does with our tours of interior architecture, historic bars, jazz and blues, culinary history and Chicago neighborhoods. I could not have guessed all this when the idea to start a tour company first occurred to me.
This post has been adapted from an interview which originally appeared in Voyage Chicago.