I realized my tour company business is not the business I thought it was. For over a decade, my team and I specialized in neighborhood walking tours, downtown architecture tours, and more recently, virtual tours that really connected people to places.
Over the past year, I have realized that after having hosted more than 85,000 tour guests, we have become much more than a tour company. One of our true strengths is storytelling. All those hours of giving tours and seeing what sparks attention, insight, and humor from our guests has turned our tour guide team into an unparalleled set of storytellers. 
We are uniquely skilled at telling the story of Chicago's people and places in a variety of media and with a huge range of topics, from food & drink traditions to architectural styles. A tour could be considered a form of media. Additionally, we share the story of Chicago's neighborhoods, small businesses, and architecture across time via documentary video, public speaking, animations, map-making, and more. We have evolved into a one-stop-shop for hyperlocal Chicago content production. Here is how our background as tour guides makes our team awesome storytellers for all kinds of content. 
The Emotional Experience of a Story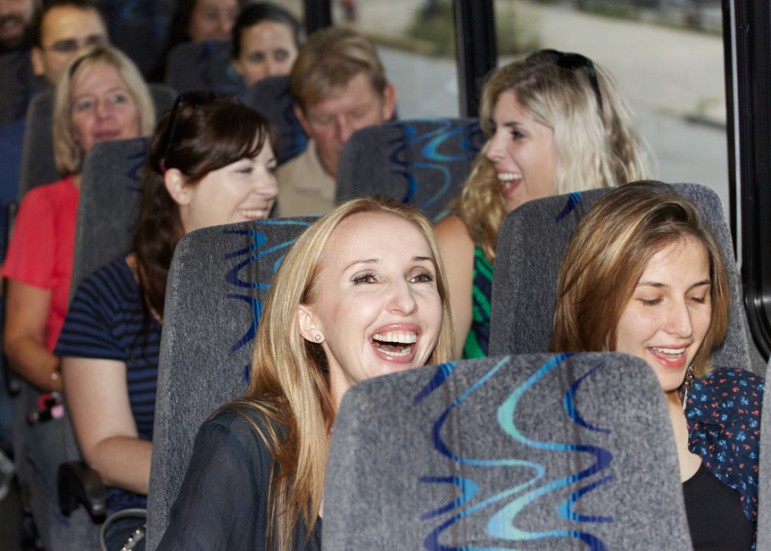 The magic of sharing our city's history never gets old. We've walked countless groups under the glittering Tiffany dome at the Cultural Center and shared the story of the Berghoff thousands of times. Telling those stories and experiencing those spaces was always exciting. Chicago Detours guides are passionate about what we do, and it shows. This city and its stories are our passion and our expertise because, frankly, we are in love with this city. Its history, customs, peoples, places, palaces, foibles, fables, and tall tales are all topics we crave.
A good story transmits well because of the feeling behind it. You sure can know a lot of facts, but if you don't have passion behind it, your tour or article or podcast or whatever media it is can fall flat. We're pretty sure that ability to express our passion for Chicago has been part of our success as a tour company over the years. Hard to believe otherwise when we have been voted the Reader's "Best Tour of Chicago" runner-up for the past two years. We are a specialized, boutique company that designs high-end, custom experiences.
Additionally, names, dates, facts, and figures get real boring real quick if a storyline isn't there to make them relatable. Wikipedia we ain't! Instead, we craft experiences with a compelling narrative and meaningful themes. We've known that on top of the aforementioned passion we possess, a story gets good when it's well constructed with a clear beginning, middle and end, with developed characters and even a conflict.
When designing our award-winning tours, we tested out moments of intrigue and suspense, sad stories and hopeful ones, and funny moments after a deep thought. Sometimes the order and the phrasing really hit home, and others times… not as much. Our team has had years of practice in testing out our stories, and by having the immediate feedback of live guests, we have honed our skills.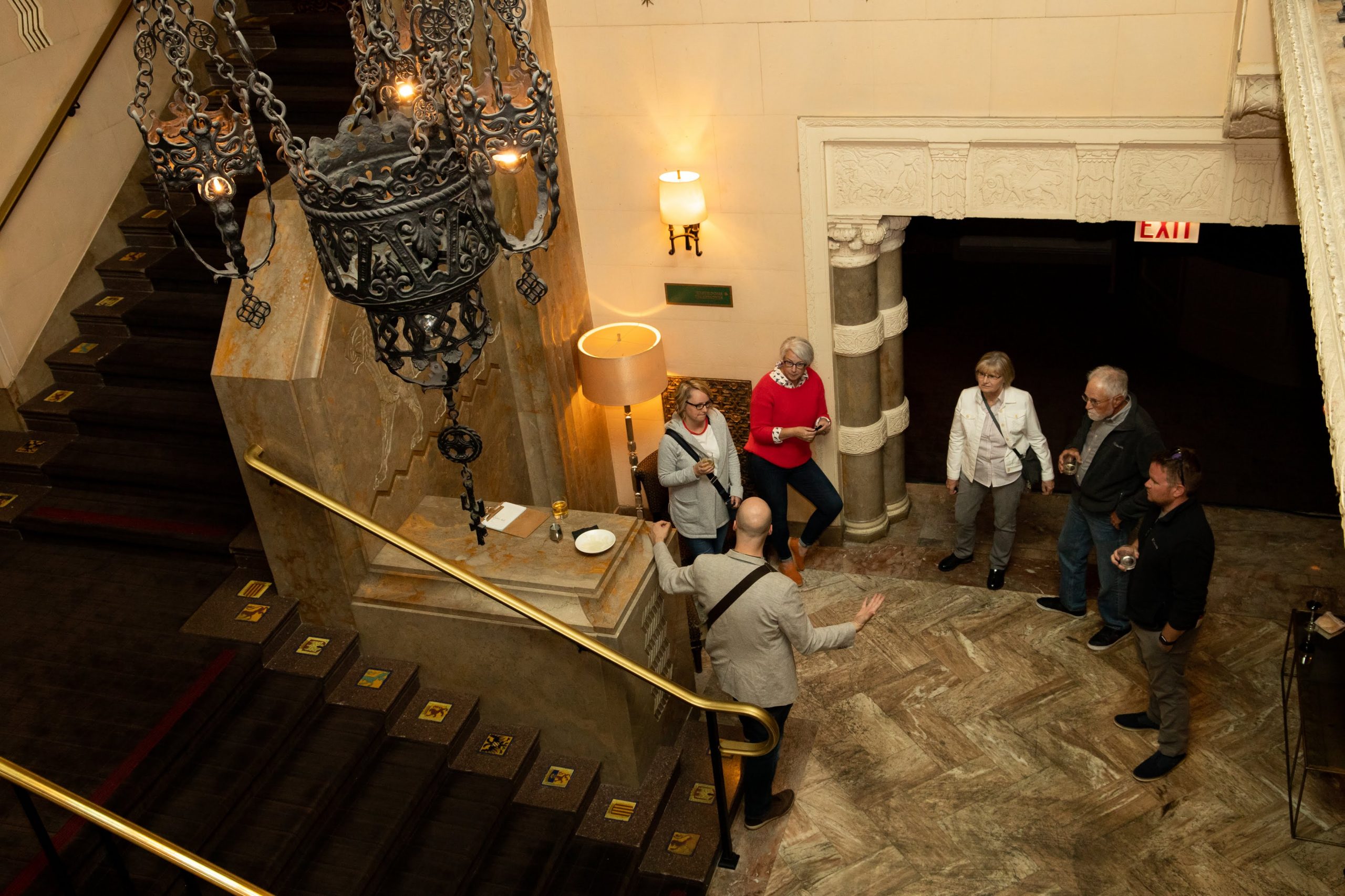 On our tours, we have running concepts and build links between locations and different stories. We plant the seed about a style or historic figure and then pay it off with a reveal an hour later. For example, I designed the old Historic Chicago Walking Bar Tour years ago to visit the fabulous Medinah Athletic Club. The tour guests would figure out what the building showed us about itself by looking at key architectural features. Then I left them hanging with many questions – only to loop back to the site nearly two hours later for the grand finale. We would use the building's story to reveal the secrets and sum up the entire theme of the tour – that the more we learn about people of the past, the less we find that they were different from us in the present.
Working with the University of Chicago, we designed a custom bus tour that told the story of the University's civic engagement with neighboring South Side communities. All the sites and stops revealed elements to the university's influence and collaboration across history.
Now as a content production company, we imbue the foundation of any content creation with a theme, then we use foreshadowing, intrigue, continuity, flow, and emotional experiences that we used on our tours. We're particularly proud of being able to build a narrative around every kind of written, visual or experiential content that we make for corporate, university and non-profit clients.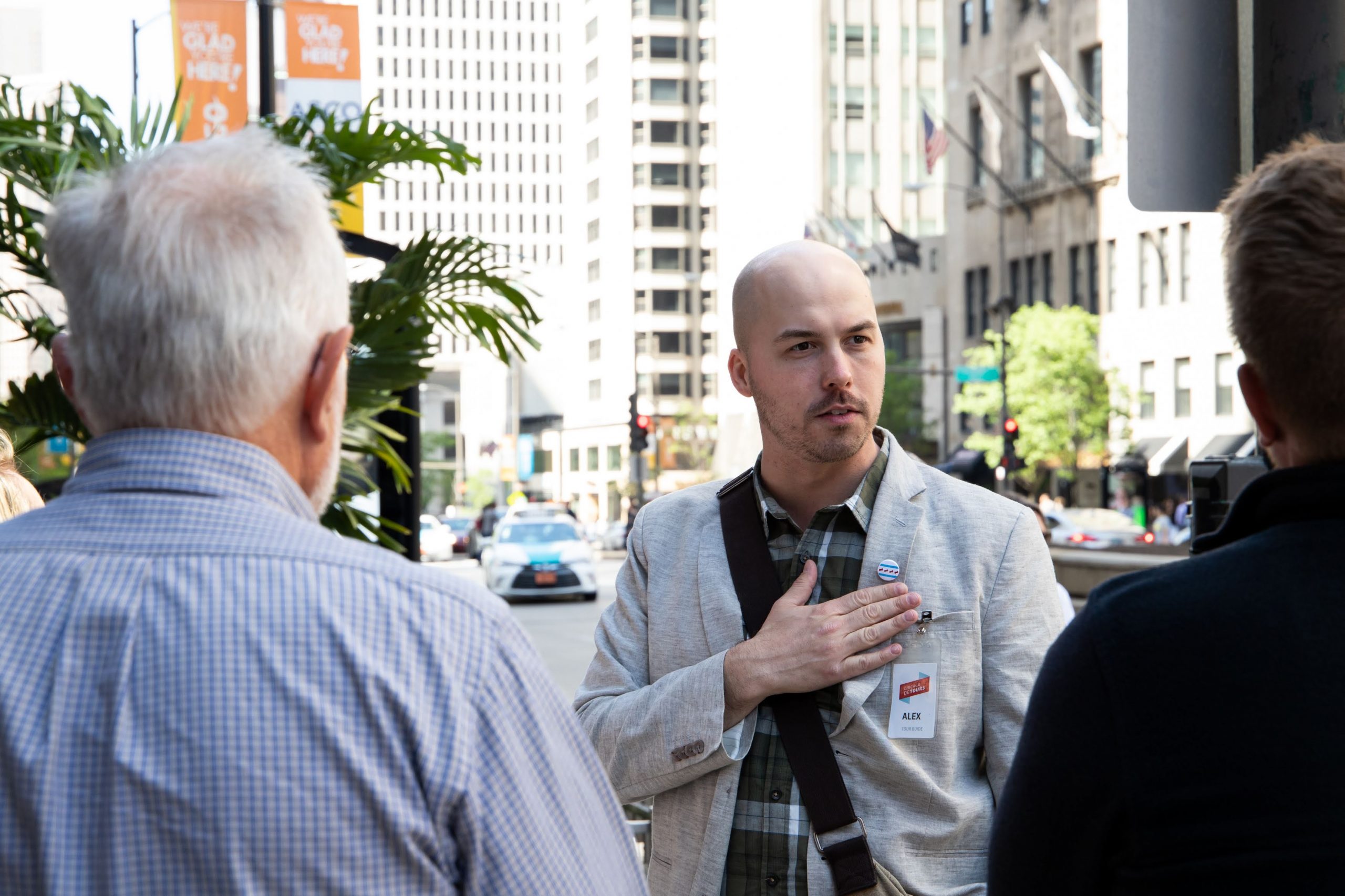 A story is only as good as its teller. Even the most surprising reveals and intriguing facts will fail to pique interest if they're not presented well. We have found that this is especially true for our in-person tours and virtual events, where the guide needs to be charismatic enough to draw attention away from the world's myriad distractions. While other tour guide training programs may focus on memorizing facts of Chicago history, the Chicago Detours guide training had an element of learning how to engage and relate to an audience.
Tour guides spent weeks learning how to perfect vocal clarity, be sensitive to giving eye contact, possess awareness of our body language (especially needing to smile more than you think you are!) and many other details of alternate routes, ways to handle distractions or interruptions, and so much more. My own experience with Rick Steves was the basis of how I instructed Detours guides, making them a commanding and trustworthy presence, rather than a font of information.
Safe to say, that training means our team is composed of storytellers with years of experience at successfully engaging audiences both near and far. The most important aspects of audience engagement, in our experience, are clarity, warmth, and personality. The stories we tell are often based around bringing things like past events or architectural details to vivid life. In order to make the tours as lively as possible, I encouraged guides to slowly personalize the tour experiences. We wanted to share the same tour route and tell the same stories, but let each guides' personality show in the telling. I know that Alex, for example, loved to use jokes and clever phrasing as a way to make the stories match his "Dad humor" personality.
Bringing Research to Life
The devil is in the details and those details are often overlooked and can be easily missed. So we dug through archives, like old books, newspapers, magazines, dissertations, to ensure our content is thorough, revealing, and compelling. At times, we also conducted interviews with people who have lived the history, too.
Our Architecture and History Blog which you are now reading is a long-standing passion project for the company. We have published hundreds of posts that show a decade of research and writing about Chicago neighborhoods, their history and architecture. Each of those pieces is the result of extensive research, including visiting archives, library collections, interviews, and on-the-ground sleuthing. Pieces like our investigation into "From Glamor to Gloom at the Pittsfield" rest on this ability to pull together disparate sources and produce a unique insight into a landmark building.
Similarly, we were commissioned to build a custom virtual tour of Evanston for a community fundraising event. To design it, we conducted historic research, wrote the script, and sourced archival photos and 360-degree images. For the event, a live host presented the images with stories from history, background on present-day landmarks, and culinary highlights from small businesses.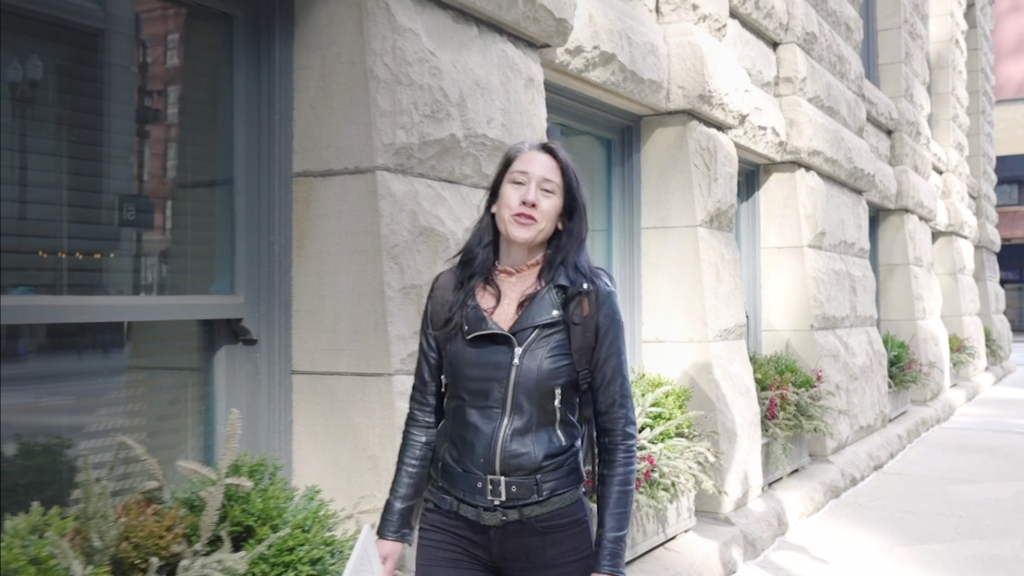 Of course, we've applied that same level of dedication to research and editorial work for clients. Our Executive Director, Amanda, gave a lively address about the unique history and character of Chicago to the Recorded Video Tour of Downtown Chicago. Her talk was based on research we'd conducted and an original script which mustered archival and published material to present a new perspective on the overall story of Chicago.
We even pack original research into the tiniest formats available. Our research went into the script for two-minute-long historical "fun facts" for the Choose Chicago "Virtual Road Show" for meeting and events planners. Amanda presented the stories as on-screen talent. She also wrote entries on neighborhood food specialties and culinary experiences for The Chicago Food Encyclopedia, an authoritative reference and guide.
Let Us Share the Story of Chicago With You!
It's sort of frightening to realize that the company you founded and led for a decade is suddenly not what you thought it was. But there's also a thrill to that sort of discovery! All new avenues for storytelling suddenly seem wide open. It's a lot of work to envision which path to take and an even bigger challenge to travel that path. It's liberating to know that we know Chicago and can tell you its story in whatever way we can.
– Amanda Scotese, Chicago Detours Executive Director