Leading Chicago walking tours in winter presents a unique set of challenges. Chicago, you may have heard, tends to be grey and cold in the winter. Now, don't get me wrong, there's still plenty of great reasons to visit Chicago in winter. Leading a winter tour is much easier when the weather is nice, though. So I wanted to explain what our guides do in order to lead great Chicago walking tours in winter.
#1. We Guide Winter Tours by Staying Indoors
Chicago is literally engineered to help folks get through the cold half of the calendar in reasonable comfort. We get a leg up in designing tours for winter from these feats of engineering, of course. It only gets us so far, though! Tour guests after all, are not joining us to hear about the urban heat island. They want to slow down and really connect with the architecture and history of the city that they're exploring.
Happily, Chicago has a bevy of interesting places to go and stories to explore indoors. We Chicagoans spend our time working and living inside the amazing buildings of our world-famous skyline. So our tours, especially the Loop Interior Architecture Walking Tour, delve into the psychology and history of the inside of this grand city. That also means that our tours can run year-round without people freezing or broiling outside.
#2. We Tour Guides Dress Correctly
This may sound odd, but it's a mistake to dress too warmly if you're leading Chicago walking tours in winter. The very first tours I lead were at the start of January 2016 and it was freezing outside. So I dressed for the weather: heavy sweater, long johns, thick winter coat, scarf, gloves, and hat. Friends, I am not too proud to admit that this was an extremely dumb move. I was sweating bullets by the end of each tour.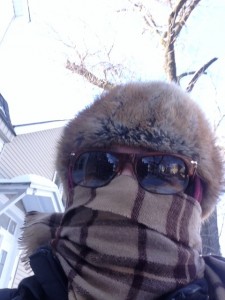 That's not to say that a tour guide shouldn't try to stay warm. Definitely don't wear a short-sleeved shirt on a tour in January! But guides spend hours of mostly-indoors walking, talking, and gesturing that I was embarking upon. So I quickly learned to dress like the weather was 15 to 20 degrees warmer than the actual temperature. That kept me cozy enough when walking from Chase Tower to the Chicago Temple. It also saved me from being sweltering in the Pedway.
#3. We React to Our Guests' Needs
Obviously, you should be doing this all the time as a tour guide. It's just a sixth sense you develop based upon people's looks, gestures, and body language. When leading Chicago walking tours in winter this will means knowing when guests are just too damn cold. I never drop any of the stories or insights that make our tours so lively and unique. But I'm also very conscious of when a story might play better indoors.
Case in point, I tell stories relating to the early days of jazz on our Historic Chicago Walking Bar Tour. Normally, this whole stop takes place outside of the shuttered Phil Stefani's Rush 437. However, the situation changes when that winter wind comes whipping up from the river. No matter how good the story or storyteller, nobody will keep listening for five minutes while they shiver. So I've taken to telling the essential story elements outside and then finish the talk inside the next bar. Guests are going to be happier and more attentive when they're comfortable.
#4. We are Prepared to Adapt to Winter Conditions
This is a truism all the time, and it's especially pertinent for Chicago walking tours in winter. Stuff can and will get a little weird when the whole city feels like an igloo. While leading tours I've encountered falling ice signs, blocked stairways or sidewalks, and even whole buildings temporarily shuttered with little or no warning. In moments like that, you've got to roll with the punches and rely on your experience and knowledge.
The best thing to do, honestly, is to act natural. If you don't get flustered or confused then nobody will be the wiser. Just a few weeks ago, I got a call from a tour guest saying he'd heard that the building we were set to meet at in 30 minutes was closed. I told him that I hadn't heard that, but would set out early to figure things out. Got there, talked to security, made sure we still had access, and everything turned out just fine. In fact, most of the tour guests didn't even know of the closure. It was stressful for a second, yet pretty fun and thrilling to figure things out on the fly.
Leading Chicago walking tours in winter certainly can be a challenge. Yet it can also be a real treat to master it and make sure that your guests have a great time regardless of the cold outside.
– Alex Bean, Content Manager and Tour Guide