Our Badass Women of Chicago History event on Monday, March 26, 2018, was awesome in many ways.
An Awesome Audience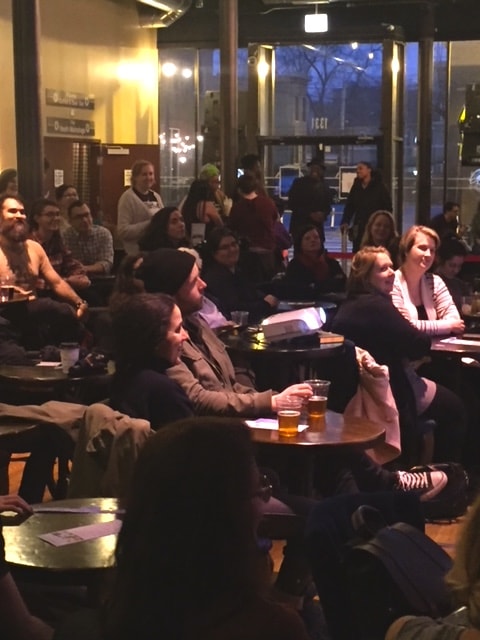 Two hours before the event, we sold-out. Luckily we had a few standing room tickets available at the door. We were in an open space at the Den Theatre with a capacity of 75 seats. For the first time having done an event like this, we were pleased with the turnout.
We also particularly appreciated the presence of some older generation badass women in the audience, including tour guide Sonny's 93-year-old grandma!
Storytellers for our Women of Chicago History Event
Each presenter offered his and her own take on their chosen badass subject. I started off the evening with a story culled from various archival readings on Kittie Smith, who I'll explain more about below. Some were her own personal accounts and others were quotes from journalists. Then Kyle Ann Sebastian supplemented her story with videos to show the character and determination of activist Rev. Willie Barrows. Comedian Erin Grotheer read from a rather colorful word-by-word speech given by Carrie Jacobs-Bond almost a hundred years ago.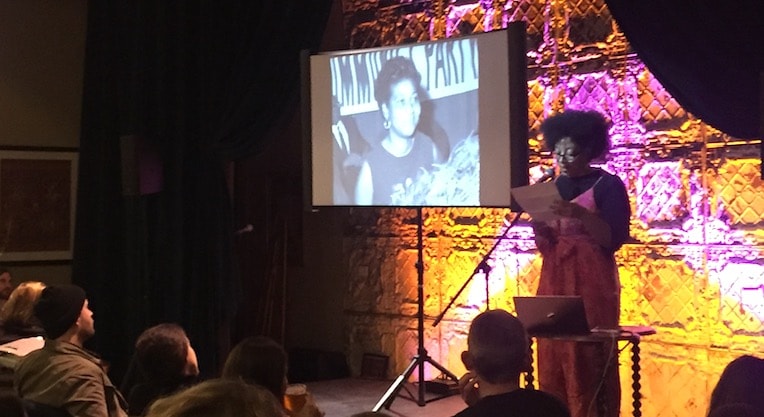 Storyteller and founder of the Badass Black Women's History Month Project, Ashley Ray Harris, offered her expertise with a comprehensive story of the badass-ness of Charlene Mitchell. Official Cultural Historian for the City of Chicago, Tim Samuelson, marked his presentation with his super fun and accessible approach to history. He peppered his presentation with lots of great archival images and even ads about Helen Fortney, whom he called "his badass girlfriend." And then performer Krista Damico capped off the evening with an energetic, jam-packed story of Jeannette Ridlon Piccard.
The Cause Behind this Chicago History Event
That this event benefitted the Chicago Women's Health Center, an Uptown-based organization, is historic in itself and most definitely badass. The CWHC is embedded in the history of the women's health movement and feminism in Chicago. Today they are a leader in reproductive justice and health care.
We were able to give beyond the proceeds of the event and the raffle to CWHC. Super awesome!
Most of all, the Badass Women of Chicago History
Wow, such incredible stories were shared for our Chicago history event! Around the turn of the century, Kittie Smith had an accident in which she lost her arms, and then she learned how to do more skills with her feet than most of us can do with our hands. She could dress herself, comb her hair, type, draw, and even saw wood and hammer nails. Then with the help of an entire staff, she made a campaign to raise a ton of money to help support her. And on top of that, she likely was the first woman to vote in Cook County – and she did it with her feet!
Rev. Willie T. Barrow aka the Little Warrior earned her reputation as a fierce fighter for justice and community organizer. Although she is often overshadowed by men she worked with and mentored–like Dr. Martin Luther King Jr. and President Barack Obama–she insured her legacy by establishing the Barrow Fund for Black Women's Leadership.
Carrie Jacobs-Bond was one of the most successful composers in all of history. She had her parlor songs printed with her own publishing company, and ended up making a fortune off it. Her song "I Love You Truly" became a classic for weddings. "End of a Perfect Day" was like a WWI anthem. Before she died, she got her hands on her own obituary that the newspaper had already written, and gave a pretty hilarious speech in response to it that Erin Grotheer read for us.
Charlene Mitchell is an activist who pushed movements, from socialism to Civil Rights to feminism, to be more inclusive. Whether defying prison guards who prevented her from bringing cookies to her dad, or running her campaign for president–the first black woman to do so–while working in her friend's bookstore, Charlene is a force whose work resounds in today's movements for social justice.
Helen Fortney, originally of Lake Geneva, moved to Chicago with aspirations of becoming a body guard. She had very impressive biceps and loved shooting guns!
Jeannette Ridlon Piccard was a maestra of flight with an incredible lifetime of accomplishments. Ends up that in addition to collecting a series of degrees from organic chemistry to theology, she and her husband had all kinds of flying contraptions.
Thank You for Celebrating Women of Chicago History
We just want to give a quick thanks for all the Chicago Detours community, friends, tour guests, and new friends who made it out to celebrate these women. As we are in such sensitive times, it's super special to be at a Chicago history event that brings people together to highlight figures who are just as important to Chicago history as the more famous ones. We are going to do it again for Women's History Month next year, too!
— Executive Director Amanda Scotese