In Part 1 to this two-part post, I dug into how we should be promoting Chicago to visitors via the O'Hare Airport. By making the airport cool to the many people who stop-over without ever knowing what a world-class city Chicago is, we could make quite an impression to potential visitors in order to bring more people to visit Chicago. While it's certainly a lofty idea, it would have lots of value in communicating a "brand" of Chicago (see "Brand USA").
In this post I am identifying some exceptional aspects of our city that are overlooked in marketing materials and travel writing about Chicago. First, let's identify the current focus of these communications, whether via Choose Chicago (formerly the Chicago Convention and Tourism Bureau) or the numerous magazines, newspapers, blogs, tour guidebooks that feature tourism in Chicago. Pictures of the Bean and the Chicago skyline are way overused.
Surely our Chicago architecture is certainly worth boasting about, and the "Bean" sculpture of Millennium Park has become iconic as a gathering place. Content in publications focuses on theater, sports, shopping, dining, architecture and the arts. These activities comprise main components of a travel experience to any Western city and not just Chicago.
Promoting Chicago Ideas
We excel in these categories and should show off these activities, but ultimately we also need to promote a few things that we have that most cities don't. Chicago is much more than the skyline, and it's more than downtown. While people planning a trip to Chicago will want to focus on commodified experiences (sorry to pull out the U of C jargon), after the trip the strongest memories are often the less expected, harder to predict, more personal, and more simple of the places, people and experiences of a visit. And they often don't cost a thing. These are the things that people tell to others with excitement for the place they have visited. Keep reading – I have examples.
Having worked in travel for close to a decade, primarily as a tour guide, I have taken a sort of firsthand survey of what strikes people about their travel experiences, and rarely is it a particularly restaurant, hotel, store or even museum. On this informal survey of asking tour guests about their impressions of Chicago, some answers come up over and over again, and these need to be part of the communication of a "brand" of Chicago:
1. Chicago is a clean city.
Ok, let's not exaggerate: We are of course talking about the areas where tourists go – the Loop, the Mag Mile, and around McCormick Place. While we Chicago locals take it for granted, anyone who has traveled to other big cities notices immediately upon arrival that we don't have trash blowing around our streets or garbage cans piled up on corners (well, at least usually). Due to some smart city planning, we have alleys and multiple street levels (like Wacker Drive) that serve to keep trash away from us on pedestrian areas.
With 50% of the American population living in orderly, clean suburbs, one can guess that for many American travelers their ideas of a dirty, gritty city is unattractive and not an alluring vacation destination. We expect clean streets in photos, but we don't expect them in real life, and this is a pleasant surprise for visitors. We need to be direct in our communications about how exceptional Chicago is as a clean city.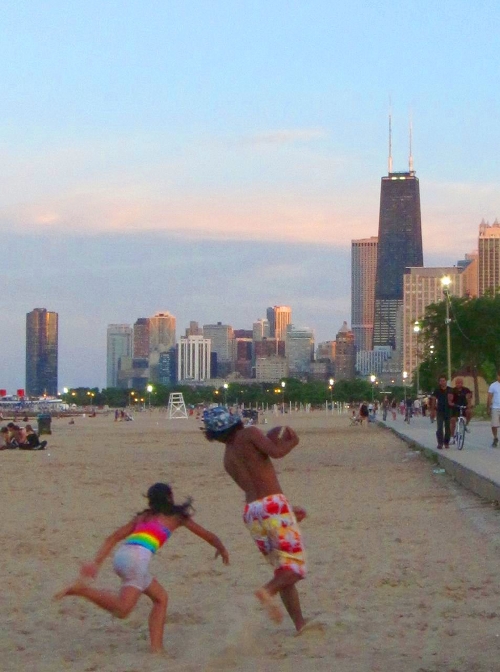 2. Chicago is full of green and natural spaces – our beaches, parks and lakefront.
While yes, people want to blow their money on shopping and dining, they also love the experiences that cost nothing. Try walking with your love on the lakefront at sunset. Ride bicycles with the kids on the lakefront bike paths surrounded by trees and beaches. Gaze at the architectural contrast of the historic Drake Hotel and the Hancock Tower while treading in the cool waters of Lake Michigan at Oak Street beach. Paddle around the peaceful lagoon of Lincoln Park or kayak in the Chicago River (okay, the boat rental will cost you).
These Chicago attractions appeal to the active traveler, families, and especially Europeans. Europeans want to walk, bike, and they love the beach. We have so few Italians coming to Chicago, for example. Let's show them pictures of good food and beach parties with skyscrapers in the background and and I swear some will grab the whole family and be here next August. (I speak Italian, and rarely ever hear it spoken among tourists on the Magnificent Mile.)
That Shopping, Though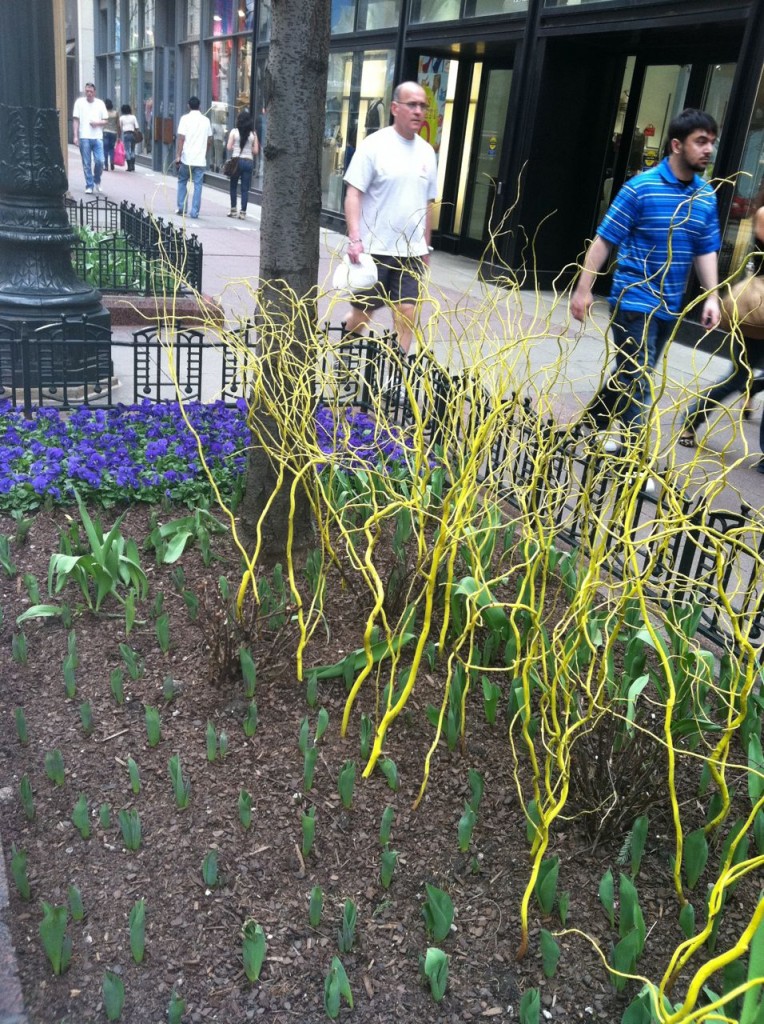 Beyond the parks and beaches, which are permanent fixtures of the Chicago landscape, Chicago has some seasonal beautification projects that really strike visitors. Thanks to Mayor Richard M. Daley, dubbed the "Martha Stewart Mayor," for his obsession with garden aesthetics – he's why we have hanging flower baskets and all the colorful petals adorning medians and sidewalks along Michigan Avenue.
This greenery beautifies the steel and concrete cityscape. Again, country people and suburbanites are used to having greenery around – let's show pictures of our flower pots and landscaping. Chicago is not a concrete island. If only I got a nickel for every time I saw a tourist taking pictures of the landscaping on State Street or Michigan Ave…
3. Chicago is an open-air museum.
We aren't quite Venice. But our fantastic architecture and public art is world-class. All you need to do is wander for an incredible experience here. The Chicago Loop Alliance has fantastic programs to enliven the streets with art installations. The most recent is the Color Jam at the corner of State and Adams. With streets adorned with works by master artists like Mirò, Calder, and Picasso, Chicago has a lot to offer to travelers seeking cultural experiences.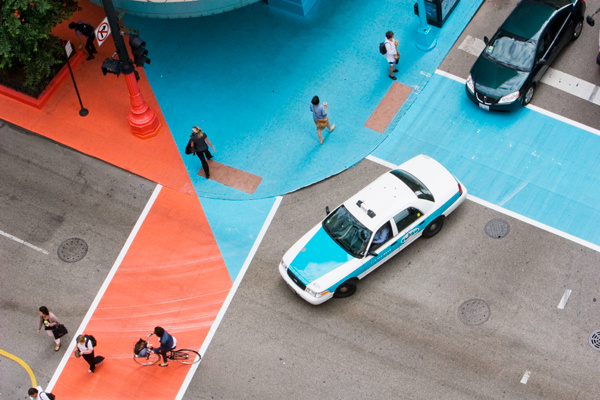 4. Chicagoans are great people.
We are friendly, fun, hard-working and best of all – genuine. I chatted with a guy on a stoop in Manhattan a few weeks ago. The first thing he said when I stated my home: "Chicago's got great people."
Just for fun, I googled "great people in Chicago." Google came up with 92,800 results. This phrase was in quotes so it searched specifically that phrase rather than just any mix of those terms. Chicagoans give directions with a smile. They'll chat your ear off. You'll be treated like a neighbor no matter how far you've traveled to us.
I took a group of European tour operators around Chicago on a familiarization trip a few months ago, and many were intrigued by a discussion on the friendly nature of people in Chicago versus people in other American cities they had traveled to. Let's show less pictures of skylines and more pictures of people. We got something that LA, New York, Miami and the Pacific Northwest don't – Midwestern friendliness. You know people say that we are the biggest small town?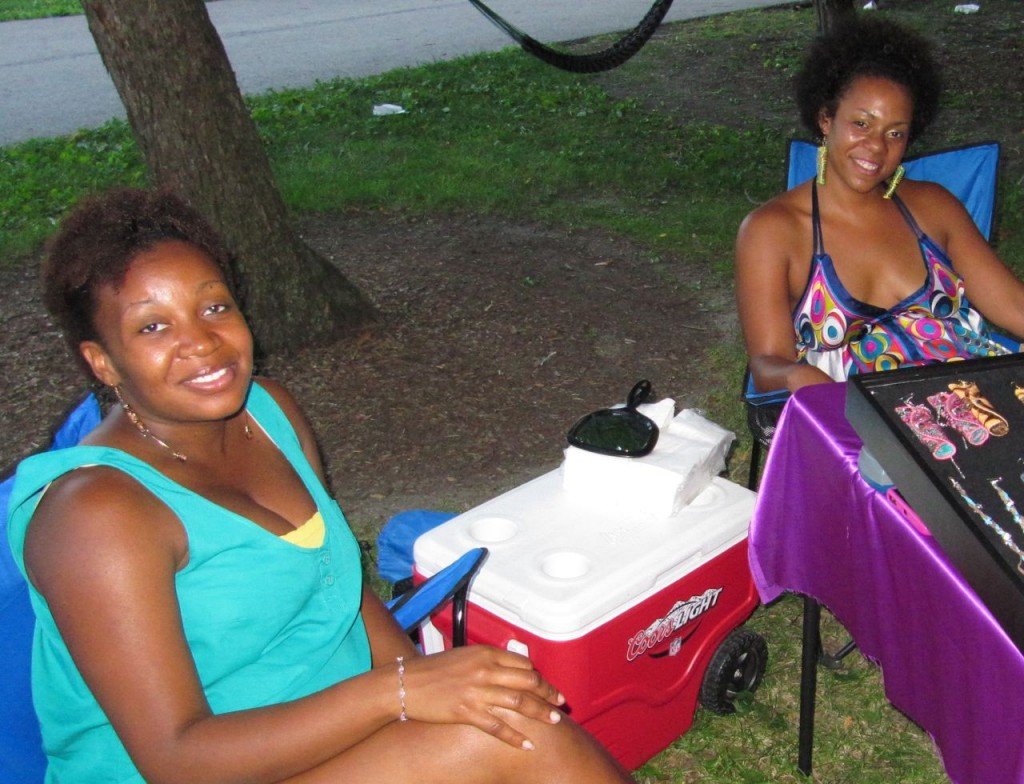 Final Thoughts on Promoting Chicago
These less tangible characteristics of the city also intrigue people. Promoting Chicago should be all about that which makes us unique. Not just the standard traveler activities that you can find anywhere. We have much, much more to offer than the skyline. I had a small town man from Kansas come on our Historic Bar Tour and I asked him, "What has been the most surprising aspect of your time in Chicago so far?" He told me that the whole idea to visit Chicago was that of his much more well-traveled wife. Personally, he wasn't really looking forward to it. His biggest surprise? That he liked Chicago so much, and hopes to come back within the next year.
It's exciting when visitors come to Chicago and are pleasantly surprised by it. Yet we need to better identify and communicate a "brand" of Chicago. That way the exceptional nature of our city isn't a surprise at all.
– Amanda Scotese, Executive Director and Tour Guide