Chicago is, of course, a major transportation hub. So it's easy to sneak away for a quick "detour" to some fantastic places. My favorite is a Milwaukee trip, which is a short train ride north on the Hiawatha line. When you're hungry for some travel, a Milwaukee trip provides a hearty lunch, the architecture of a different skyline, and for me, an excuse to wander with my camera and a book. Recently, a friend and I took a quick road-trip to the land of cheese and the city of brewers.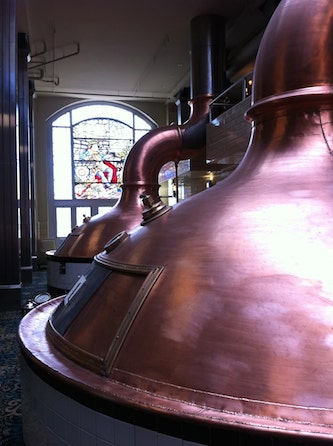 Our first stop in downtown Milwaukee was for an old-world German lunch at Karl Ratzsch's for some sauerbraten and beers. Once our bellies were full, we rolled into the more industrial corridor of town to our hotel–the Brewhouse! Originally the Pabst Blue Ribbon brewery, this newly opened hotel celebrates historic Milwaukee with a swanky twist.
We had a one-bedroom suite just behind the PABST sign with all the exposed brick and floor-to-ceiling windows that you could desire. On the second floor, they've even left the brew kettles and stained-glass windows, as pictured here, that were the heart of the original brewhouse.
After checking in we walked along the River Walk to a brewery tour at Lakefront Brewery, which is a bit of a misnomer as it's on the riverfront, not the lakefront. Here I experienced my first tour since becoming a tour guide, and I must say it was a joy. Evan, our guide, was charming, informative, and enthusiastic–all the things I strive to be for you! I could not, however, keep my eyes off the light fixtures shown below. Ring any Chicago-based bells for you?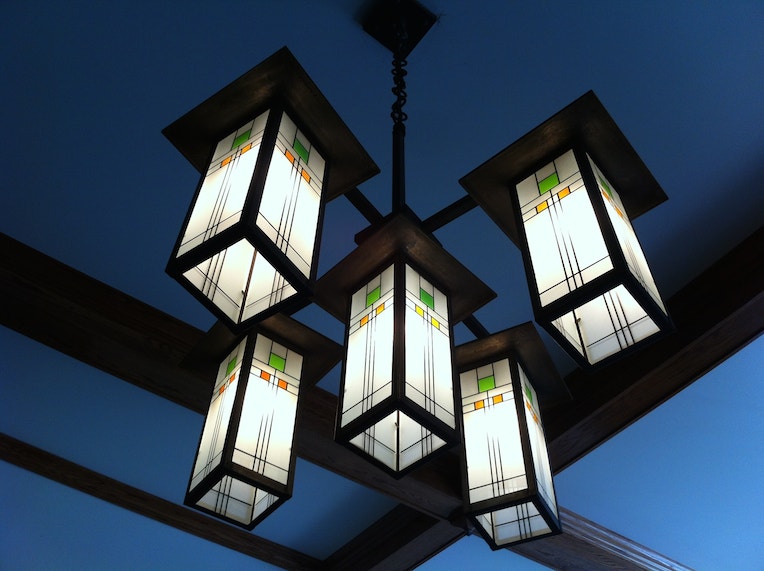 (In case you don't recognize the design of the lamps is inspired by Frank Lloyd Wright.)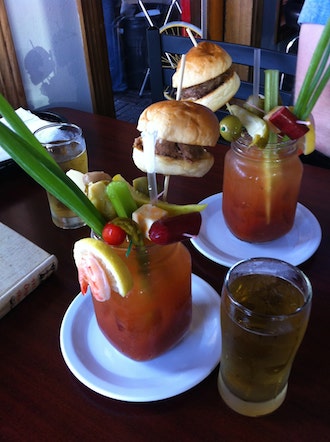 We brunched the following morning at Sobelman's, which we chose simply for the Bloody Mary seen here, then decided the full burgers were too tempting to resist. Afterward, we headed back to Pabst-ville for a brewery tour at Best Place, where we learned all kinds of Pabst trivia like why they really call it Pabst Blue Ribbon – hint, it has less to do with the World's Columbian Exposition than the ribbon on the can would make you think. We also learned why there's a B at the center of the emblem.
A trip to Milwaukee wouldn't be complete without a stop at the Milwaukee Art Museum. The building itself a beauty and its permanent collection to be coveted. One of their temporary exhibits at the time was the tattoo art of Amund Dietzel. I would have never guessed that tattooing was illegal in Milwaukee as recently as the 1990s!
There's even more to explore on your Milwaukee trip, including some great architecture. So jump on the train, expressway, or whatever your mode of transportation to experience the joy of our amazing neighbors north of Chicago.
– Elizabeth Tieri, Tour Guide