Here's a list of some of the best ghost and Halloween tours in Chicago for you to enjoy. If you want to get out and have some fun in outdoor Chicago, then October is basically your last, best chance. Fortunately, October is also the spookiest time of the year.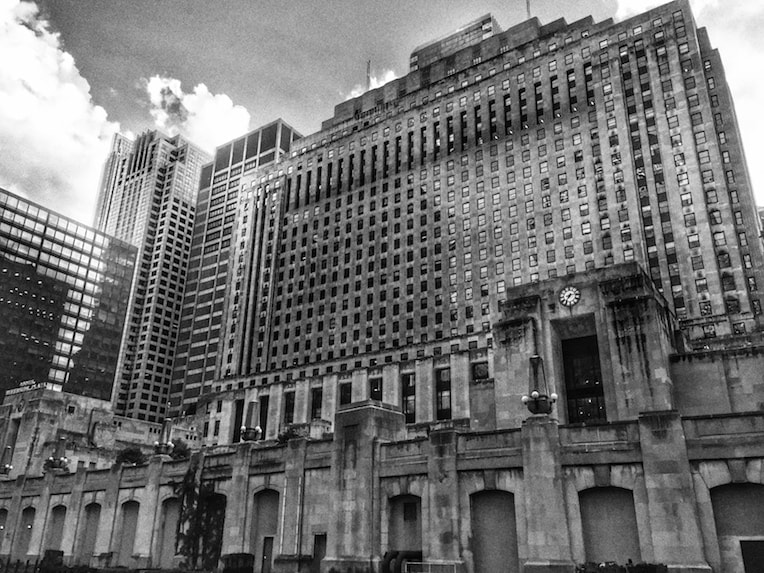 #1. Haunted History Tour
If you want to see a wilder side of the Windy City, then Weird Chicago is always a safe bet. Their signature Haunted History Tour explores stories of murder, ghosts, gangsters and more. It's a three-hour bus tour that winds to spots all across the city. You even get to step off the bus and explore some of the infamous sites. Already been on the Haunted History Tour? Other outings cover grisly the grisly history of Chicago's gangsters and the murder mayhem of the "Devil in the White City." Regardless of which one you pick, Weird Chicago is a consistently popular choice for Halloween tours in Chicago.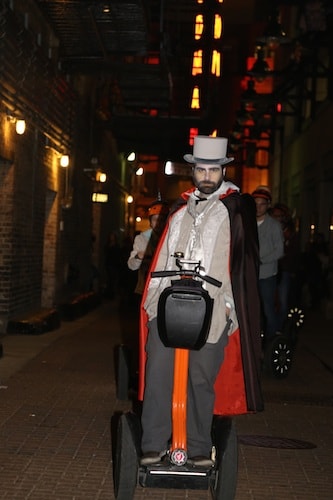 #2. Haunted Segway Tour
The team at Absolutely Chicago Segway Tours are an awesome crew, so I have no qualms recommending their outing. Absolutely Chicago Segway Tours says they have the world's first haunted Segway tour, which I have no reason to doubt. You'll visit some familiar sites, like Buckingham Fountain, and the grislier ones, like the so-called "Death Alley" between State and Dearborn. Based on our tour experience, you'll have an awesome time learning to drive a Segway and then scooting around town. Tell 'em Detours sent ya!
#3. Atlas Obscura
Our friend, Adam Selzer, is teaming up with the awesome website Atlas Obscura for two spooky tours running in downtown this October. Adam is a prolific researcher and author who has written extensively on the gruesome side of Chicago's history. He brings that expertise, along with the professional presentation from his podcast, Mysterious Chicago, and numerous TV appearances, on these outings. The Curious Cruise is a 90-minute trip up and down the Chicago River on the Summer of George. While you enjoy the after-dark sights, Adam will relate the stories of mysterious submarines, awful disasters, and more.
Tour guide Leyla sold-out her "Dead in Chicago" walking tour, so she has added another date for Monday, October 30. You'll get all kinds of bloody details on true, gruesome stories of untimely deaths in the Loop.
The Devil Downtown Tour, also done by Adam through Atlas Obscura, is a walking exploration of sites associated with H.H. Holmes, the infamous devil in the White City. He's most famously associated with the South Side. His murder castle was in Englewood and the World's Columbian Exposition, of course, was in Jackson Park. But most of those locations are gone. So, much like our 1893 World's Fair Tour, to see the spots Holmes would have haunted you have to explore downtown.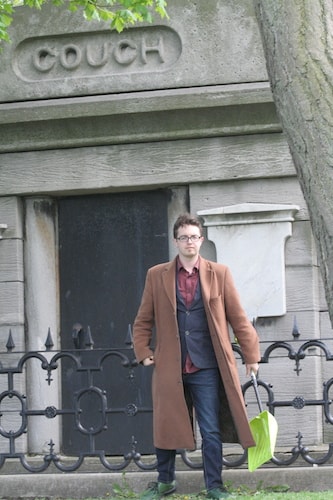 #4. Mysterious Chicago
If you want to take one of Adam's tours, but have a deep fear of Atlas Obscura caused by a mysterious accident, then have no fear! His company, Mysterious Chicago, has even more great Halloween tours in Chicago. Their signature tour, "Ghosts of Chicago," runs on Friday and Saturday nights this month. Adam's conducted this tour over 1,000 times since he launched it in 2005. The spot that most intrigues me is the old city jail and gallows. The building, which is where the Leopold and Loeb murder trials were held, just looks incredibly haunted.
#5. Haunted Hyde Park
Another friend of ours, Greg Fairbanks, has been getting rave reviews since he started Hyde Park Chicago Tours a few years ago. His Haunted Hyde Park Tour runs at twilight and explores the iconic neighborhood's stories or murder and mayhem. While strolling through the beautiful environs of the University of Chicago, you'll learn about infamous criminals like H.H. Holmes, Leopold and Loeb, and the Lipstick Killer. This tour is only running at 5:30pm this Friday, Saturday, and Sunday.
I'm probably going to be too busy leading our own architectural walking tours to get out and enjoy all of these Halloween tours in Chicago this year. But I hope we sparked your interest in some of the ghoulish fun to be had this October. Happy hauntings!
– Alex Bean, Content Manager and Tour Guide