We often play host to big student performance groups in Chicago for their annual trip. It's always a kick to guide these student groups. Hanging out with them often feels like time travel, since I'm a former high school drama kid and marching band groupie myself. I've also grown to appreciate just how hard it is to plan student group field trips like this. Tour operators and chaperones want to know they've picked awesome sights and fun activities for their groups. We're here to help with a list of the best stops for student performance groups in Chicago.
#1. Marquee Tour at Chicago Theater
Few spots in Chicago are more iconic than the Chicago Theater marquee. But your student performance group can go beyond taking selfies out on State Street! The Marquee Tour whisks your young musicians and actors backstage to get a glimpse at Chicago's entertainment history. You'll get to see the famously fabulous architecture, of course. But tour guests also get to gaze up at the signatures of immortal performers like Frank Sinatra and Dolly Parton.
#2. See a Performance at the Chicago Shakespeare Theater on Navy Pier
The Chicago Shakespeare Theater is a must for all theater groups. Located out on Navy Pier, it's one of the most renowned professional theater companies in the United States. "Chicago Shakes," as my friends affectionately call it, has built its reputation on lively stagings of the Bard's classics updated to settings which enrich the plays' eternal themes. Right now, for example, their production of "The Taming of the Shrew" is set during the push for women's suffrage. They host special student matinees and even a Shakespeare slam-style competition that are perfect for student performance groups in Chicago. Plus a visit to Navy Pier is a must for student performance groups. Then you kill two birds with one stone!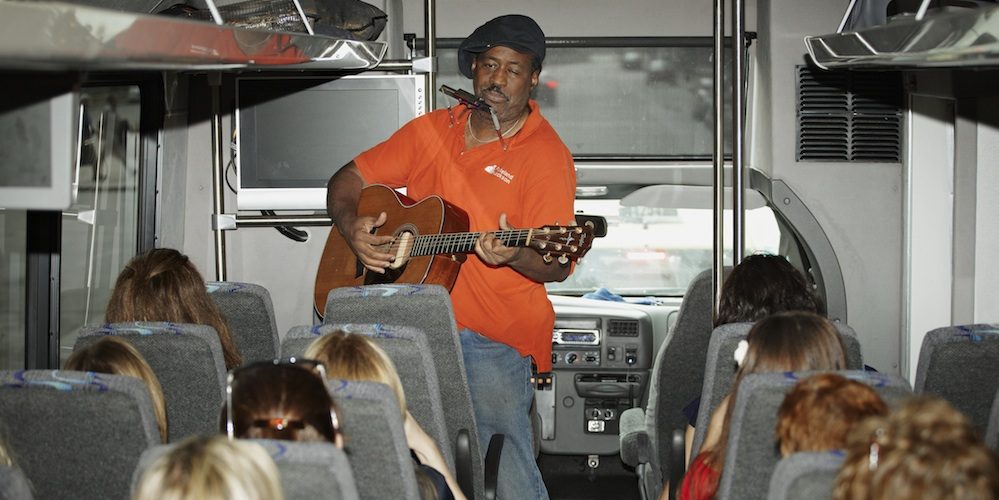 #3. Our Jazz, Blues, and Beyond Bus Tour
Never hurts to toot our own horn. Our Jazz, Blues, and Beyond Bus Tour is almost always the choice when we host student performance groups in Chicago. This 2.5-hour expedition takes students from downtown to historic neighborhoods on the North and South Sides of Chicago. There, we'll visit historic clubs and record studios associated with the rich musical legacy of Chicago. The tour guide ties this into the wider social history of the city, with a special focus on entertainment history and the Great Migration. This step-on guided bus tour can even end with the students getting a harmonica lesson from a live blues musician. It's terrifically fun and educational. We have many student performance group that we do this for on an annual basis.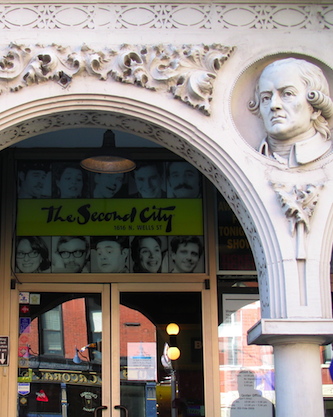 #4. Workshop at The Second City
The Second City is probably the most renowned comedy club on the planet. Generations of comedians, actors, and writers have cut their teeth at the Second City before going on to fame and fortune. Maybe not every kid in your student performance group in Chicago is the next Bill Murray or Tina Fey, but they can all learn a ton from the Second City's educational workshops. These sessions, taught by professionals, improve student skills like improvisation, character-building, and communication. Plus, they'll all get to claim they're Second City-trained performers!
#5. Field Trip Visit to the Old Town School of Folk Music
The Old Town School of Folk Music has been teaching guitar, banjo, singing, and dancing for sixty years. It was founded in 1957, just as the folk music scene began to boom. While there have been plenty of aspiring Woodie Guthries and Bob Dylans, the school has widened beyond the stereotyped sound of folk music. They embrace and teach all types of indigenous and folk musical traditions that can be found in Chicago. It makes for an eclectic and equality-focused environment where students and teachers thrive. Their student field trips include musicians and styles to match any performance group's interest.
We hope you have an excellent student trip to Chicago with these recommendations! Please reach out if we can help with any other walking tour or bus tour needs for your student performance groups in Chicago, too.
-Alex Bean, Content Manager and Tour Guide