There are tons of great reasons to visit Chicago in winter. No, it won't be very warm. Yes, the odds are relatively high that you'll get buried in a blizzard. But don't let that deter you! You can always take a winter tour that keeps you toasty. Here's at least five great reasons to visit Chicago in winter.
We research Chicago history and architecture like this while developing our live virtual events and custom corporate events. Join us for our public virtual events or book an exclusive team-building event for your private group. We can also create custom tours and original content creation about this Chicago topic and countless others.
#1. Awesome Museums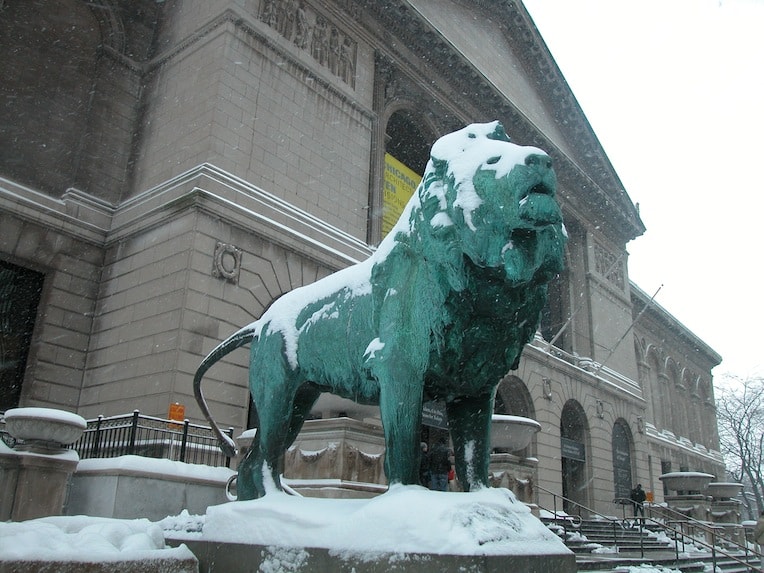 The obvious place to start is obvious. But that doesn't make it any less correct. Chicago's collection of museums is world-class, many are clustered near transit, and they're open year-round (duh). An easy #1 pick for the best reasons to visit Chicago in winter.
Personally, my favorite wintertime museum is the Art Institute, which is located just a few blocks from where our Loop Interior Architecture Tour ends. Voted the single best museum in the world a few years ago, it's a great way to let a cold, grey day slip away. The collection is vast and comprehensive, with awesome rotating special exhibits. I'm perpetually happy to visit world-famous masterpieces like Nighthawks, American Gothic, and The Old Guitarist. But, truth be told, I find the collection too big for a single visit. I've never even tried to go to every wing in one go. My feet and eyes just run out of gas. Which means repeat visits!
Chicago history fans, or guests from our 1893 World's Fair Tour, should also visit the Museum of Science and Industry. MSI is, of course, an awesome science museum. The indoor thunder storms, model train skyline, and authentic German U-boat are exhibits I still recall clearly years and years later. But, for those history nerds, the building itself is a piece of history. It was originally the Palace of Fine Arts for the famous World's Columbian Exposition of 1893. In fact, it's the only structure left from the fair, which opened 125 years ago. That alone is worth the visit, if you ask me.
#2. Weird, Crazy Weather Phenomena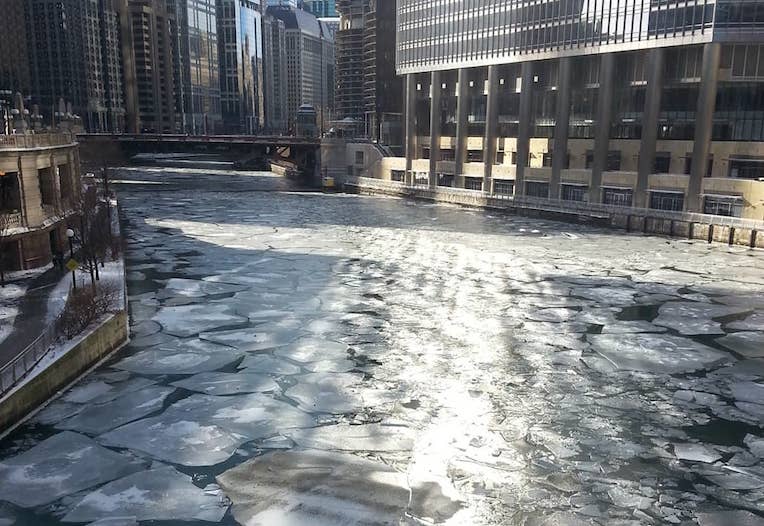 Not to sound too much like a lifelong Midwesterner, but winter can be a pretty awesome season for breathtaking landscapes. Few things in life are finer than the sight of snow slowly drifting down through the city lights. Even when there's no snow, the cold clear light of the low winter sun lends Chicago a certain Siberian beauty. Heck, you might even be lucky enough to visit Chicago in winter just in time for a blizzard. Those are a lot of fun. What? No, I don't have Stockholm syndrome. Why do you ask?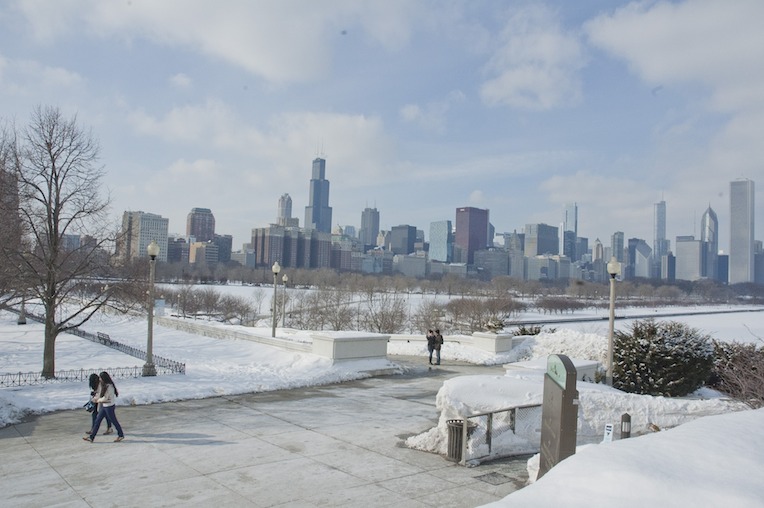 Personally, I really love the weird stuff that the winter cold does to the lakefront. Our waterfront parks are separated from Lake Michigan by a mix of beaches and concrete breakwaters. The former are pretty forlorn in the bleak midwinter, but the latter become fascinating ice sculptures. The splashes from frigid waves accumulate over the course of months until they become gargantuan, misshapen abstract expressions of winter itself. On top of just appreciating the beauty, they can be a great subject for photography.
Our current deep freeze has also reminded me of an even-weirder phenomena: the lake itself steaming. Every few years we're subject to a "polar vortex." That's when a mass of bone-cold air drifts down from the Arctic Circle and then just…sits here. Chicago has been soldiering through one as 2017 gave way to 2018.
But an even worse one hit a few years ago. The city rarely climbed into the teens for about a month. In that time, the air temperature was so much colder than the water temperature that it caused Lake Michigan's surface to writhe with steam. It made our great inland sea look like a nice, warm jacuzzi. While I wouldn't advise swimming when the lake steams, it doesn't mean it doesn't happen!
#3. Fewer Crowds!
As lovely as Chicago can be in the summer, any locals can tell you how much they hate the crowds. Throngs of people crowd the sidewalks, streets, and beaches during the sunny season. I can't tell you how many times I've silently cussed out slow pedestrians and crowds when on a mission to get to one of our walking tours.
Which makes winter in Chicago a surprisingly great time to go out and do things. As our Marketing Coordinator, Marie, said earlier "When I go out to brunch in February, there's no wait. Just, boom, straight to a table." The same is true for any other fun urban activity that's seasonally appropriate. Go to the zoo. Stroll down the Mag Mile. See a show at Kingston Mines or The Green Mill after taking our Jazz, Blues, and Beyond Tour. Cheer on the Bulls or Blackhawks at the United Center. Chicago in the winter is your oyster, go ahead and eat it.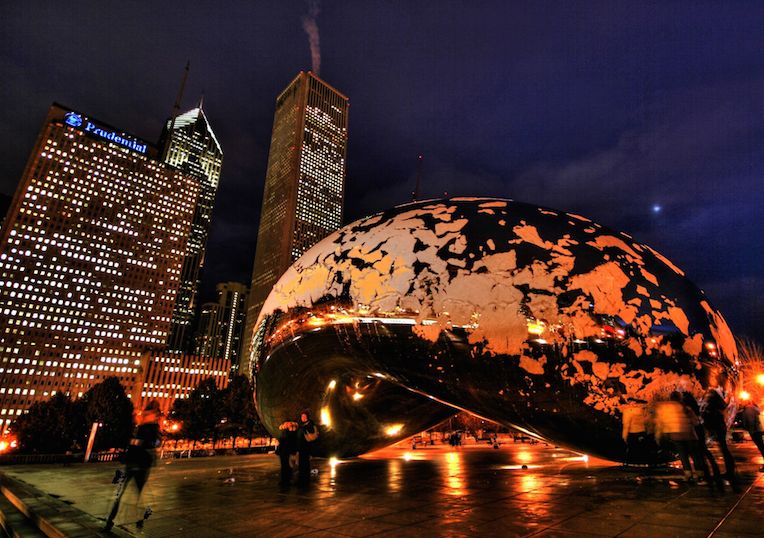 #4. Restaurant Week
Speaking of, there's no better time to dine out than Chicago's annual Restaurant Week. Some of the finest restaurants in town set up special prix fixe menus at discount prices for your culinary pleasure. This tradition started back in 2007 and has been a midwinter highlight ever since.
Chicago, of course, has become a gourmand's paradise over the past few decades. World-famous chefs like Rick Bayless and Stephanie Izard have created culinary empires in the shadow of the Loop. We even played host to the James Beard Awards for a few years. So, if Michelin star-studded restaurants like avec or Dusek's Board & Beer are on the to-do list, then Restaurant Week is the time.
#5. Interior Architecture and History Tours

(Learn more about why we switched to offering Virtual Events.)
Not for nothing, but taking an indoor tour is a pretty great reason to visit Chicago in winter. As I say at the start of the Loop Interior Architecture Walking Tour, "the inside of buildings is where we spend most of our time, it has a huge impact on human psychology, and it can tell us an awful lot about the city's history." That's certainly true of the Loop Interior Architecture Tour, but it stands for all three of our year-round tours that stay mostly indoors.
Of course, we're not the only game in town. Our friends at Chicago Running Tours offer (non-running) tours of those famous Chicago museums. If you're looking to dine out while diving into Chicago's history, Chicago Food Planet has several food tours that run through the winter.
Have Fun While Visiting Chicago in Winter!
No matter what you get up to, it's fair to say that there are plenty of reasons to visit Chicago in winter.
– Alex Bean, Content Manager and Tour Guide
ABOUT CHICAGO DETOURS
In business since 2010, Chicago Detours is a passionate team of educators, historians and storytellers. We applied a decade of experience as one of Chicago's top-rated tour companies to become a virtual event company in 2020. We bring curious people to explore, learn and interact about Chicago's history, architecture and culture through custom tours, content production, and virtual events.