Sears, the landmark Chicago-based retailer, has teetered on the brink of liquidation for months. Apparently, $5 billion from its current chairman's hedge fund will keep the company afloat (for now). The retail giant impacted Chicago's history and economy, but we often overlook its impact on our built environment. We decided to explore the Sears company buildings in Chicago. They range from the tallest skyscraper in the city to suburban homes bought from a catalog.
We research stories from Chicago history, architecture and culture like this while developing our live virtual tours, in-person private tours, and custom content for corporate events. You can join us to experience Chicago's stories in-person or online. We can also create custom tours and original content about this Chicago topic and countless others.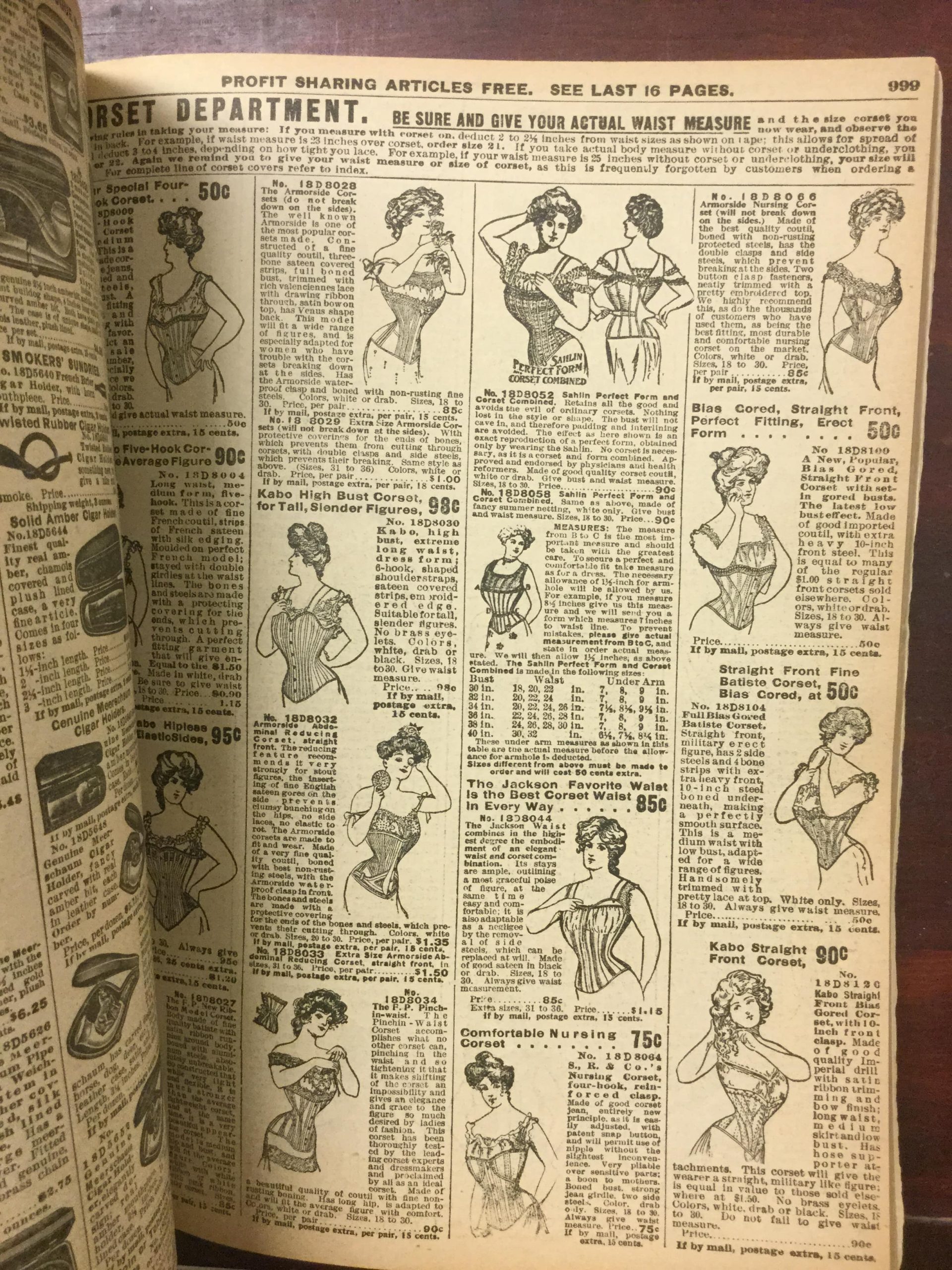 Sears, Roebuck, and Co. Was the Retail Giant
Chicago has no shortage of famous retailers. To wit, we delve into the glamorous emporium of the old Marshall Field's on our private tours of downtown. Our Virtual Holiday Stories Happy Hour describes how Montgomery Ward's accidentally created a beloved cultural icon as a holiday season promo. Yet Sears towered above them all when it came to reach and revenue.
Sears got a late start in the retail trade, when Richard W. Sears founded his Chicago-based mail order business in 1895. He and his successor, Julian Rosenwald, quickly turned Sears into the country's largest retailer. They recorded $230 million (more than $3 billion today) in mail-order sales in 1920.
As mail-order sales waned, the company adapted. Sears opened its first retail store in 1924. Five years later their stores numbered over 300. Sears also founded many side businesses: Allstate Insurance, Discover Credit Cards, Coldwell Banker Real Estate, WLS (World's Largest Store) radio. With these myriad revenue streams, Sears dominated America's retail industry for decades thereafter.
The First Sears Tower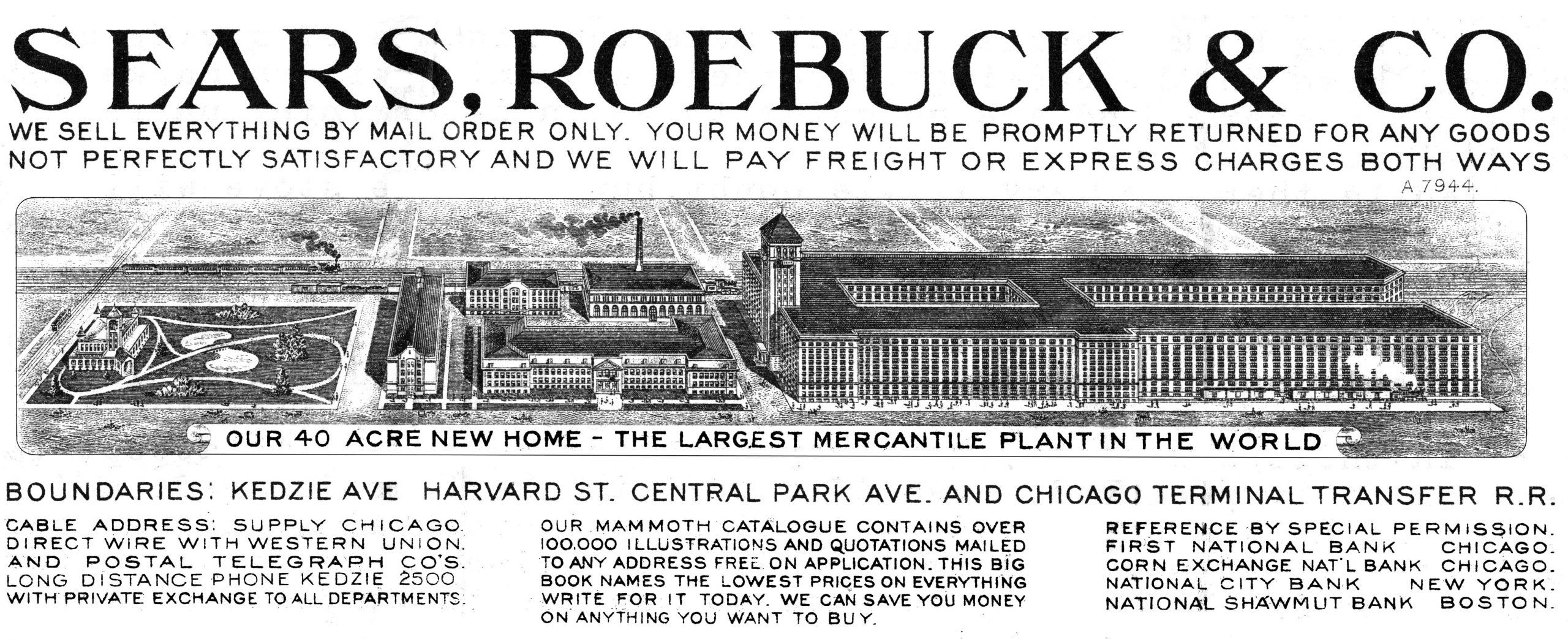 Sears' explosive growth in the early 20th century also put them in quite a bind. The mail-order business requires a huge amount of warehouse and shipping space. During its first decade, Sears company buildings in Chicago were too small and scattered to keep up with their growth. So the company built a "city within a city" on the West Side.
Completed in 1905, the Sears, Roebuck and Co. Complex in North Lawndale was one of the largest commercial facilities in the world. The 3-million square foot mail-order plant and office facility was the Amazon HQ2 of its day. Sadly, most has been demolished, but the complex's tower still stands however. You could call it the first Sears Tower. Now known as Nichols Tower, the 14-story Neo-Classical structure looks east across Chicago towards its more famous younger sibling.
The Sears Tower
This is undoubtedly the most famous of the Sears company buildings in Chicago, regardless of its official name. The Sears Tower, the tallest building on the planet for nearly 25 years after its 1973 completion, was the result of Sears' continuous success. The company outgrew their West Side digs and expected to grow bigger. So up into the sky they went.
The 108 stories of Bruce Graham and Fazlur Rahman Khan's famous bundled tube design are a testament to the retail might of Sears. Its looming silhouette in the Chicago skyline is a tangible reminder that no other company so successfully capitalized on the golden ages of mail order and suburban mall retail.
It is no wonder that the Sears Tower is one of Chicago's most popular landmarks. Guests delight to learn about it on our Bucket List of downtown highlights for private groups.
Neighborhood Department Stores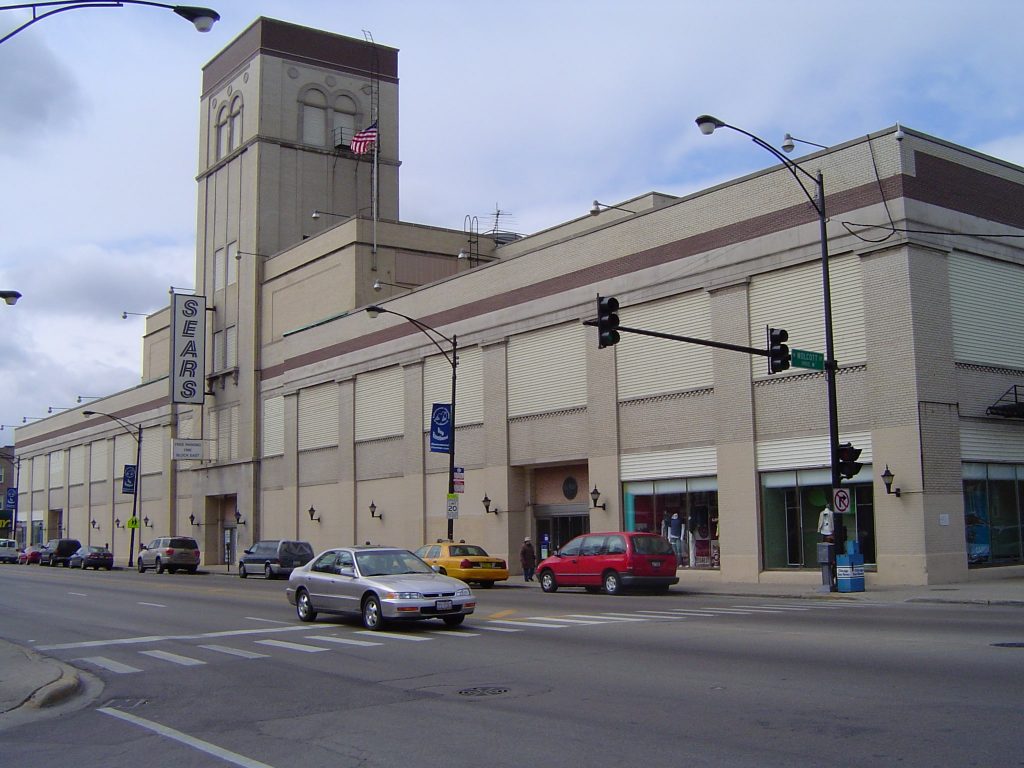 Sears' transition to brick-and-mortar retail in the 1920s left an indelible impact on Chicago's cityscape. The flagship Sears store in Chicago was their State Street location. They occupied the historic Second Leiter Building from 1930-1986.
Less individually famous, but perhaps more significant, were the neighborhood stores. As Preservation Chicago notes, these stores showed Sears at the peak of its local power. An estimated 100,000 people visited the Six Corners location on the day it opened. The commercial life of neighborhoods like Englewood centered on these new Sears company buildings in Chicago. Sadly, the last of them closed in 2018. Demolition may soon follow.
Sears Catalog Homes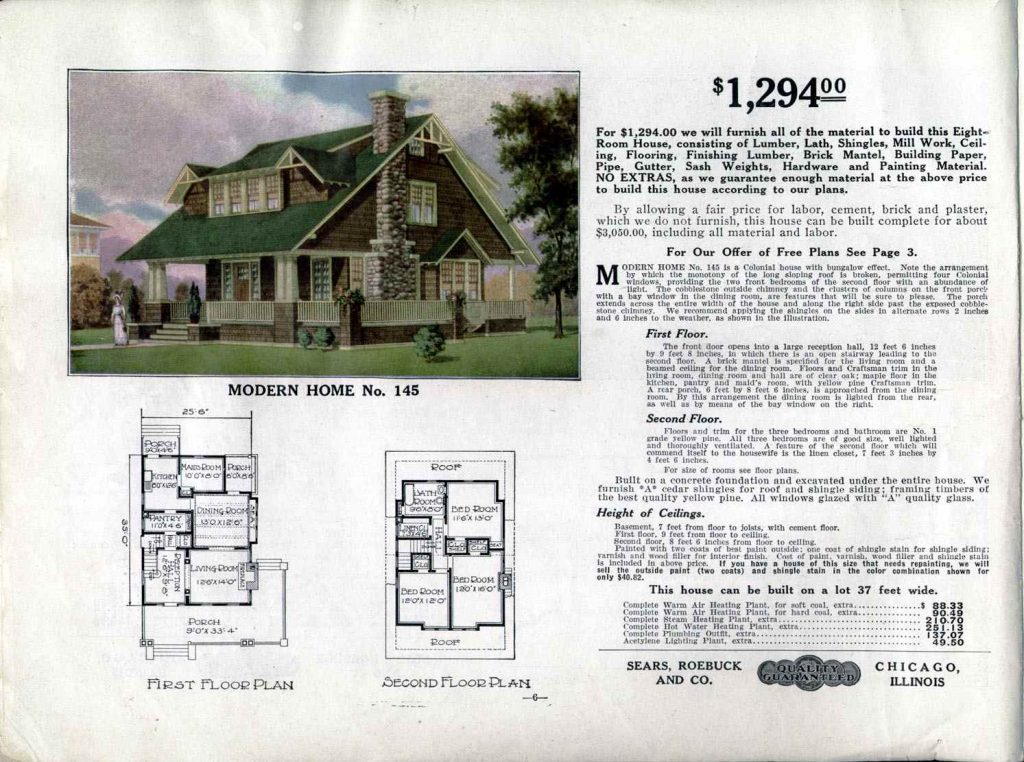 Sears Catalog Homes may be among the least-remembered Sears company buildings in Chicago. In its mail-order days Sears offered almost every product imaginable, including, yep, entire houses. Customers, mainly in rural areas, would mail an order for a house to Chicago, and Sears would deliver materials and instructions by rail car.
About 70,000 Sears Catalog Houses were sold between 1900-1942, though exact records of where they ended up have been lost. History enthusiasts have filled that gap, devoting countless hours to documenting surviving catalog homes. The Chicago suburbs alone have hundreds. Driving around to see them sounds like an awesome day-trip idea.
Julius Rosenwald's Legacy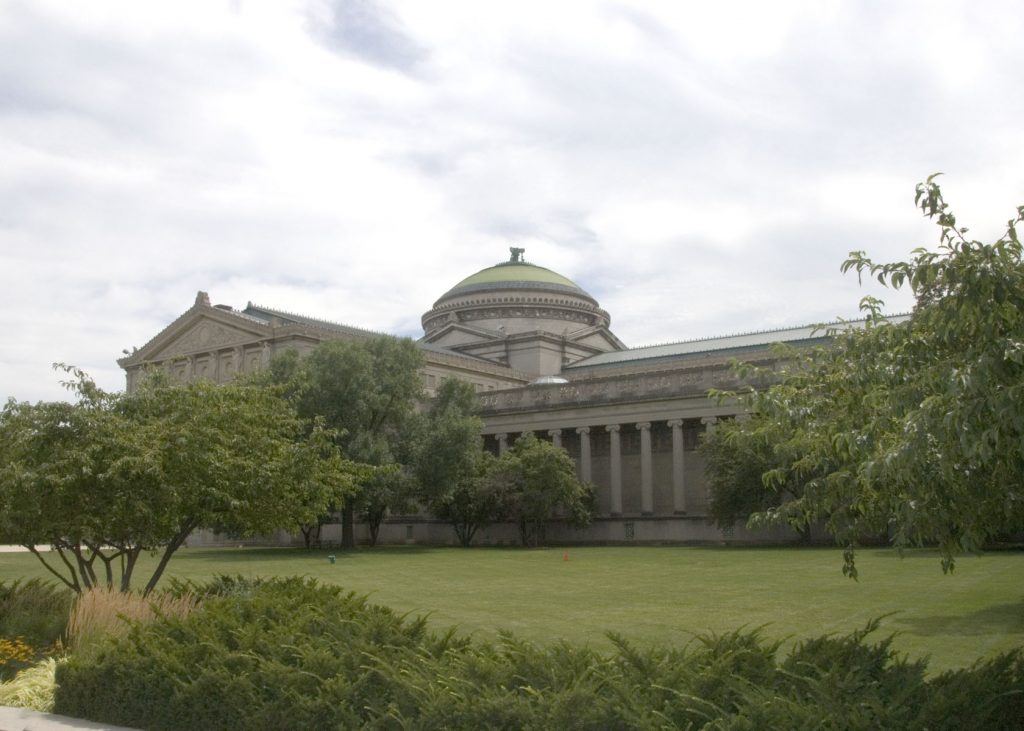 I'd be remiss to describe Sears company buildings in Chicago without highlighting Julius Rosenwald's impact. Rosenwald served as co-owner, President, and Chairman of Sears for nearly 40 years. He became one of the most generous philanthropists in Chicago's history. Among other things, Rosenwald funded the Museum of Science and Industry, a non-governmental subsidized housing complex in Bronzeville, and the Wabash Avenue YMCA. The prejudice he faced for being Jewish inspired in him a remarkable commitment to social justice.
Rosenwald had two residences in the Chicago area. The first was his Kenwood mansion, built in 1902. Turn-of-the-century Kenwood was among the richest neighborhoods in the city, with ostentatiously over-the-top architecture to match. Rosenwald's Prairie School home is subdued by comparison. He later built a summer estate in Ravinia, with landscape work by Jens Jensen(!). Today the grounds are open to the public as Rosewood Park and Beach in Highland Park.
The Lasting Impact of Sears Company Buildings in Chicago
Frankly, I was astounded to discover just how vast Sears' influence is in Chicago's history and architecture. From the Gilded Age to the Information Age they supplied us with consumer goods and built lasting parts of our shared cityscape. It will be a damn shame when mismanagement and changing times shuffle them off this mortal corporate coil.
The topic of Sears' wide-ranging influence on Chicago is rich for more exploration. Reach out if you'd like to work with us on creating original content about it, like a documentary.
– Alex Bean, Content Manager and Tour Guide
ABOUT CHICAGO DETOURS
Chicago Detours is a boutique tour company passionate about connecting people to places and each other through the power of storytelling. We bring curious people to explore, learn and interact with Chicago's history, architecture and culture through in-person private group tours, content production, and virtual tours.