Chicago is known for having beautiful buildings and being a hub of architectural innovation. Iconic favorites like Aqua, the Robie House and the Carbide and Carbon Building show up on multiple lists of beautiful buildings in Chicago. We wanted to spotlight some beauties that are often overlooked. Let us know if we missed one of your favorites!
(Please note that our list of overlooked beautiful buildings in Chicago is alphabetical. It was the only way to keep the peace in the office.)
We research Chicago history and architecture like this while developing our live virtual events and custom corporate events. Join us for our public virtual events or book an exclusive team-building event for your private group. We can also create custom tours and original content creation about this Chicago topic and countless others.
#1. The Ashland 'L' Station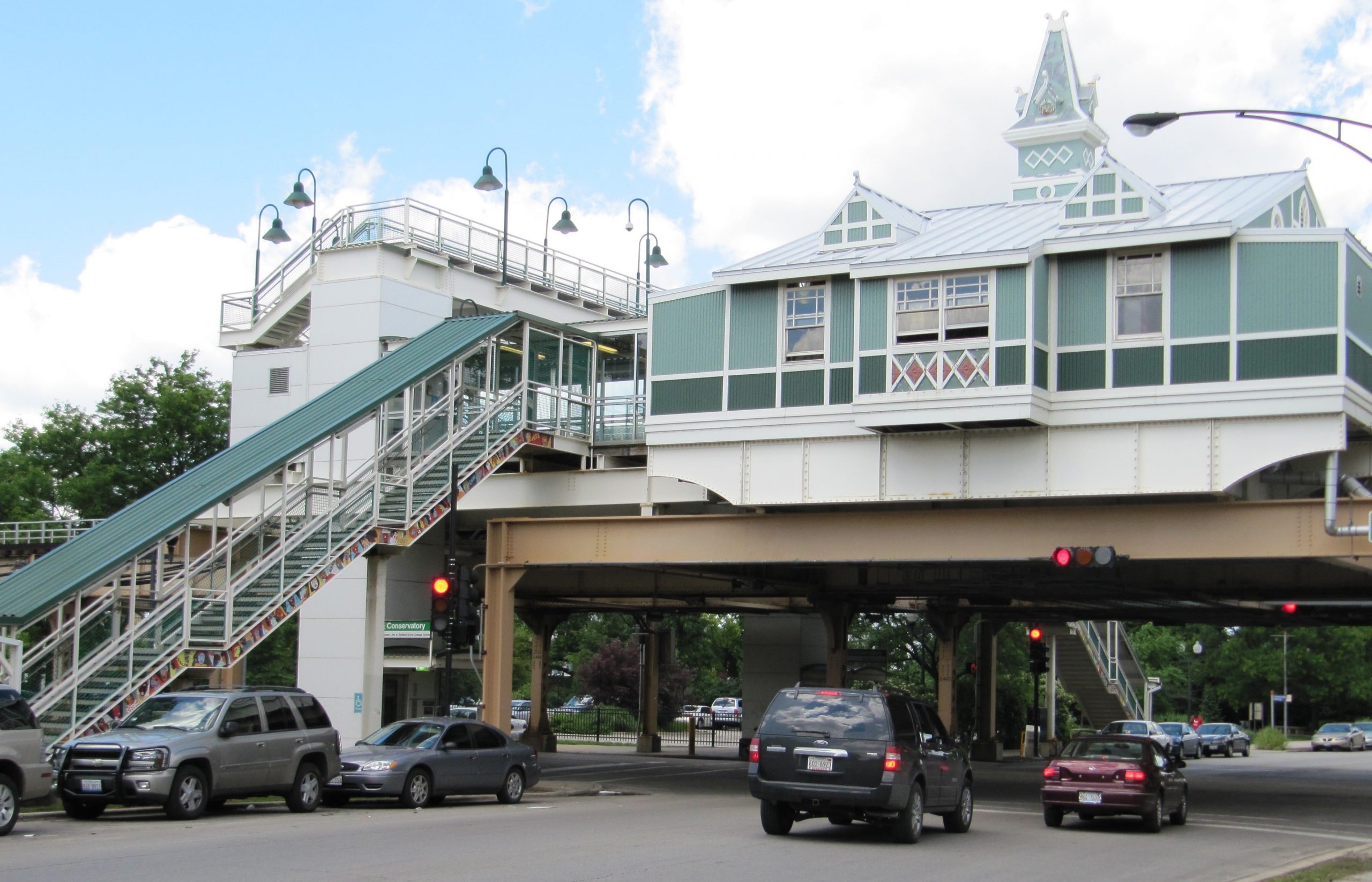 It seems appropriate to start with a form of architecture that's often undervalued: transit stations. The Ashland Station, which serves the Green and Pink Lines near Union Park, is one of our few tangible connections to the Gilded Age. The twin station houses look like Queen Anne-style cottages plopped onto the Lake Street 'L' tracks.
This style provides a fascinating insight into the mentality of the time. Middle and upper class Chicagoans expected even their transit stops to be elegant and ornate. When the station was constructed in 1895, all the stations above Lake Street looked like this. Sadly, only the Ashland and Conservatory — Central Park Drive station houses survive, which makes me treasure their quirky architecture all the more.
#2. Beer Baron Row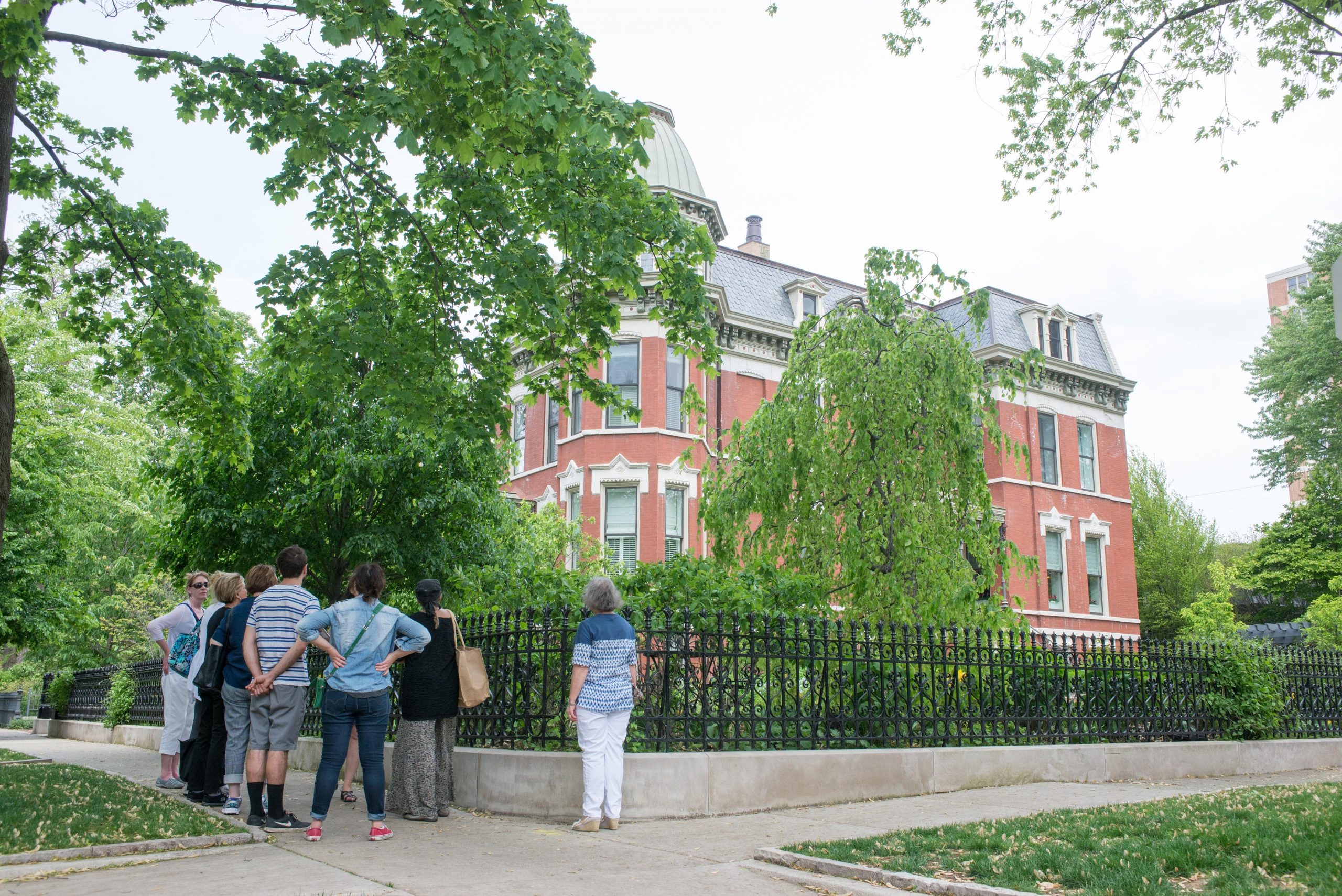 You may call us cheaters for including two whole blocks of mansions in one entry, but we do what we gotta do. Beer Baron Row is a strip of ostentatiously grand residences from the late-19th century heyday of brewing in Chicago.
The Rapp house, at 1407 N. Hoyne, is the best representation of this elite district. The building's elaborately-decorated mansard roof and bulbous turret shout the original owner's desire to project his wealth and importance. Last year it became the priciest single-family house in Wicker Park history.
#3. Chicago Motor Club
Our city's first Art Deco skyscraper is oft-forgotten, but always gorgeous. Indeed, the 1927 skyscraper sat empty and little-seen until just a few years ago. Hampton Inn poured millions into a meticulous restoration and relaunched this historic building as a hotel in 2015.
The piece de resistance of this streamlined beauty is the eye-popping two-story map of American highways which dominates the lobby, designed by Chicago artist John Warner Norton. Modernist touches abound, turning the early highways of the US into an abstracted invitation to geographical adventure.
#4. Columbus Park Refectory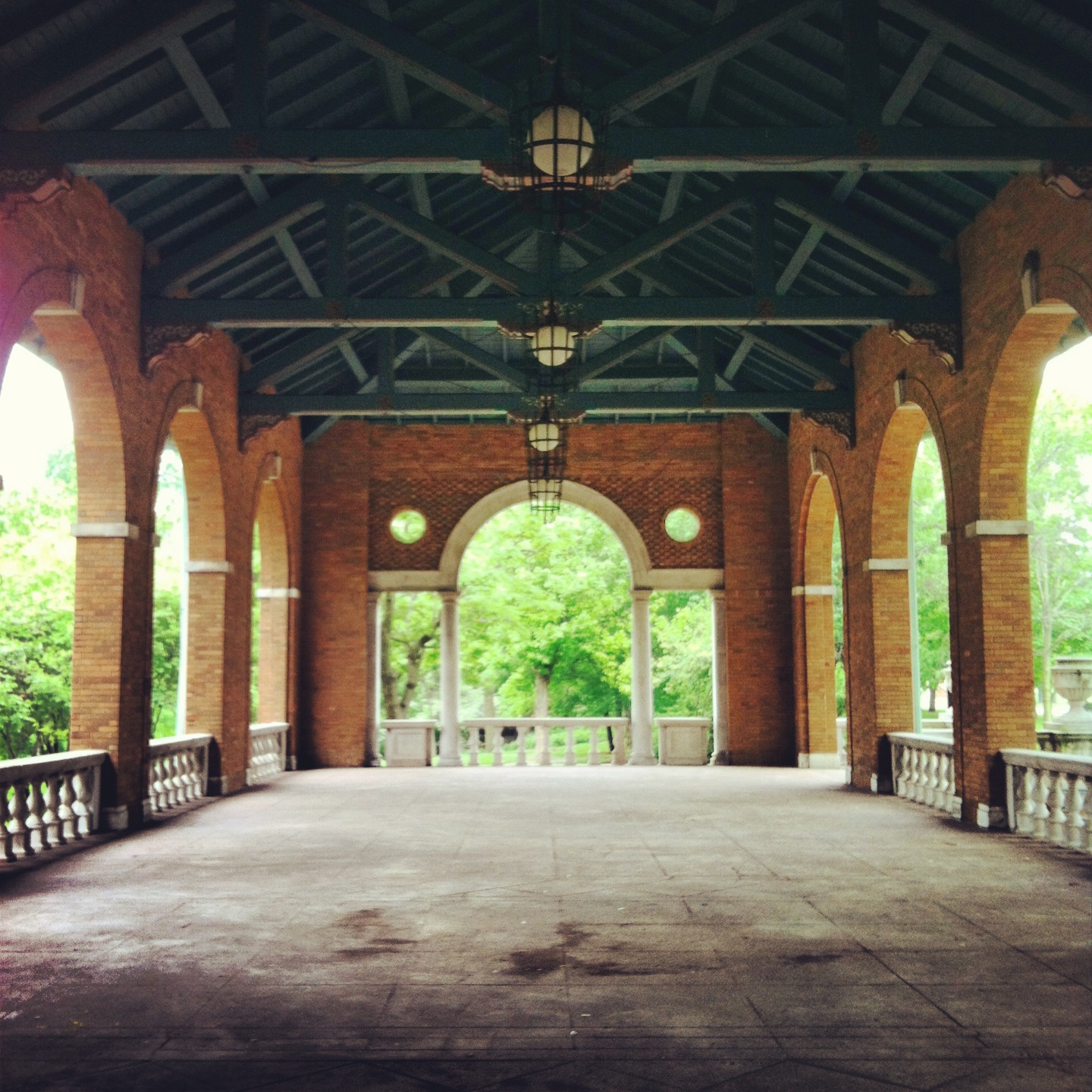 Columbus Park, on the far western edge of Chicago, is entirely the design of Jens Jensen. His Prairie School landscape architecture makes the beauty and bounty of the natural environment tangible for city-dwellers.
The Mediterranean-style Columbus Refectory, completed in 1923, reflects his spirit with gorgeous simplicity. Graceful arches flood the interior space with sunlight, adding golden luster to the warm yellow brickwork. A loggia, often used for weddings, looks out onto Jensen's lagoon. Simply divine.
#5. Cook County Hospital Building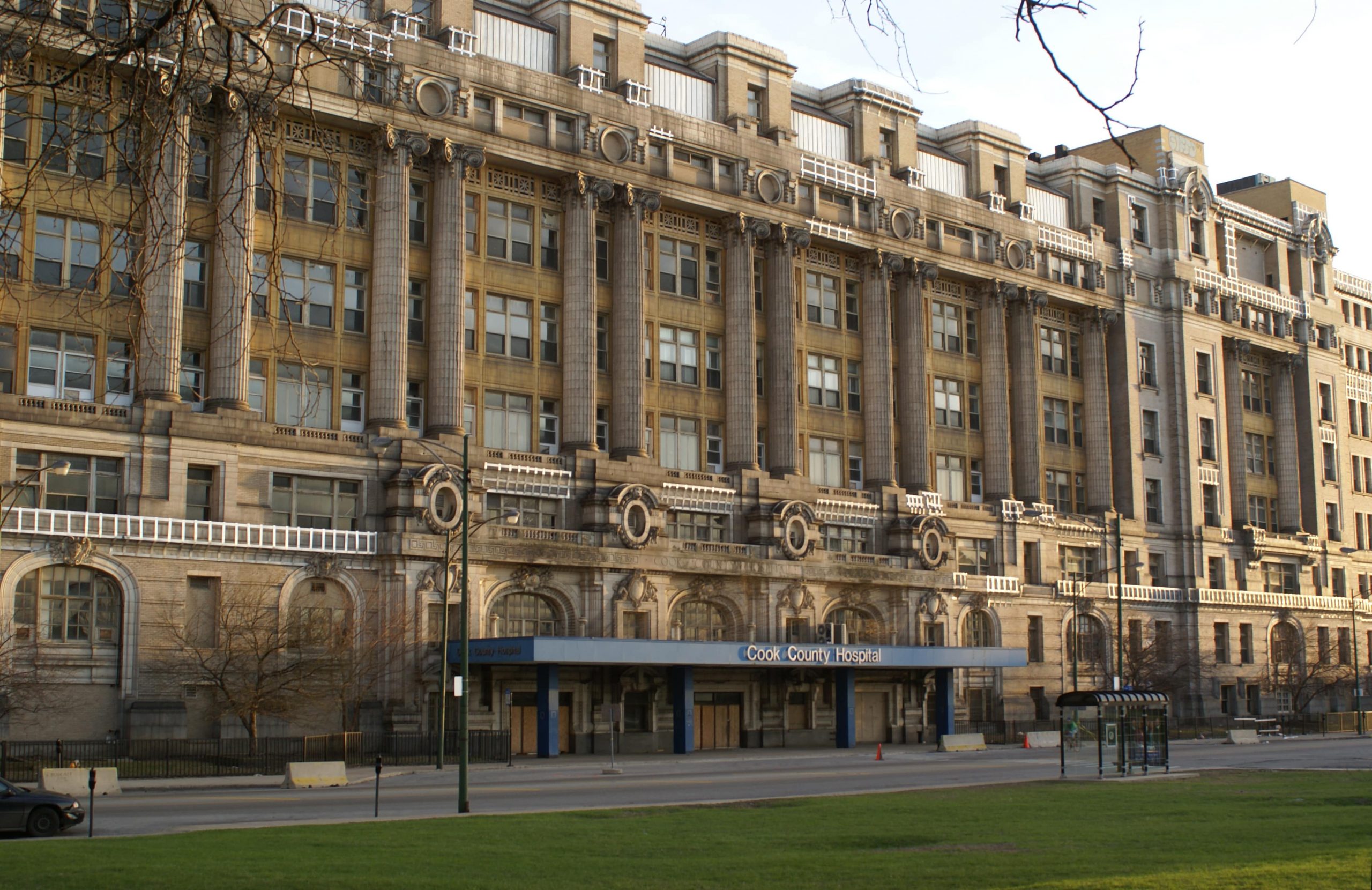 Built in 1914, the old Cook County Hospital Building is a monument to the city's best impulses. The hospital ensured that even the poorest people in Chicago had access to life-saving medical attention. A modern structure took on this role 15 years ago, leaving the historic building empty and neglected.
The moldering ruin of the facade only enhances its appeal, earning it a spot on our list of the most overlooked beautiful buildings in Chicago. Walking around the site, I marveled at its gargantuan size and elaborate Classical decoration. The facade's faded beauty brought to mind ancient ruins like the Athenian Acropolis. I hope the planned redevelopment of the structure will retain that same beautiful mystery.
#6. Fulton Street Wholesale Market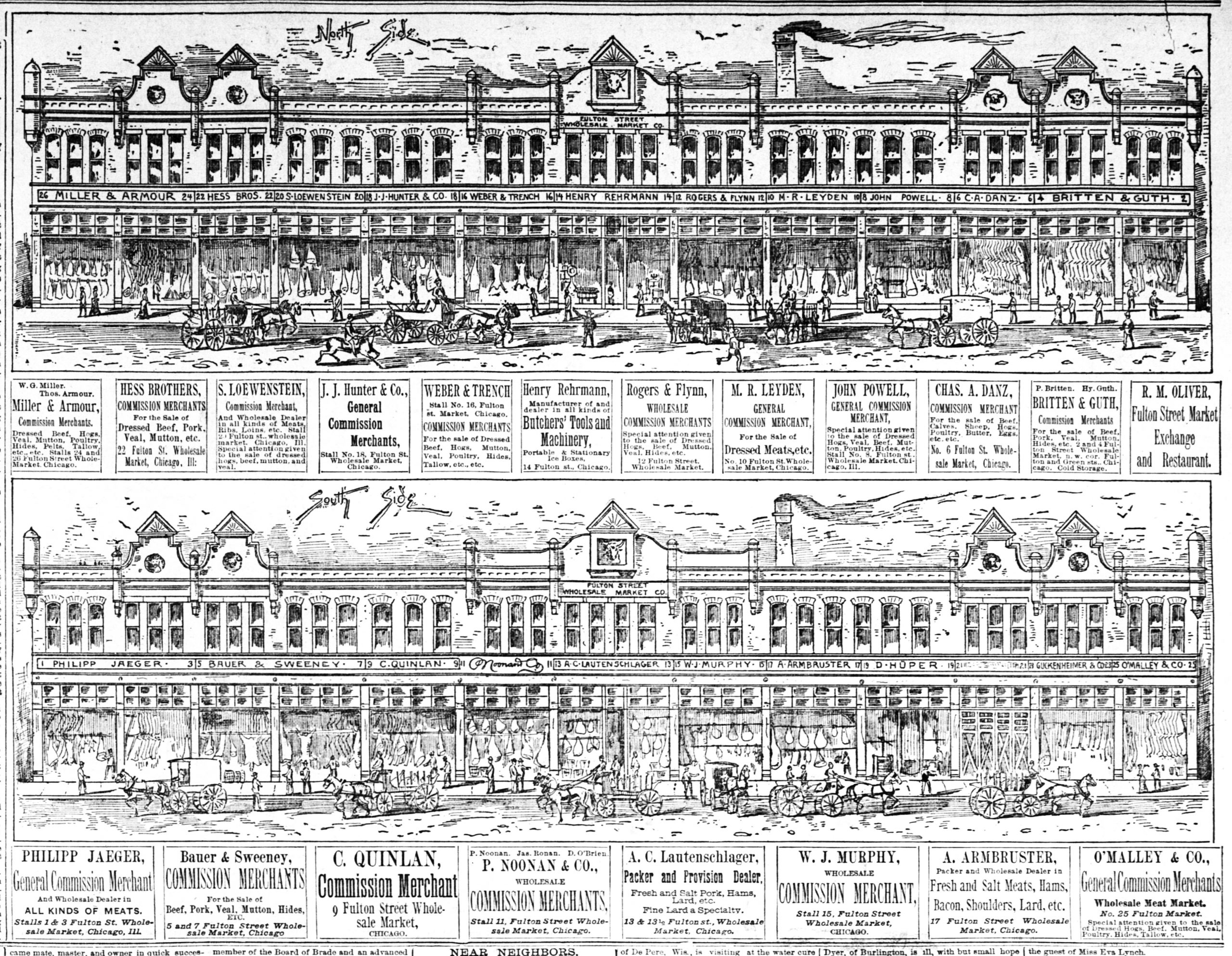 Fulton Market is famous for its meatpacking and manufacturing history. Gorgeous and soulful architecture? Less so. Yet there's one stretch of West Fulton Market Street that has two of the most overlooked beautiful buildings in Chicago.
The Fulton Street Wholesale Market buildings date back to 1887. The Romanesque Revival structures, built of blood-red brick, evoke the power and economy which drove Chicago's incredible growth across the 19th century. I feel transported back to the rough and tumble West Side of the Gilded Age when I walked between them during our Factories to Calories Fulton Market Food Tour.
#7. Roosevelt University's Vertical Campus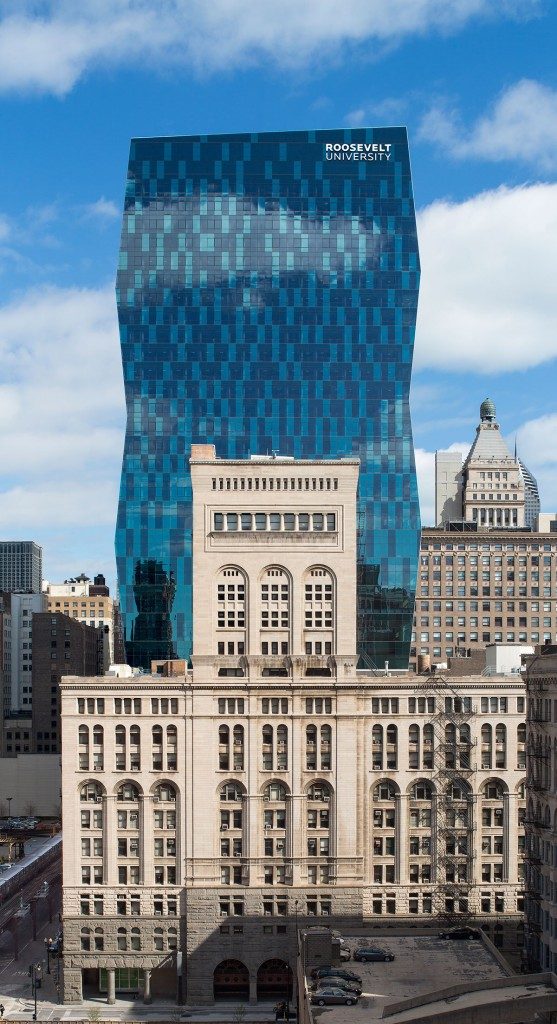 Long known as a downtown commuter school, Roosevelt University needed something bold to change their reputation. The result? Roosevelt's vertical campus is one of the most beautiful university buildings in Chicago.
A soaring, shimmering slice of contemporary architecture, the vertical campus burns a bold blue regardless of the weather. The tower also has a distinctive zig-zag design, standing in sharp contrast to the rectilinear profiles of its neighbors in the Loop. Completed in 2012, Roosevelt's innovative campus is the newest building on our list of overlooked beautiful buildings in Chicago.
#8 Terra Cotta Row
Lake View, like many North Side neighborhoods, is a mishmash of historic and contemporary housing stock. Yet one intersection stands out amidst the sea of handsome three flats, greystones, 4+1's, and new townhomes. Terra Cotta Row is a patch of historic homes on Oakdale and Seminary that are swamped with ornate terra cotta decoration.
The houses were built in the late 1800s, when Lake View was still outside city limits. Executives at the Northwestern Terra Cotta Company used their homes as a permanent demonstration of the company's products. The Rokham House, on the northeast corner, is both a fascinating mess architecturally and has the most complete extant terra cotta display.
#9. The Thompson Center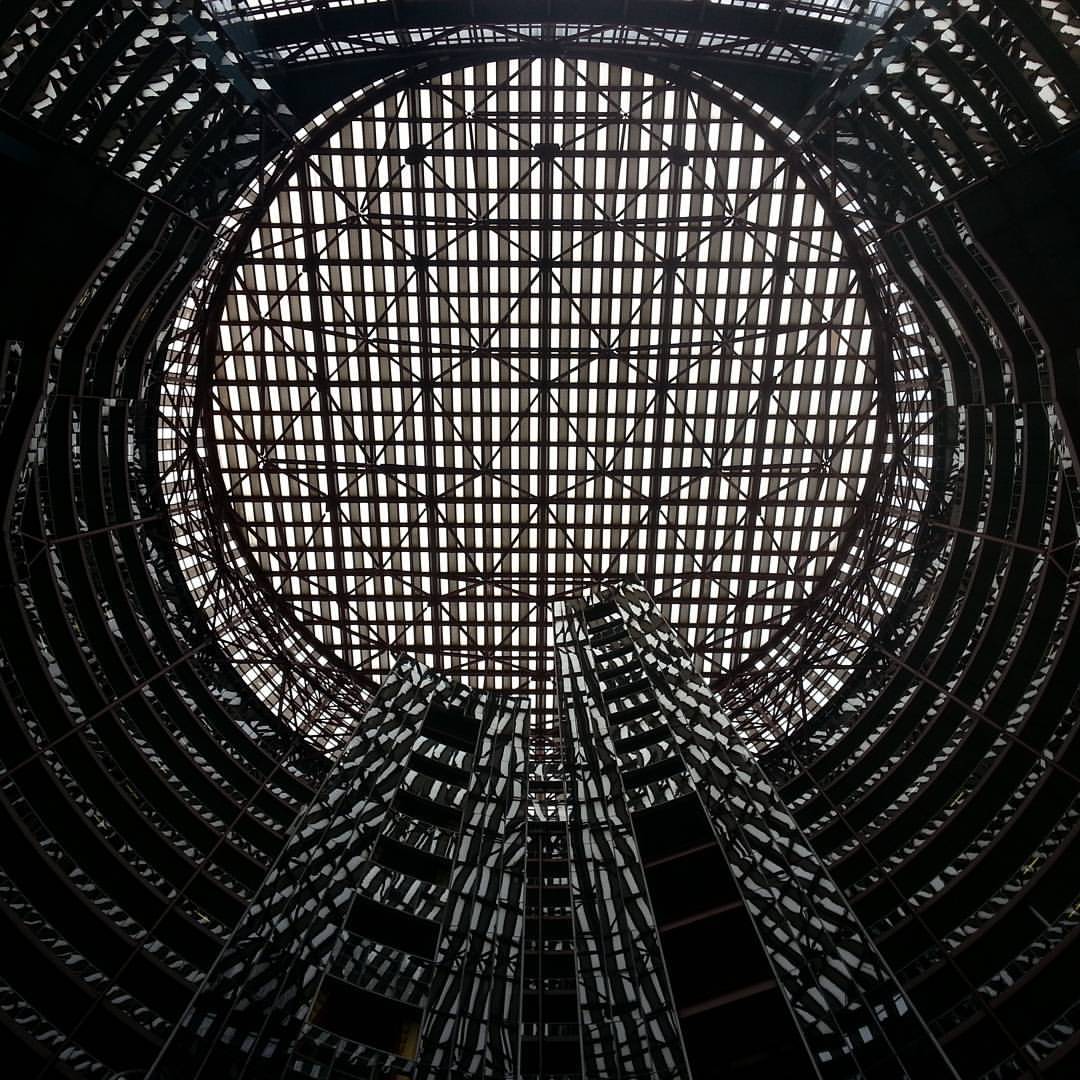 The Thompson Center, which may yet be destined for the rubbish heap of architectural history, is an infamous pickle of a building. The colorful post-modern exterior inspires decidedly mixed reactions. Almost every state official wants to sell and demolish it. Even its architect Helmut Jahn admits it needs a complete overhaul a mere 25 years after construction.
Stepping inside, though, reveals one of the most overlooked beautiful buildings in Chicago. Jahn's atrium soars dozens of stories overhead, creating a yawning arcade of negative space for your eye and heart to run wild in. No other interior in Chicago can match the Thompson Center's playful expanse. Check it out now, or else you may be too late.
#10. Yale Building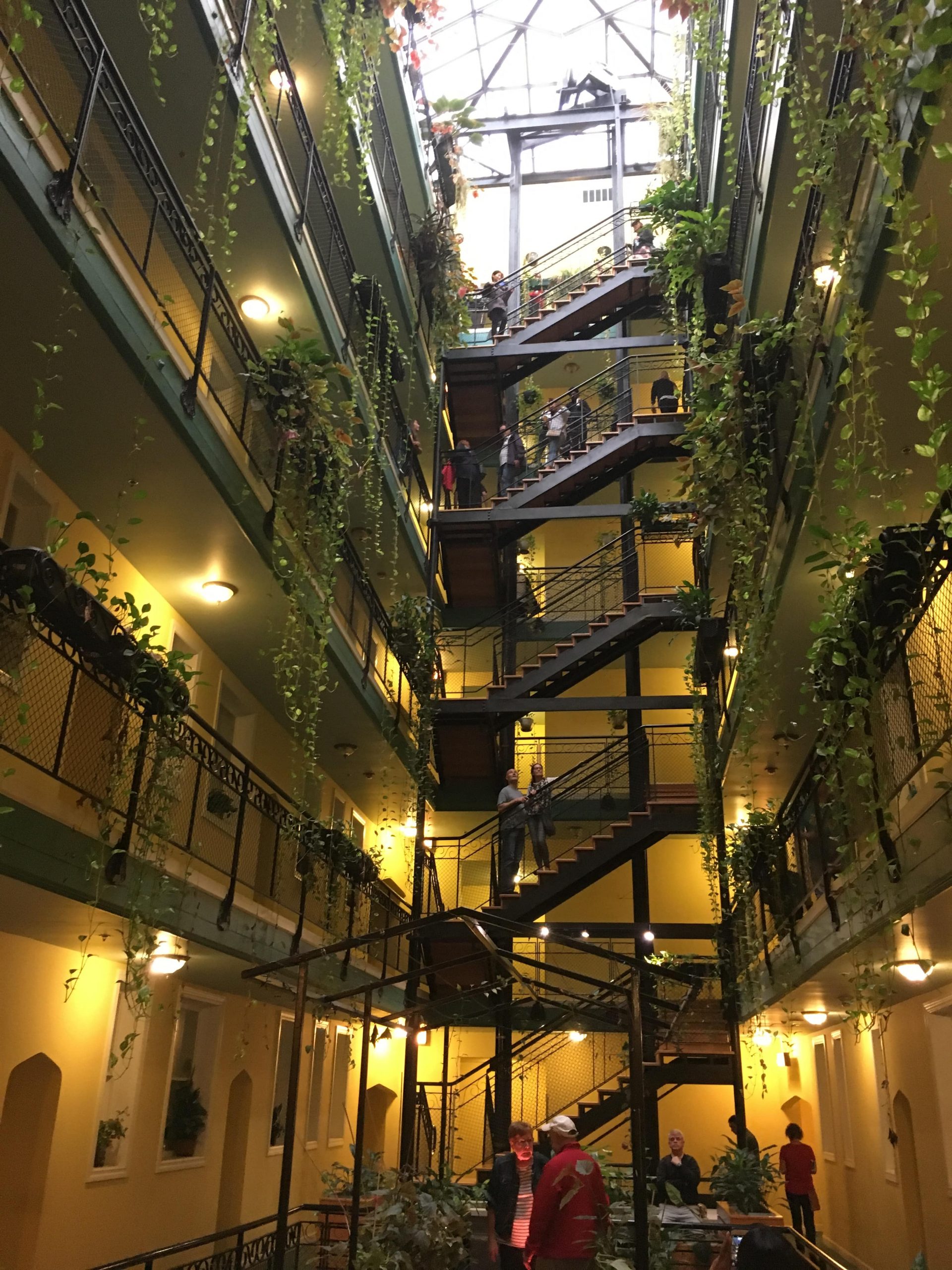 The Yale Building is a stunning example of turn-of-the-century high-rise residential architecture. The robust Romanesque Revival building in Englewood was built in 1892 for World's Fair visitors. Today, it has been meticulously restored and serves as senior housing. The bright yellow bricks and hearty massing alone are enough to make it one of the most overlooked beautiful buildings in Chicago.
The central atrium inside the building is where the Yale reveals its hidden beauty. Skylights flood the space with natural sunlight, trickling through the wrought-iron balconies and hanging vines. It gives the space a floral, languid atmosphere akin to the architecture of the Gulf Coast. Gorgeous stuff.
There's No Shortage of Beautiful Buildings in Chicago
We hope you enjoyed this look at some of the gorgeous architecture in Chicago. We'd love to share it with you on a custom private tour of Chicago's magnificent neighborhoods. Give us a call!
– Alex Bean, Content Manager and Tour Guide
ABOUT CHICAGO DETOURS
In business since 2010, Chicago Detours is a passionate team of educators, historians and storytellers. We applied a decade of experience as one of Chicago's top-rated tour companies to become a virtual event company in 2020. We bring curious people to explore, learn and interact about Chicago's history, architecture and culture through custom tours, content production, and virtual events.