Before joining Chicago Detours, I spent several years working for Groupon in their main office at 600 West Chicago Avenue. Being the curious type, I often wondered about the building's origins and history. Now I'm in the position to put that curiosity to use as a tour guide (sometimes sailing right past the building when I lead a private Boat Tour) and blogger with Chicago Detours.
We research Chicago history and architecture like this while developing our live virtual events and custom corporate events. Join us for our public virtual events or book an exclusive team-building event for your private group. We can also create custom tours and original content creation about this Chicago topic and countless others.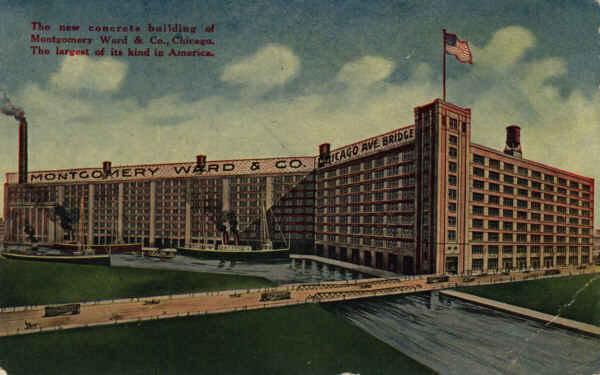 Montgomery Ward and the Golden Age of Mail Order
Montgomery Ward, the Chicago-based retail company constructed 600 West Chicago in 1908. Ward's, founded in 1872 as a dry-goods mail order business, specialized in shipping goods. Back then, rural and suburban customers could not easily come into a big city like Chicago to shop. In its heyday, the Montgomery Ward catalog offered both small essentials, like soap or clothes, and gargantuan products, like an entire house. Around the turn of the 20th Century, the company had outgrown its original operations in the Loop and decided to build its own corporate campus.
Montgomery Ward built 600 West Chicago in order to handle the massive work of receiving, processing, and shipping millions of catalog orders. It rises eight stories and hugs the North Branch of the Chicago River for over 1,000 feet. Upon completion, 600 West Chicago was the largest re-enforced concrete building in the world. According to information from the New York Times and Wall Street Journal, the commercial operations within this gigantic building were vast. In order to handle the shipping demands, 600 West Chicago housed its own U.S. Post Office branch. To supplement that, the ground floor had a shipping platform with berths for up to twenty-four railroad freight cars. Miles of chutes, conveyors, and storage lofts moved goods around inside the building.
Ingenious Logistics at 600 West Chicago
All of this was before the age of email, so the building needed an interior infrastructure for circulating messages. Montgomery Ward hired couriers, nicknamed "pickers," who would roller skate around the building to deliver messages and packages. You can see some of them in the photo below. Hearing about this always makes me think Disney will hear about this and create a Newsies-style musical about the roller-skating Pickers.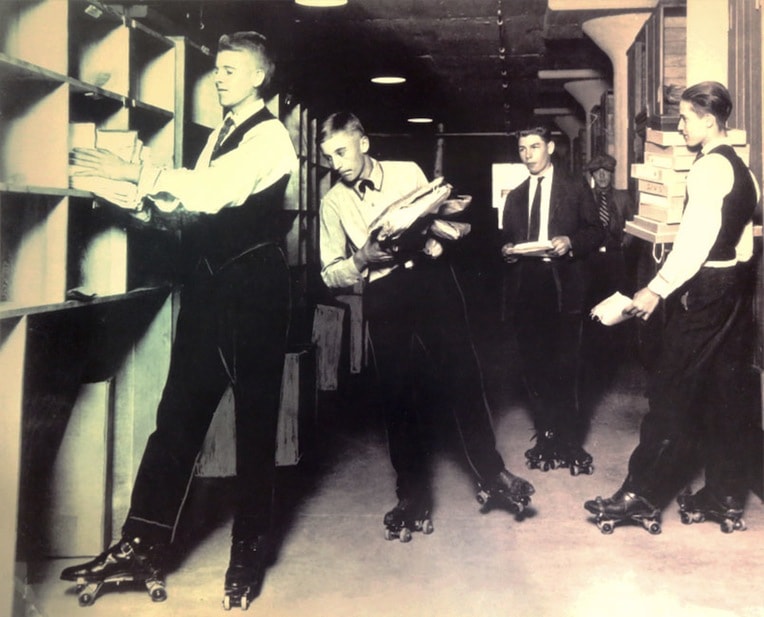 For decades, 600 West Chicago was home to the massive work of shipping and processing orders and storing goods. Eventually, Montgomery Ward left the catalog business in favor of department store retail. There was still enough shipping work to do that little changed at 600 West Chicago. In honor of its place in the commercial history of the country, 600 West Chicago was added to the National Register of Historic Places in 1978 and was designated a Chicago Landmark in 2000.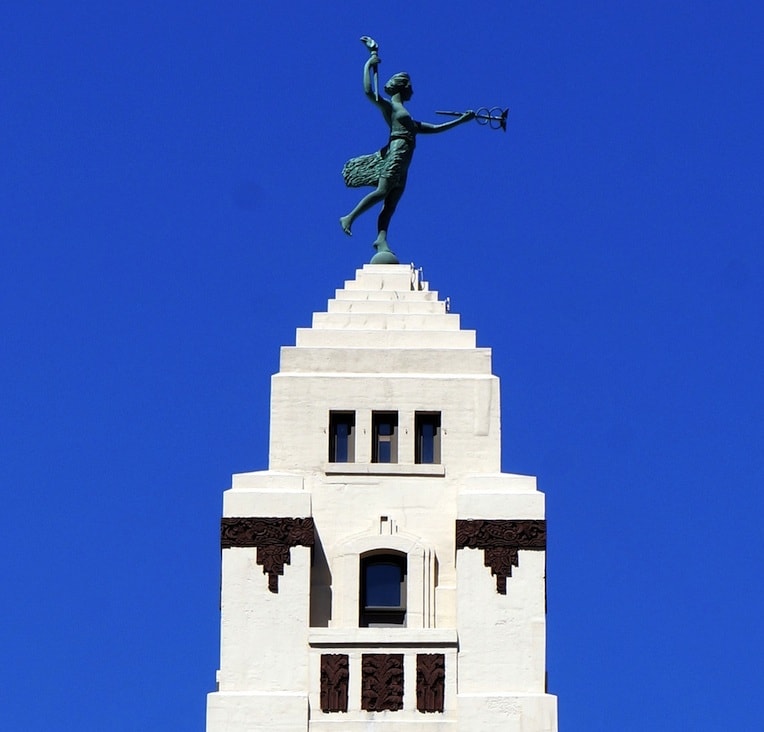 600 West Redevelops and Diversifies
By 2000 Montgomery Ward had fallen on hard times. Competition from other department stores and the burgeoning online retail economy ran Ward's out of business. Developers have since bought all three buildings on the corporate campus.
Today the buildings are a mixture of commercial, office, and residential units. Along with Groupon, other major tenants include the Big Ten Network, Wrigley, and Dyson. Developers converted the neighboring Montgomery Ward buildings into condos. Those tenants mean that restaurants like Japonais and Snarf's moved in and food trucks often surround 600 West Chicago. The old Cabrini-Green site next door entering a similar redevelopment phase. Taken together, 600 West Chicago is emblematic of the changes wrought by the past century on the Near North Side.
– Alex Bean, Chicago Detours Tour Guide
ABOUT CHICAGO DETOURS
In business since 2010, Chicago Detours is a passionate team of educators, historians and storytellers. We applied a decade of experience as one of Chicago's top-rated tour companies to become a virtual event company in 2020. We bring curious people to explore, learn and interact about Chicago's history, architecture and culture through custom tours, content production, and virtual events.