Cozying up with a mug of hot chocolate is an absolute must in the midst of a long Chicago winter. So why not check out some fascinating historic architecture while tracking down that mug of bliss? Here are four places to enjoy excellent hot chocolate in fascinating historic spots. Cheers!
We research stories from Chicago history, architecture and culture like this while developing our live virtual tours, in-person private tours, and custom content for corporate events. You can join us to experience Chicago's stories in-person or online. We can also create custom tours and original content about this Chicago topic and countless others.
L.A. Burdick Handmade Chocolates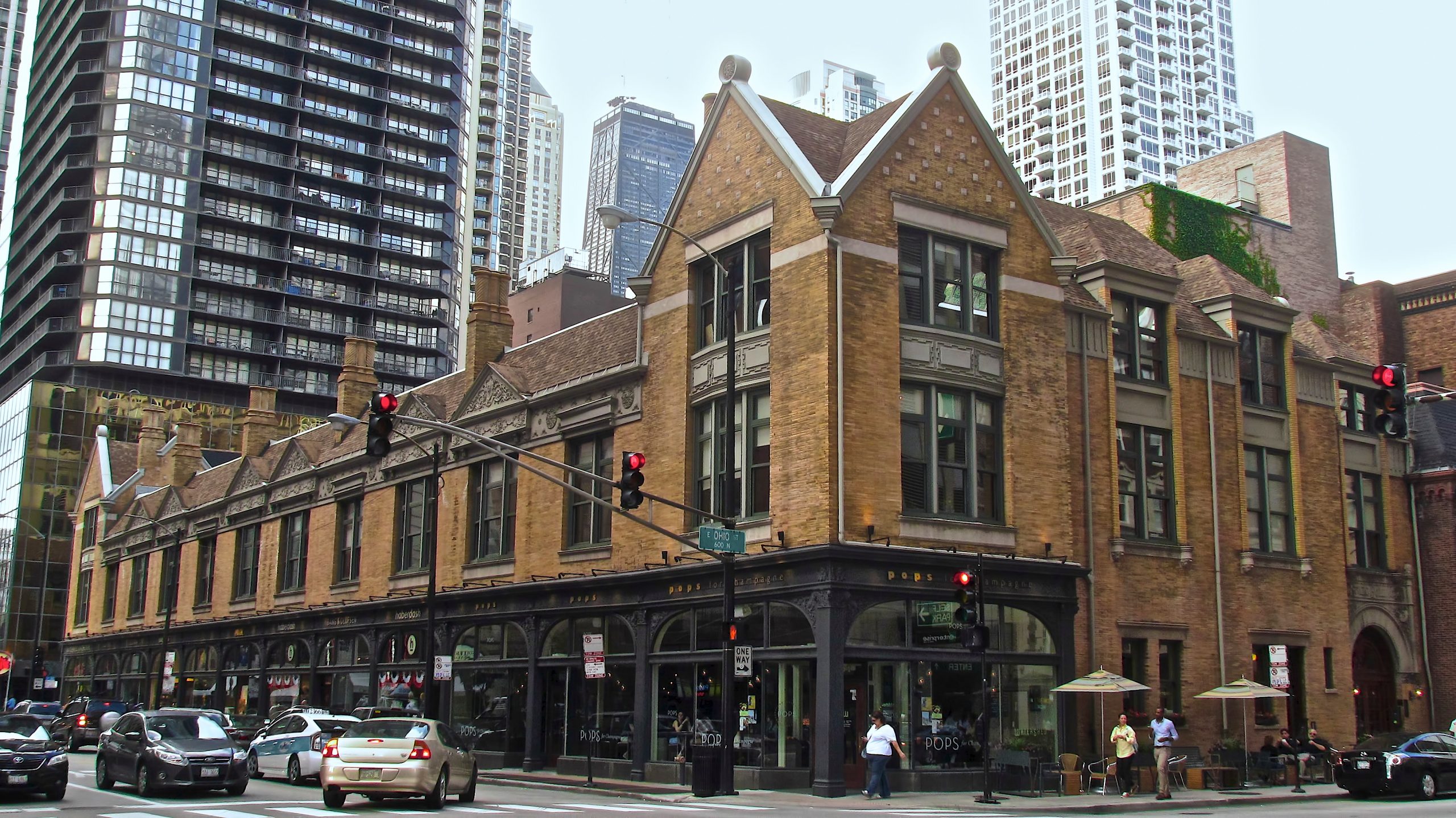 The fine folks at L.A. Burdick Handmade Chocolates "expertly blend shavings of single-source chocolate into steaming milk for a truly rich cup." Which sound delightful and I may just stop writing this post right now to go grab a cup.
Okay, now that I'm back, it was also lovely getting to visit the Tree Studio Building while sipping my hot chocolate. The Queen Anne-style building, which fronts North State, dates back to 1894. Judge Lambert Tree's eponymous studio was a working and living space for European artists in Chicago. It still serves that purpose today, with artists living upstairs. Which is why you can sip delicious hot chocolate in this historic spot on the ground floor. You can also swing by for a stronger drink at Watershed after a custom private tour.
Revival Food Hall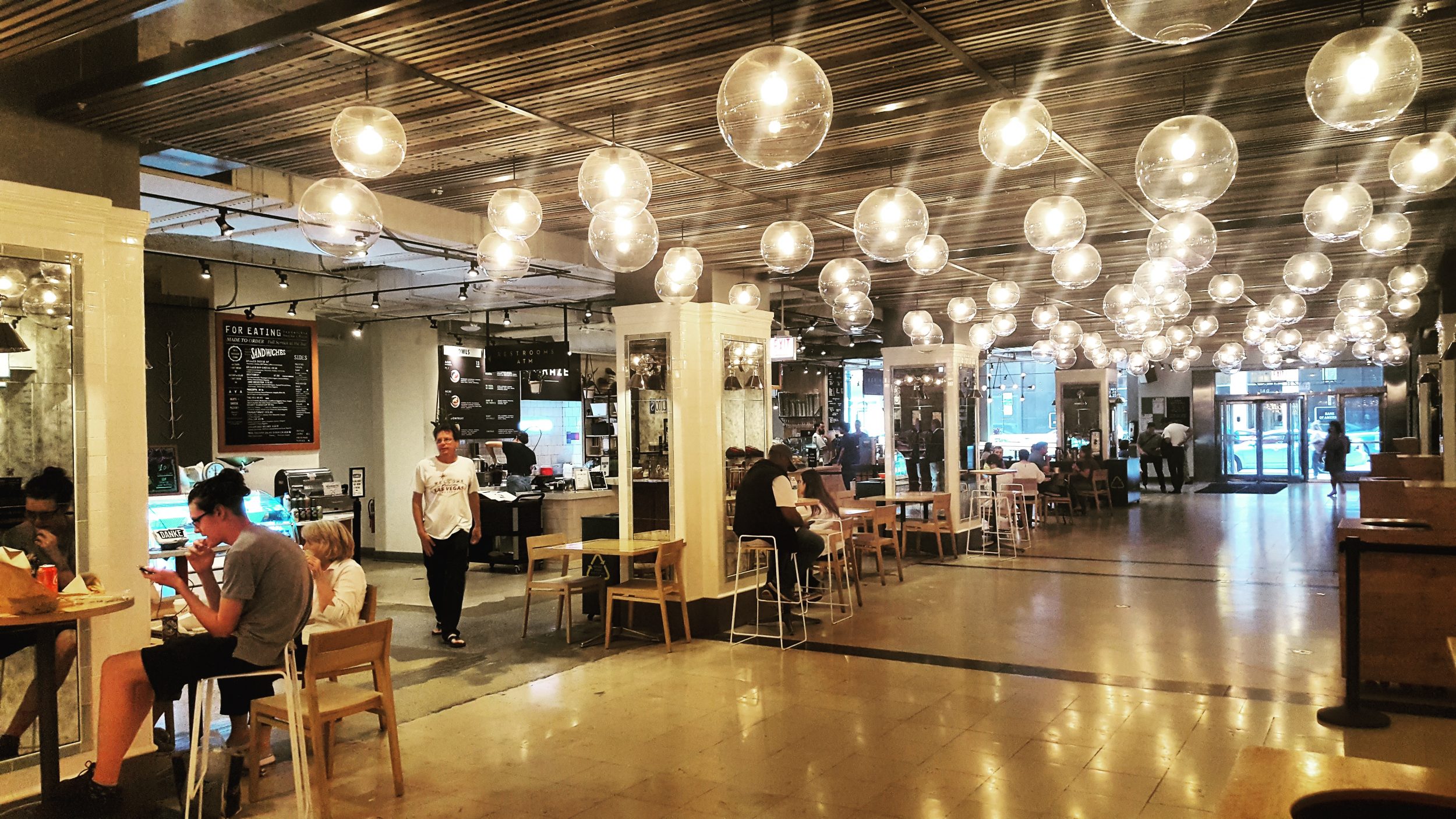 You can grab a mug of the good stuff at Mindy's Hot Chocolate in Revival Food Hall before starting a Downtown Bucket List private tour, which begins next door in the Marquette seven days a week. Revival is one of the trendiest dining spots in the Loop, filled with hip restaurants and vendors. The name itself, pleasingly, is a nod to historic architecture.
Revival is in the old Commercial National Bank Building, designed by Daniel Burnham and Co. in 1907. It was their first skyscraper bank building, employing the signature tripartite design of Burnham's Classical Revival look. (Hence, Revival Food Hall–get it?) Notably, the attached Corinthian columns along the second floor marked the banking floor's location. This set the template for many other grand bank buildings along LaSalle Street.
Intelligentsia at the Monadnock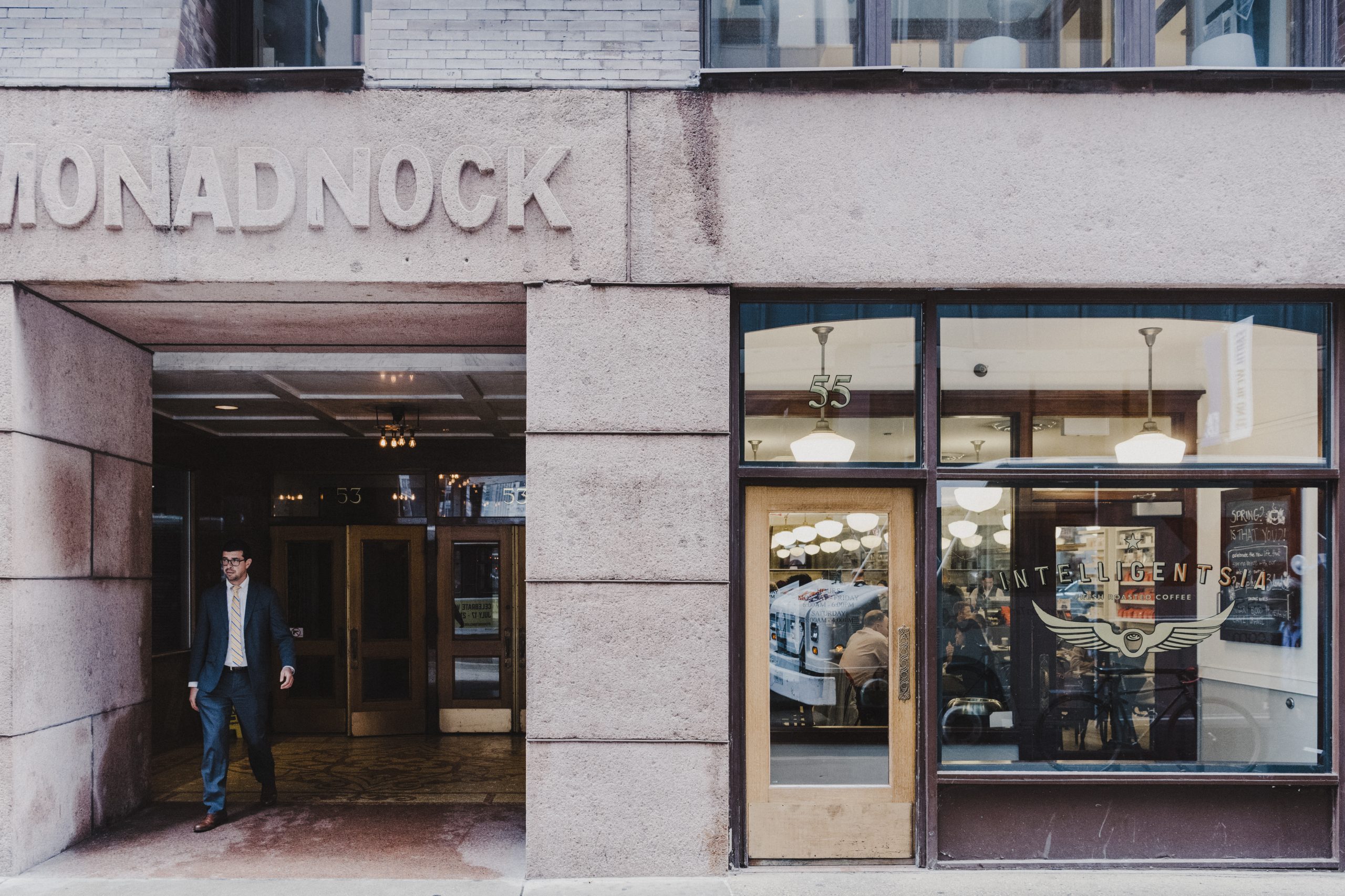 The Intelligentsia in the Monadnock Building is the closest spot for hot chocolate in Chicago to our office. It's also the spot closest to our hearts! (xoxo – please give us a discount now?) As with all their drinks, the hot chocolate at the Intelligentsia downstairs is a rich and complex delight.
Their space on the Jackson Boulevard frontage of our historic skyscraper is a wonderful throwback. Intelligentsia renovated the space in 2017 and made use of its historic location and details. They retained the original marble flooring and oak window frames, matching the Victorian vibe from the other ground-floor tenants. Look for other vintage touches like historic photos while sipping hot chocolate in this historic spot.
Xoco
My favorite hot chocolate in a historic spot in Chicago is the Aztec "bean-to-cup" chocolate at Xoco. The chile and allspice give it a warm, spicy zing that is absolute perfection when there's a chill in the air. Of course, one should expect any and everything at Xoco to be divine. Like its neighbors, Topolobampo and Frontera Grill, it's one of famed chef Rick Bayless's signature River North restaurants.
Sipping hot chocolate outside Xoco presents a priceless opportunity to drink in some historic architecture as well. Located at 449 North Clark, it's right in the midst of one my favorite blocks in downtown Chicago. The area around Clark and Hubbard seems to have downtown's largest collection of post-fire buildings. 449 itself was built in 1872 right after the fire, making it a glorious example of what the city looked like before the skyscraper age. Its bracketed cornices and rounded windows with incised hoods are textbook examples of the Victorian rage for architecture referencing Renaissance-era Italy.
Go Architecture Hunting!
In all honesty, this quest for hot chocolate in historic spots is just an excuse. We're always trying to justify the impulse to wander around the city and admire its wonderful architecture. No matter the season or the reason, there's always beautiful buildings to admire. If they happen to contain delicious drinks, well, all the better.
– Alex Bean, Content Manager and Tour Guide
ABOUT CHICAGO DETOURS
Chicago Detours is a boutique tour company passionate about connecting people to places and each other through the power of storytelling. We bring curious people to explore, learn and interact with Chicago's history, architecture and culture through in-person private group tours, content production, and virtual tours.