Rudolph the Red-Nosed Reindeer has been a staple of Christmas in Chicago since 1939. The story of a outcast young reindeer and his odd red nose is known and loved by millions.
What's less known is that Rudolph the Red-Nosed Reindeer was created at the legendary Chicago retailer Montgomery Ward. You can discover this and more Chicago-based holiday traditions on our annual Virtual Holiday Stories Happy Hour.
We research stories from Chicago history, architecture and culture like this while developing our live virtual tours, in-person private tours, and custom content for corporate events. You can join us to experience Chicago's stories in-person or online. We can also create custom tours and original content about this Chicago topic and countless others.
Montgomery Ward and Chicago Retail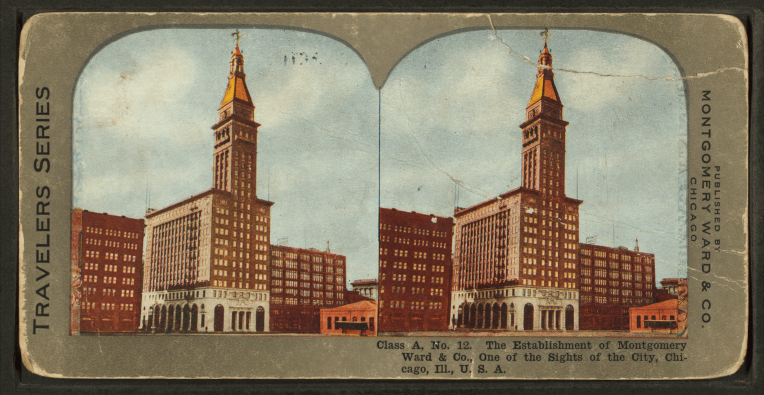 Montgomery Ward was one of the giants of Chicago's retail industry. In the 1930's, the company expanded beyond its initial mail order business. It built hundreds of department stores all across the country. Of course, Ward's found it hard to break into department store retail, especially in cities with established shopping districts like Chicago's State Street.
Montgomery Ward offered special promotions in order to stand out from crosstown rivals like Sears and Marshall Field's during the shopping that accompanies Christmas in Chicago. They gave out free coloring books to children for several year's in the 30's. The giveaways proved popular, but the store lost money on each book.
A copywriter named Robert L. May was commissioned to create a new children's book for the store to pass out. The company hoped that creating their own book would save money and give them a unique character for promotions. That book would become the world-famous Rudolph the Red-Nosed Reindeer.
Creating Rudolph the Red-Nosed Reindeer
May drew upon existing children's stories and Christmas folklore, along with his own memories and feelings when creating Rudolph. In a later interview May said "I'd always been the smallest in the class. Frail, poorly coordinated, I was never asked to join the school teams."
May took those memories of ostracization and adapted it into a story inspired by The Ugly Duckling. He also drew upon the wildly popular poem "'Twas The Night Before Christmas." It provided the rhyming meter used in Rudolph and helped May decide upon using a reindeer in his story.
May's four-year-old daughter, Barabara, was also part of his inspiration. She loved going to the Lincoln Park Zoo, where the deer and reindeer were her favorites. His daughter's infatuation made May certain that kids would identify with Rudolph. He even tested out the rhymes on her before publishing.
Montgomery Ward initially did not like the idea of Rudolph having a red nose. Red noses are a historical indication of drunkenness. Understandably, Ward's executives did not want their new holiday mascot associated with winos. The lively illustrations by artist Denver Gillen wound up convincing the executives in the end.
Amusingly, a recent scholarly paper affirmed that Rudolph's famous red nose is ideal for guidance on a foggy night. Red light carries further in refractive light, as Santa might encounter on foggy Christmas nights. Pretty astute decision-making by the big guy in red!
A Holiday Tradition is Born
Before publication, the president of Montgomery Ward hoped that the book would bring "a tremendous amount of Christmas traffic." The book went far beyond that and became a staple of Christmas in Chicago. The store published and distributed 2.4 million copies of Rudolph the Red-Nosed Reindeer in 1939. Further publication was impossible because of war-time limitations on paper.
After World War II ended, May asked for the rights to the story he'd created. Inspired by either goodwill or short-sightedness (I'd guess the latter), the company signed over Rudolph. May had new editions printed, which unexpectedly sold millions more copies.
In 1949, May asked with his brother-in-law, the songwriter Johnny Marks, to turn the story into a song. Bing Crosby famously declined to perform it. Into the breach stepped the "singing cowboy" Gene Autry. That version of the song would hit #1 on the charts and eventually sell 25 million copies. It's still one of the best-selling songs of all time!
Rudolph and the Magic of Christmas in Chicago
The book and song made Rudolph into a permanent part of Christmas in Chicago. I can distinctly remember participating in a massive call-and-response version of the song that involved every student in my school. Each grade had its own verse, with the unruly kids belting out the unofficial bits ("LIKE A LIGHTBULB!"). That memory has never faded for me and I'm sure the same is true for countless others.
That's part of the magic of Christmas in Chicago. As you can discover on our special Virtual Holiday Stories Happy Hour, this whole time of year is built around consumerism. Rudolph is a promotional mascot, Santa is in malls to hawk toys, and Black Friday has eaten into Thanksgiving Day. And you know what? That's okay.
The holiday season has a crass commercial basis, but that doesn't negate our feelings. Mothers and daughters bond during Black Friday shopping. Families sing along to carols that pop onto the radio in October. Rudolph the Red-Nosed Reindeer lets a shy little kid know that they're okay anyway.
That's real and genuine. It's what makes the season bright.
-Alex Bean, Content Manager and Tour Guide
ABOUT CHICAGO DETOURS
Chicago Detours is a boutique tour company passionate about connecting people to places and each other through the power of storytelling. We bring curious people to explore, learn and interact with Chicago's history, architecture and culture through in-person private group tours, content production, and virtual tours.