Many of us are familiar with at least the name of Mies van der Rohe. His iconic modernist buildings in Chicago include IIT's campus, including the sublime Crown Hall, 860-880 Lake Shore Drive, and the Federal Center. (For a brief, but excellent overview of Mies, see Geoffrey Baer's summary or join us for a custom private tour) But would it surprise you to learn there's a hidden work by Mies tucked away in downtown Chicago?
We research stories from Chicago history, architecture and culture like this while developing our live virtual tours, in-person private tours, and custom content for corporate events. You can join us to experience Chicago's stories in-person or online. We can also create custom tours and original content about this Chicago topic and countless others.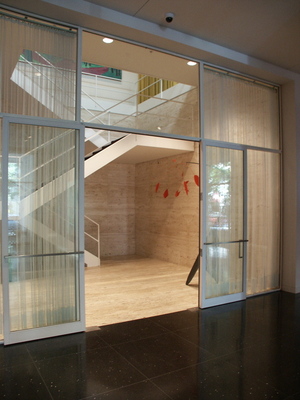 Hidden Mies van der Rohe
There is also a lesser-known piece of Miesian design in Chicago. His elegant 'floating' staircase in the Arts Club building on Ontario Street. While I have studied Mies' work in Chicago, I had never heard of this design for the Arts Club until I came upon a Blair Kamin article from 1993, which opens with this line: "The setting: The elegantly spare lecture hall of The Arts Club of Chicago, designed by the late Ludwig Mies van der Rohe."
I'll have to admit – I had no idea what "floating" meant exactly when I first read about it. This conjures images of the Jetson's and hovering machines, however the staircase only defies gravity in a more figurative sense. Like many of Mies' works, the strong aura of originality has faded. His designs have been replicated to no end. On first glance it may not be so striking. But this staircase, which lightly darts from wall to wall, creates a weightless sensation. Very different from the heavy sweeping staircases of the past. It unites not just a lower floor and an upper floor, but elegantly pulls integrates all sides of the space.
Arts Club of Chicago History
The Arts Club of Chicago, one of Chicago's many upscale private clubs, was founded in 1916. Its founders were lovers of the contemporary and avant garde arts movements. In other words, the hip and powerful hung out there. Members have included architect Helmut Jahn and Chicago icon Studs Terkel. The Club showed art that galleries and the Art Institute were not exhibiting. Before the Museum of Modern Art of New York opened in 1929, the Club was the only exhibitor of European modern art in the country, and the first to show Pablo Picasso as well as many other prominent international artists. Wow.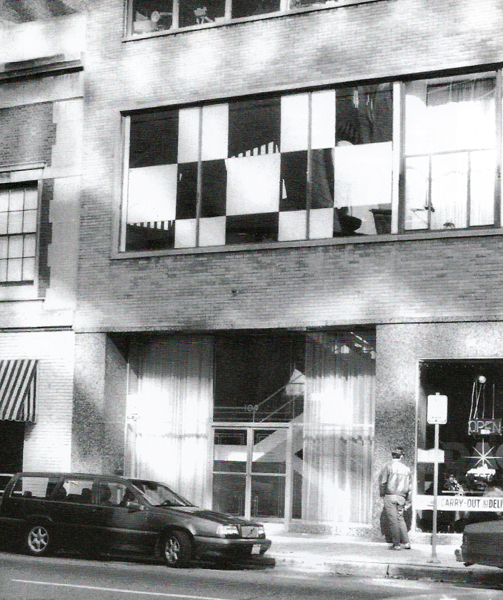 The Arts Club has had several locations, including the Fine Arts Building and the Wrigley Building. The Arts Club, true to its modernist mission, commissioned Mies to design the interior space of a new building. 109 East Ontario, completed in 1951, has a gallery, restaurant, lounge, and the magnificent staircase. This is the only time that Mies created an interior for a building not of his own design.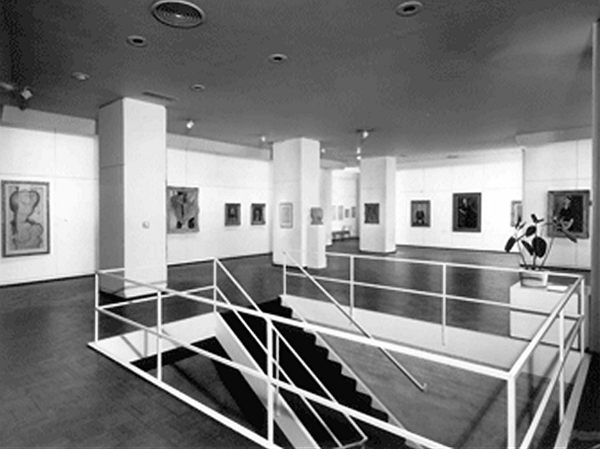 Demolition and Survival
The "elegantly spare" Arts Club building was razed in 1995. A high-rise condo development took its place.  The Arts Club's new home, designed by architecture firm Vinci/Hamp, opened two years later. Several aspects of the new design pay homage to Mies. They used a similar color palette and materials, integrated furniture from the Mies interiors and, most prominently, preserved Mies's staircase in the new building at 201 East Ontario. So head to Streeterville to find this hidden work by Mies in Chicago!
The Arts Club of Chicago today has an ever-growing permanent collection and it hosts three to four temporary exhibits per year. You can pop in to view the exhibits and the Mies' staircase for free, Monday through Friday, from 11:00 a.m. to 6:00 p.m.
– Wendy Bright, Tour Guide
ABOUT CHICAGO DETOURS
Chicago Detours is a boutique tour company passionate about connecting people to places and each other through the power of storytelling. We bring curious people to explore, learn and interact with Chicago's history, architecture and culture through in-person private group tours, content production, and virtual tours.