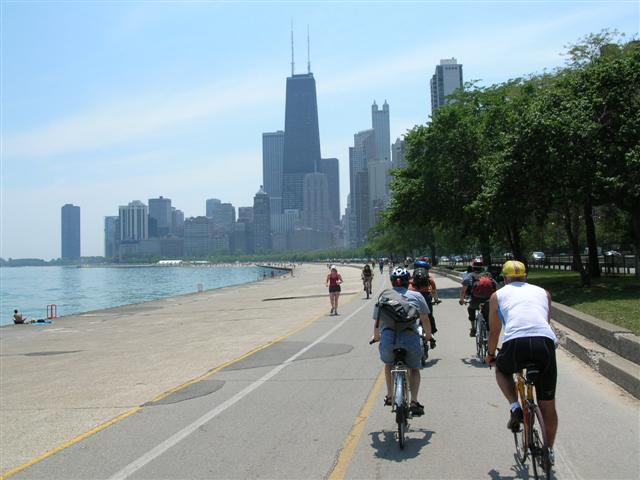 I've been a proud to be biking in Chicago for almost two years now.  Biking, to me, conjures feelings of childhood bliss. Memories of summers riding my purple Huffy, bedecked with psychedelic flowers. I'd ride it in a continuous loop in my parents' driveway and, if I was daring, a neighbor's sidewalk. Unfortunately, suburban sprawl wasn't conducive to my need for speed. Without any biker-friendly streets or destinations in Omaha, I sadly hung up my helmet for a learner's driving permit.
Little did I know of the joy and fulfillment of biking in Chicago. Destinations, tours, and paths that were just waiting for me. Not only can people ride for the fun of the wind in your hair, but Chicago has worked very hard to promote bicycle tourism and transportation for visitors and residents. In fact, in 2001 Bicycling Magazine named Chicago the best city for biking, in 2008 Chicago was listed as "still the greatest," and this past year they gave a nod to Mayor Emanuel's newest efforts.
Biking in Chicago History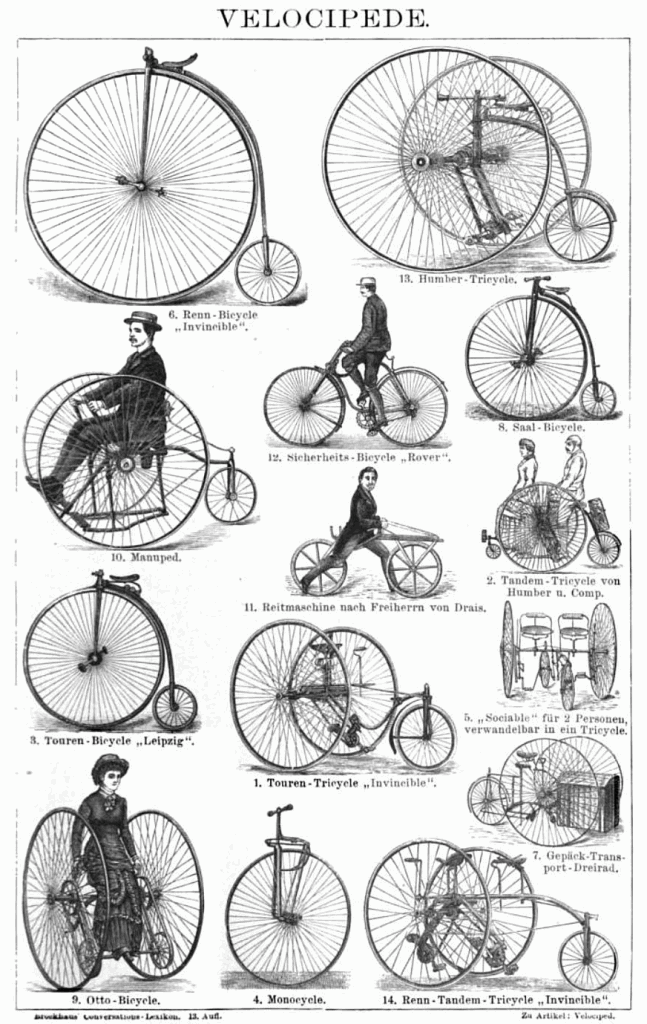 Chicago has a long history of bicycle advocacy. As the first "velocipedes" became commonly popular in the mid- to late-1800s. Indeed, Carter Harrison II rode on a cycling campaign for mayor in 1897. His campaign slogan? "Not the Champion Cyclist, but the Cyclist's Champion." Cycling back then was a leisure activity mostly enjoyed by the upper-middle class.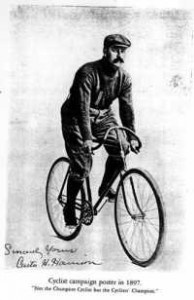 class.
City streets around the turn of the century were composed of knobby bricks, mud, sewage, and lots of horse manure. Biking was a hobby best enjoyed on the outskirts. After winning the election, Mayor Harrison repaid his pedaling supporters by creating a bike path from Edgewater to Evanston along Sheridan Road.
Bicycle Manufacturing
Chicago was also once known as "the bicycle-building capital of America," home to two-thirds of country's manufacturers such as Arnold, Schwinn & Company. It was the rise of the automobile that forced bicycle companies to market to children.  The energy crisis of the 1970's and the resulting decline of the car industry in the 1980's extended Chicago's status as the city that loved cycling into the both the Daley mayoral terms.
The Daleys had cycling advocacy councils that added substantially to the city's bike friendliness. Richard J. Daley established the 18.5 mile lakefront bicycle path and Richard M. Daley expanded marked bike lanes by 100 miles. Mayor Emanuel's Chicago Streets for Cycling Plan 2020 plans to create 100 miles of protected bike lanes and paths, establish a bicycle-sharing program, and continue programs that encourage cycle awareness and safety. And now there's even a new cycling race track, aka "velodrome," located on the site of the former U.S. Steel South Works. Chicago Velo Campus opened last year after Chicago spent 65 years velodrome-less.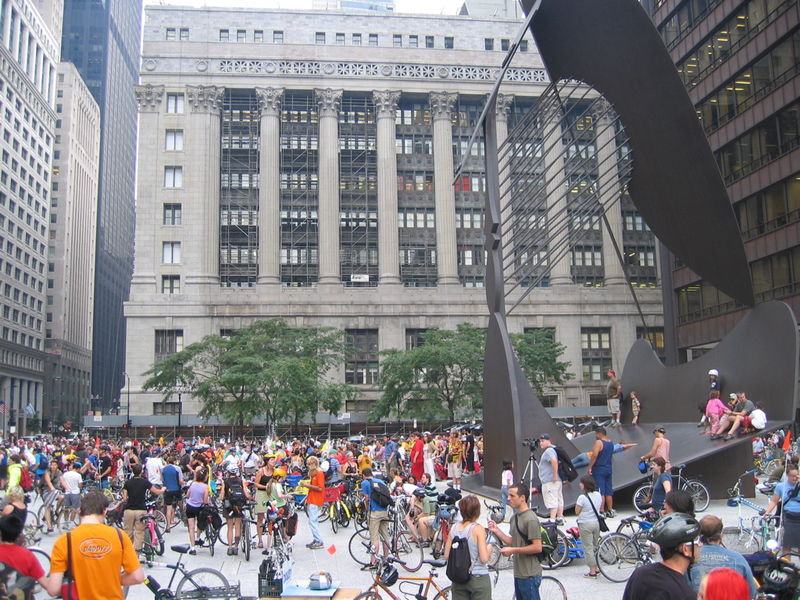 Biking in Chicago Today
Chicago has a lot of awesome summertime bicycle events like Bike the Drive, Bike to Work Week, and the always zany World Naked Bike Ride. There's Critical Mass on every last Friday of the month (ahem, that would be THIS Friday, June 29 at 5:30 in Daley Plaza), and the L.A.T.E. Ride (an overnight right June 30/July 1). Our lovely city also has a strong bicycle community and resources, like the Active Transportation Alliance and thechainlink.org.
I think biking is even more fun today than it was when I was a kid; there is nothing like breezing through the bike lane past a line of suckers stuck in traffic. If nothing else, cycling in the city reigns as an efficient, fun and liberating way to explore and sight-see in Chicago. Truly there is no better way to experience Chicago's architecture and neighborhood dynamics than with the speed and ease of self-perpetuated motion.
— Marianna Foral, Editorial & Research Intern