After two years as an ambitious, over-worked entrepreneur, I have decided this summer to make summertime fun in Chicago a top priority. But I still have history and guidance on my mind, even when relaxing. So here's a guide to visiting some Chicago beaches.
63rd Street Beach
This is the beach of Jackson Park, which stretches from 59th to 64th. This beach was the site of a radical move by Dr. Rosalie Ladova, who in 1913 stripped off her bathing skirt and took a dunk in her bloomers. Gasp! She was arrested for indecency and disorderly conduct. "I believe in swimming, but women cannot swim in skirts," she stated. The arrest captured international news attention, and a newspaper in England reported that they found the Chicago police to be "fussy and tyrannical" with Ladova's attempt to swim in less restrictive clothes. Ladova, pictured here, certainly sounds like an interesting character from history.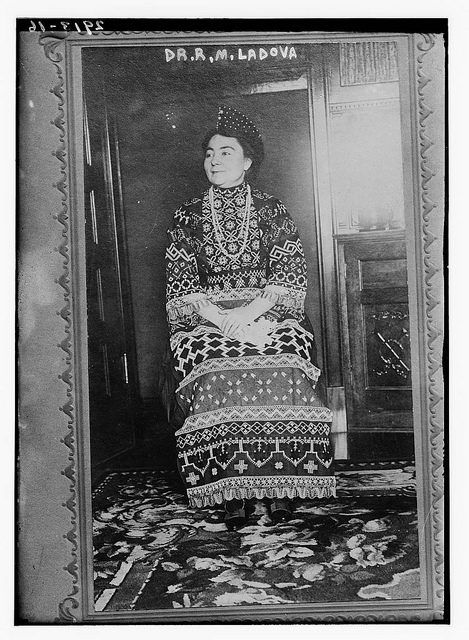 Today 63rd Street Beach has Chicago's biggest and oldest beach house. It's the most active beach on the South Side, with food concessions, bike rental, and the fountain pictured below. Running around the water spouts of the fountain is a favorite activity for kids, and it makes a miniature version of the scene at Crown Fountain in Millennium Park.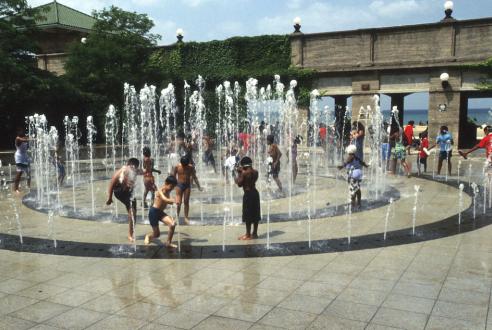 31st Street Beach
First of all, if you are coming from the North Side of Chicago, the bike ride on the lakefront past the Museum Campus is pretty spectacular to get here. This beach is part of Daniel Burnham's 1909 Plan of Chicago, which envisioned the recreational fantasy of a sculpted lakefront between Jackson Park and Grant Park downtown. Located in what is now called "Burnham Park," this beach was designed for the 1933 Century of Progress, Chicago's second world's fair.
Many Chicagoans consider this beach to be the most beautiful in the city. The sand is clean, it's never crowded, they have a decent concession stand, and you get a striking view of Chicago's skyline. We often point out the bathing opportunities there on our Chicago Neighborhoods and Cultural Diversity Bus Tour.
Montrose Beach
Some people don't prefer this beach because the sand feels a bit dirty. Not dirty like polluted – dirty as in the dirt of the earth. And lots of families with lots of kids come here, and of course kids tend to make a mess. However this beach comes with bonuses: a fantastic view of Chicago in the distance, kayak rentals, and a good variety of Mexican food. One guy wanders around selling his wife's home-made churros, which are plain or filled with custard. He's a staple of Montrose Beach. You have to get lucky for the mini taco cart. And you'll always find a particularly plentiful variety of paletas (Mexican popsicles), many of which are actually made fresh in Chicago.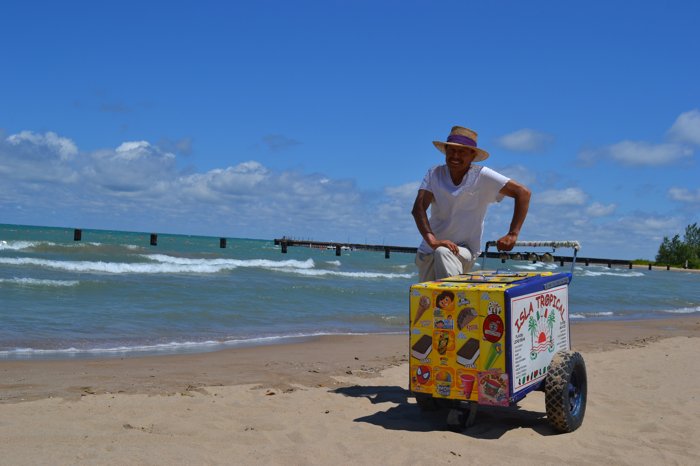 North Avenue Beach
I avoid this beach at all costs. If you're idea of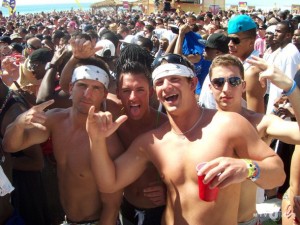 fun is MTV Spring Break, this is your beach for summertime in Chicago. While there may be some good people-watching, the muscle-flexing, drunken yelling, and exaggerated giggles gets old pretty quick for probably anyone over the age of 25. Guests often get a laugh from this description of the North Avenue beachgoers on the Chicago Highlights Detour 101 Bus Tour.
Oak Street Beach
You have to love this beach for its easy access from downtown. It naturally attracts a diverse crowd, and it's always full during good weather. Bonus: Beach-side restaurant with a bar (food not spectacular, 1/2 off glasses of wine on Wednesdays). Downside: Atrocious public bathrooms in the beach-access tunnel that goes under Lakeshore Drive.
Some Tips for Visiting Chicago Beaches
– Pack well. Not all beaches have cafes or stands that sell water and snacks. Remember water!
– Smokers beware. Since the 2008 smoking ban, you can get a fine of up to $500 for lighting up on the beach. People tend to use the sand like an ashtray, so this regulation helps keep the beaches of Chicago looking pristine.
– Disguise your beer, wine, sangria, Malort, or whatever your drink of choice may be. Drinking alcoholic beverages at the beach is considered drinking in public if you aren't at a designated beach-side bar. You risk the penalty of a $100-$500 fine, six months in jail or both. The only public park that is an exception to this rule is Millennium Park and the Pritzker Pavilion.
Summertime is the time to enjoy our windy city's vibrant culture. Beaches are a prime spot for relaxing in a city known for its Midwestern work ethic. If you tour Chicago beaches regularly, feel free to add comments on other beaches you like. Maybe I'll see you on the volleyball courts!
— Amanda Scotese, Executive Director