It can be a real challenge to survive winter in Chicago. The bone-chilling cold, pothole-strewn roads, battering blizzards, and endless slate grey skies make for a brutal experience. From the first chills of October to the lingering muck of May, most locals can only focus on how to simply make it through winter in Chicago. (You can always join a winter tour with us, of course, since they're mostly indoors.)
What might go unappreciated is how the city has been engineered to make winter a smidge easier for us. Read on to discover four ways that Chicago was built to help you survive winter.
#1. Repairing the Metra Tracks with Fire

The extreme cold of Chicago winters can cause a lot of problems in the area's infrastructure. The Metra's steel tracks will shrink in the cold, causing breaks and other mishaps. The steel can only be fixed when its heated up, so Metra sometimes relies on a very dramatic method to do so: fire!
As DNAInfo explored recently, Metra workers will douse a rope in kerosine, set it aflame, and then drag it along the tracks. The subsequent fire heats up the steel enough for workers to make repairs. It makes sense, but looks absolutely insane, especially when a train carrying passengers rolls right through the flames.
#2. Chicago Pedway System
Hidden below the streets of the Loop is downtown's best way to survive winter in Chicago: the Pedway tunnels. These subterranean passages run for about 5 miles in total. They zig and zag to connect the CTA subways, shopping destinations, condominiums, and hotels. The best part, of course, is that they keep you entirely out of the elements. Personally, I'm always happy to enter the Pedway when we do the tour at below-freezing temperatures.
If you're a Pedway neophyte, you can always join our Loop Interior Architecture Walking Tour. You'll explore the Pedway tunnels and get a printed copy of our Pedway map as a gift. We also have an electronic version of the map for folks who might have lost their copy.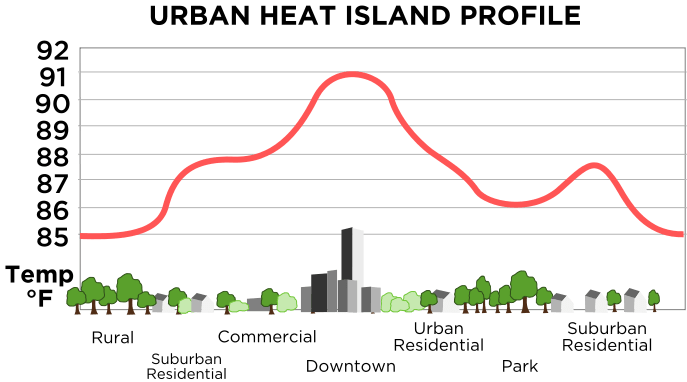 #3. Urban Heat Island
Big cities like Chicago tend to have warmer average temperatures than the surrounding suburban and rural areas. Vegetation naturally absorbs heat, whereas steel, glass, and concrete all reflect it. Because a city like Chicago is much heavier on concrete canyons than green spaces, the whole city winds up being warmed. Hence the term "urban heat island."
As nice as that might be on a chilly February night, it is worth noting that urban heat islands are a contributor to climate change. They're also a telltale sign of destroyed natural habitats for wildlife and can do screwy things to the weather and human psychology. So the short-term warmth may not be worth it in the long run. Urban heat islands are not specifically engineered to keep the city working in winter, but they are an interesting effect of it!
#4. Falling Ice Signs
Okay, to be fair, these warning signs are really only there to defray legal culpability for building owners. They're a response to dangers posed by chunks of ice tumbling off skyscrapers. Sometimes falling chunks of ice, including the tiniest icicles can turn deadly as they plunge downwards.
As this article from CityLab lays out, falling ice causes injury (or worse) on a near annual basis in Chicago. In fact, back in 1994 a pedestrian was killed on Michigan Avenue "when a hunk of ice the 'size of a microwave' lands on his head, crushing his skull and spinal column." Yikes! So take heed, these signs may very literally help you survive winter in Chicago.
– Alex Bean, Chicago Detours Content Manager