All of the sudden Chicago Detours is temporarily a virtual tour company! It's a new and unexpected change for our small business, as are many things for everyone right now .
We are now into a month and a half of lockdown during the COVID19 pandemic. When that was announced, it spelled a (temporary) end to our tour company business of providing walking tours and private group tours for locals and visitors. So, we had to figure out how to adapt in a real hurry. Within two weeks Chicago Detours began to offer virtual tours.
The weeks since then have been a whirlwind of planning and preparation to become a virtual tour company. Our workload is dominated by designing the tours and marketing them. We've gotten some great press from Chicago Tribune, Block Club, TimeOut, and NBC. That said, we're thoroughly enjoying this new line of work and have some really exciting virtual tour topics lined up. We have a virtual boat tour of the Chicago River planned for May 9th, which is already piquing interest across town.
Zooming Through Virtual Tours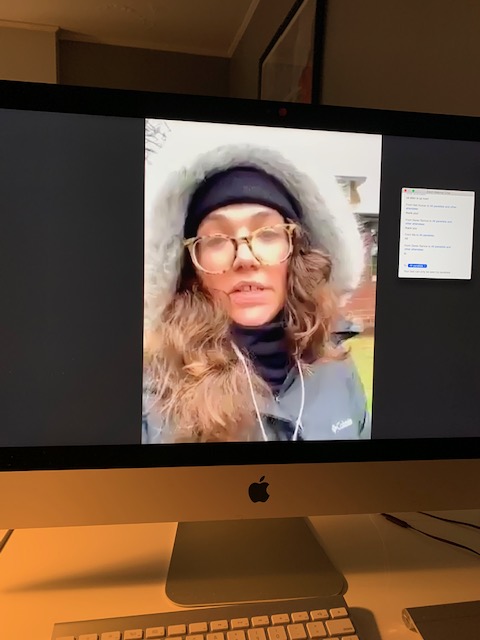 The biggest challenge in become a virtual tour company in all honesty, was not content. We have tons of stories, ideas, and facts that we have cultivated from 10 years of sharing tours, public talks, and blog articles. Our challenge as a now virtual tour company was to figure out how to bring all these stories of history, architecture and culture to people's couches. Just like countless other small businesses, we turned to Zoom as the solution to the problems presented by social distancing.
We chose to host Zoom meetings that would run 30 minutes on weekday evenings and 50 minutes on weekday afternoons. We had to just guess at what time of day people might want to join our tours while we had been thrust into an entire disruption of regular daily schedules. Then we had to figure out: How can you create an online tour experience that replicates the distinct pleasure of walking and talking through town?
Virtual Tour Formats
On that first week, we had big swings that taught us a lot about guiding tours from an online platform. Our Executive Director, Amanda, hosted the initial couple of Historic Happy Hours and Virtual Tours.
As she led us into temporarily becoming a virtual tour company, she worked out approaches to the digital tours that we now consistently use: Google Street View, slideshow presentations, and creating an interactive dynamic through the chat functionality. The former allows us to skip up and down thoroughfares like LaSalle Street, or just regular neighborhood boulevards. Such an experience, even through a Zoom screen share, helps provide a tangible sense of the physical layout of the cityscape. The latter always us to display historical images and videos, just like we do with iPads on the walking tours.
But really, we can't explain how fun it is to interact live with a group of 60-120 people for each of these digital experiences. We have for a limited time the videos on our Youtube channel if you'd like to see for yourself how a virtual tour works. Or, if you follow us on Facebook you can easily access the livestream.
Thanks for Supporting Us!
We're incredibly grateful for the support that Chicago Detours has received since the lockdown began. The initial days were immensely stressful, as we reckoned with the sudden disappearance of our entire source of revenue. The online tours have not replaced our lost income. We are offering most of them for free and accepting donations to keep us afloat in the meantime. A band of "regulars" is signing in every day and new faces appear for each virtual tour. Corporate groups, families, and universities have started signing on for private virtual tours.
It means the world to draw people's interest in these uncertain times. Your support has kept our business operating and it means the world to us. Please register for a virtual tour here!
See you on Zoom!
– Alex Bean, Content Manager and (Virtual) Tour Guide