Everyone is looking to get away by the middle of a Midwestern winter. Instead of jetting off to the tropics, we recommend a weekend at these neighborhood hotels for a great Chicago staycation. Of course, you can always sign on for a private tour with us if you're sticking around town!
We research stories from Chicago history, architecture and culture like this while developing our live virtual tours, in-person private tours, and custom content for corporate events. You can join us to experience Chicago's stories in-person or online. We can also create custom tours and original content about this Chicago topic and countless others.
#1. Benedictine Bed & Breakfast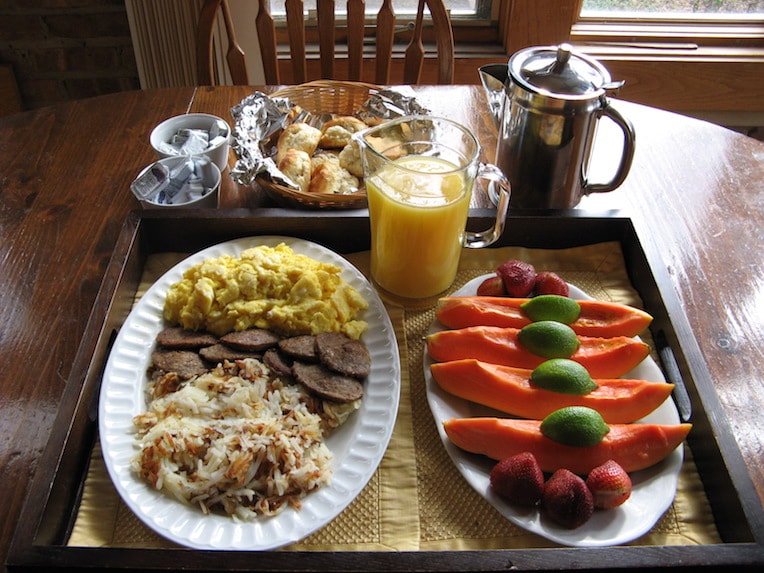 It seemed only appropriate that the most unusual suggestion for a Chicago staycation should go first. And this one is very unusual, at least to this occasional traveller. The Benedictine Bed & Breakfast is a homey little B&B run by monks inside a Catholic monastery in Bridgeport. (Definitely not a sentence I ever imagined writing.) According to their website, "[f]or centuries Benedictine monks were the hoteliers of Europe offering hospitality for travelers and pilgrims. In this spirit our award winning Benedictine B&B offers comfortable, spacious apartments for tourists or business travelers to Chicago." Which…awesome. Just awesome.
Bridgeport, of course, is the oldest neighborhood in Chicago outside of downtown. For over a century it was home to working class laborers, many of whom worked in the nearby Union Stock Yards, and a long succession of machine politicians, including both Mayors Daley.
Today it's becoming a super hip Chicago neighborhood. Artists have flooded in on the coattails of the Zhou Brothers and the neighborhood has diversified. The Benedictine B&B provides a great base to explore these changes. Plus, you'll be staying only a block from Maria's, which is ground zero for the new era of Bridgeport. We love this neighborhood so much that we regularly create custom tours for private groups to explore Bridgeport's working past and hip present.
#2. Longman and Eagle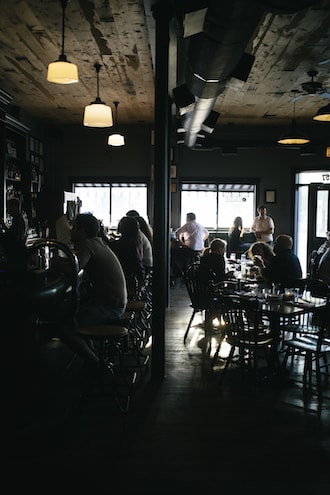 Now we're getting into the big names and heavy hitters. Longman and Eagle is a "reimagining" of the age-old Chicago neighborhood inn. I'll let their very well-written website provide the description:
In fin de siècle Chicago, bars, inns, pubs and saloons were the principle community centers of their era, where the providing of drink, food and lodging gave patrons and travelers a sense of place that was accessible, appealing and attractive to folks of all stripes, both poor and rich.
Bonus points for properly using a $20 phrase like fin de siècle in the "About" page of a hotel and bar. My affectionate jealousy aside, Longman and Eagle is the very definition of a chic modern neighborhood hotel. Its bars, run by the cocktail masters at Land and Sea Dept., are reason enough to visit. But the location just off Logan Square makes it a great Chicago staycation option. You'll find the Logan Theater, Lula Cafe, Billy Sunday, and Revolution Brewing all within an easy walk. We're always available to show you around on a private tour of Logan Square as well.
#3. Heart O' Chicago Motel
Forgive me, but I love funky old midcentury motels. I took a trip to Chicago about a month before moving here for grad school. The ideas was that I'd get all the touristy stuff out of the way first. My then-girlfriend/now-wife, Becky, booked us at the Howard Johnson Motel in River North. This weird old jalopy of a dive was clearly living on borrowed time. Becky actually apologized for how decrepit it looked as we pulled in, but I loved it. The fact this funky place could still exist amid glittering skyscrapers and mega-restaurants was testament to Chicago's unique character.
The HoJo in River North is gone, so my affection now turns to the Heart O' Chicago way up on the North Side. Worth noting that this is a no-frills sort of establishment. It'll feel like you're staying at a place built for traveling businessmen willing to stop at the first neon sign within city limits. Because that's exactly what it is and that's exactly why I love it.
The hotel is perched right on the end of Andersonville's commercial strip, which makes it perfect for a Chicago staycation. From there you can easily stroll the shops and restaurants or visit the Swedish American Museum on Clark Street. If the weather is right, you could even explore the gargantuan monuments and famous burials in nearby Rosehill Cemetery. The hopping Lincoln Square neighborhood is just a stone's throw away as well.
#4. The Robey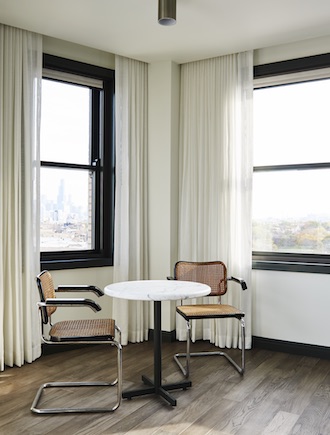 You can't have a chic spot in Logan Square without making room for another in Wicker Park. Cool Blue Line neighborhoods stick together like glue. The Robey, which opened in late 2016, occupies the 203-foot-tall Art Deco tower that soars above Damen, North, and Milwaukee. It's very literally the focal point of the bustling, hustling, hipper-than-thou Wicker Park neighborhood. This central location, the food and drink emporiums inside, and the sleek restoration of the landmark buildings' interior have quickly made The Robey's name.
You'll find no lack of activities for your Chicago staycation in Wicker Park. Personally, I always feel like a bit of a tourist over there. The vast majority of my time is spent in downtown or near the Brown Line, so crossing the river to the Northwest Side is an adventure. Highlights of the neighborhood include The Violet Hour, one of the first trendy cocktail bars in the nation, the studios and performance in the Flat Iron Arts Building, or (my favorite) stacks upon stacks of reading material at Myopic Books. You can also give us a ring to arrange a custom private tour of the neighborhood.
#5. Viceroy Chicago
The newest hotel on the list is also the one closest to the attractions and excitement of downtown. Viceroy Chicago just opened up last year in the swanky Gold Coast neighborhood. The hotel reused the facade of the historic Cedar Hotel, which dates back to the 1920's. A sweeping angular glass tower jumps up from this Jazz Age facade. It's an example of what the Tribune's architecture critic, Blair Kamin, has called an "facade-ectomy." In this case I find it to be a pretty fetching and eye-catching mix of old and new.
The Viceroy Chicago looks out upon the so-called "Viagra Triangle" in the heart of the Gold Coast's restaurant and nightlife scene. This neck of the woods has a long association with people living the high life, though it's sometimes been shadier than it is today. Dining at Gibson's or Morton's steakhouses seems a natural part of a Chicago staycation in this neighborhood. You're also only minutes away from shopping on the Mag Mile, visiting the historic Water Tower, or gaining some enlightenment at the Newberry Library. If you're an architecture buff I'd also suggest a walk up North Astor Street or booking a custom private tour of downtown with us.
Chicago neighborhoods have so many places to stay. There are countless options for fun stuff to do if you opt for a Chicago staycation this winter.
– Alex Bean, Content Manager and Tour Guide
ABOUT CHICAGO DETOURS
Chicago Detours is a boutique tour company passionate about connecting people to places and each other through the power of storytelling. We bring curious people to explore, learn and interact with Chicago's history, architecture and culture through in-person private group tours, content production, and virtual tours.