2019 may turn out to be the peak of the current building boom in Chicago. As a professional tour guide here with Chicago Detours, it can be dizzying at times to keep up with all these changes! To take account of the frenzy, I'm highlighting some of the new buildings in Chicago. Some of the big upcoming additions to the skyline include the first supertall in a decade and a rare Art Deco revival.
We research stories from Chicago history, architecture and culture like this while developing our live virtual tours, in-person private tours, and custom content for corporate events. You can join us to experience Chicago's stories in-person or online. We can also create custom tours and original content about this Chicago topic and countless others.
Vista Tower Will Top Out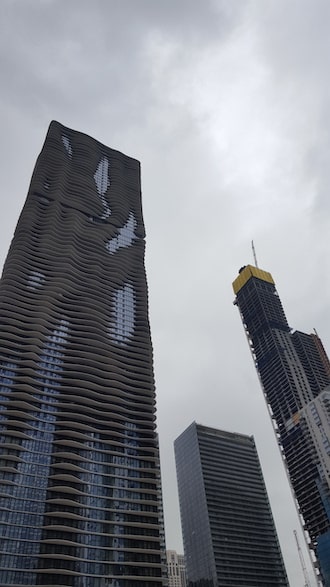 Okay, so I may be getting ahead of myself here. The Vista Tower will not finish construction until 2020. It's so big and so eye-catching though that I just want to talk about it now.
Upon topping out (presumably sometime this year), the Vista will become the third-tallest building in Chicago. At 1,191 feet, it will surpass every skyscraper in Chicago except the Willis and Trump Towers. That being said, its top floor will be roughly equal with Trump's. The, er, presidential hotel and tower is officially 200 feet taller because of its spire.
Regardless, the Vista will be Chicago's first new supertall skyscraper in over a decade. Supertalls are skyscrapers which stretch beyond 300 meters (roughly 1,000 feet). The Vista will join the Willis, Trump, Aon, Hancock, the Franklin Center and Two Prudential Plaza in Chicago's most elite architectural club. That lofty status is already visible during the construction. The tower is already soaring above the skyline and is visible from many angles.
Vista's height will also smash a significant record. Jeanne Gang, the lead architect on the Vista Tower, will surpass her own record for tallest building designed by a female architect. Her Aqua Tower, which is just a block away from the Vista, currently holds that title. I look forward to talking about both of Gang's towering skyscrapers on our private downtown tours this summer.
A Boggling Bunch of New Buildings in Fulton Market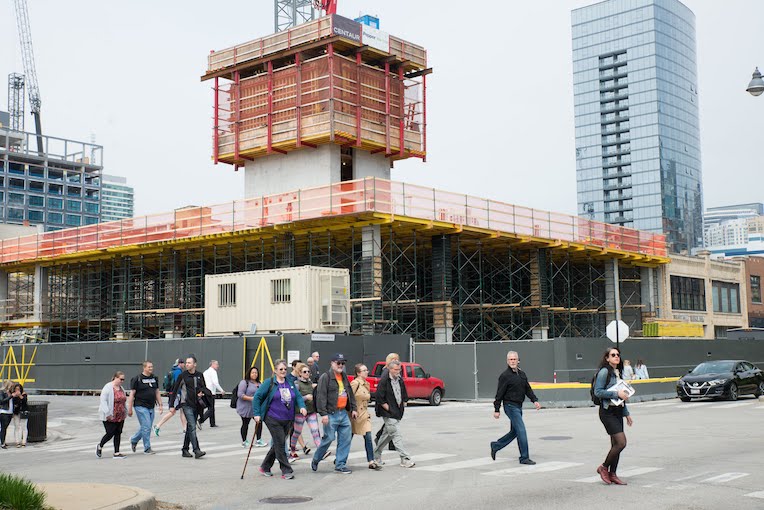 I led our groups through Fulton Market on private tours last summer. Almost every week I'd discover something radically new and different in the district.
To wit, the Fulton Market district is currently a heaving hive of constructions. If you're looking for new buildings in Chicago that are not monumental skyscrapers, then I'd set my feet towards this segment of the Near West Side. Curbed Chicago lists ten different projects under way right now. I'll be most curious to see how 210 N. Carpenter, the Nobu Hotel, and Gr333N wind up coming along this year. Our Fulton Market tour stops and talks about all three locations, so I'll need to see what shape they're in come April.
NEMA Jumps Above the South Loop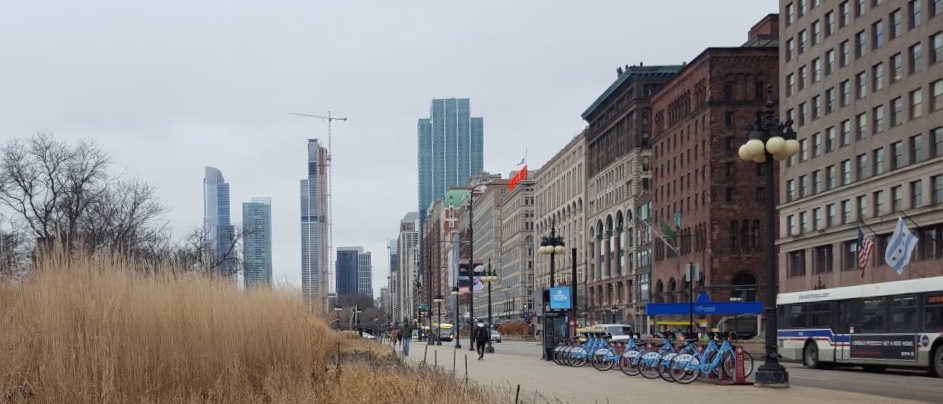 Down on the southern edge of Grant Park, NEMA is about to become the tallest of the new buildings in Chicago completed this year. At 892 feet, the residential skyscraper will be the city's tallest building south of Jackson St. Its incomplete form already looms above the small cluster of high rises in that corner of the South Loop.
The South Loop is experiencing a huge flurry of building activity right now. Long an industrial district of printing factories, warehouses, and rail yards, the neighborhood is jumping these days with new residential development. Essex on the Park, another new building in Chicago, will open just blocks away later this year. Helmut Jahn's planned 1000M, at 1000 South Michigan Avenue, will break ground in 2019. I'll be curious to see if all of this construction leads the South Loop to become just as popular and popping as River North.
One Bennett Park Opens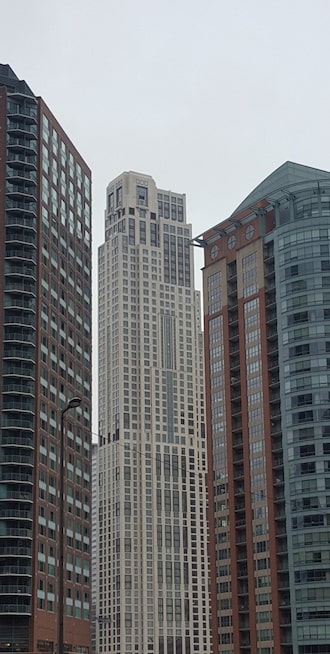 Speaking of River North, a massive skyscraper is opening its doors in the neighborhood in 2019. One Bennett Park will be the second biggest of the year's new buildings in Chicago. The residential tower already soars 68 floors above Streeterville. It marks the first Chicago commission for Robert A.M. Stern Architects, who are more well known for their work on the East Coast.
Stern pursued an Art Deco revival style for the building's architecture. The familiar tones of gold, bronze, and limestone grey adorn the exterior and interior. I have seen some complaints that the exterior cladding's limestone base gives way to concrete as the building rises. I have other complaints about the exterior that I'll get to in a moment. For now, I want to appreciate these streamlined geometric forms, because Chicagoans tend to undervalue our Art Deco.
<sighs dreamily>
A Brief Complaint About Aesthetic Issues Seen in Some New Buildings in Chicago
Okay, appreciative meditation over, because I do have some issues with One Bennett Park's architecture. Stern's design exemplifies a problem shared by many new buildings in Chicago: they look like a formless stack of rectangles.
I expect Chicago skyscrapers to have an understandable aesthetic flow. The First Chicago School employed a tripartite design, covering the base and cornice in elaborate decorations. Mies van der Rohe echoed that in many of his International Style Modernist skyscrapers. Other towers taper towards their pinnacle, which naturally draws the eye upwards. Skyscrapers are usually peaked with something that completes the overall design. Think about the cornice on the Marquette Building, Ceres atop the Board of Trade, or the soaring antennae which surmount the Hancock's tapering exoskeleton.
One Bennett Park lacks this unifying design element. Its exterior hops between different setbacks and window designs before rising to a jumbled series of blocks at the pinnacle. If this is Art Deco revival, then where is the streamlined design? The tower looks incomplete and incoherent.
Stern is a famous architect and I feel out of my depth criticizing him, but here I am. The longer I look at One Bennett Park the less I like it and I'm sorry to feel that way.
A Note on These New Buildings in Chicago
Before finishing, I want to acknowledge that all the new buildings I've covered here are centered around downtown. These structures will cater to well-to-do professionals in a city where many people struggle to make ends meet or keep their homes. It's exciting to talk about new supertalls and critique the work of famous architects, but it's also quite divorced from the everyday realities of most Chicagoans and the vernacular architecture that they know. I'll do my best in 2019 not to forget the workaday people and buildings beyond the glitz and glamor of downtown.
– Alex Bean, Content Manager and Tour Guide
ABOUT CHICAGO DETOURS
Chicago Detours is a boutique tour company passionate about connecting people to places and each other through the power of storytelling. We bring curious people to explore, learn and interact with Chicago's history, architecture and culture through in-person private group tours, content production, and virtual tours.