A Pedway pub crawl strikes us as the perfect way to bring some cheer to those mysterious underground passages. We've been touring the Pedway for years and, in that time, noted its many drinking establishments. The idea of creating a bar crawl down there occurred to us while researching for an update to the Pedway Map. We designed this to be a self-guided tour experience. So download our map, grab your work pals  and kick off the weekend this winter with some drinks on our Pedway pub crawl.
We research stories from Chicago history, architecture and culture like this while developing our live virtual tours, in-person private tours, and custom content for corporate events. You can join us to experience Chicago's stories in-person or online. We can also create custom tours and original content about this Chicago topic and countless others.
Begin your Pedway pub crawl in this fine establishment at the Pedway's western terminus, 120 North LaSalle. You probably know this building as the one with Roger Brown's mosaic of Daedalus and Icarus right across the street from City Hall. The inference of the mosaic is a bit abstract to me, but it sure feels like some sort of message to the politicians.
Anyway, City Social is the classy sort of place where financial types from LaSalle Street mingle with the political fixers from City Hall and the Thompson Center. One presumes that many a bond sale has gone down in this joint. I'd recommend sampling one of their cocktails. Pricier, for sure, than some later drink stops on the Pedway pub crawl. But you'll be sober enough to appreciate it at this point.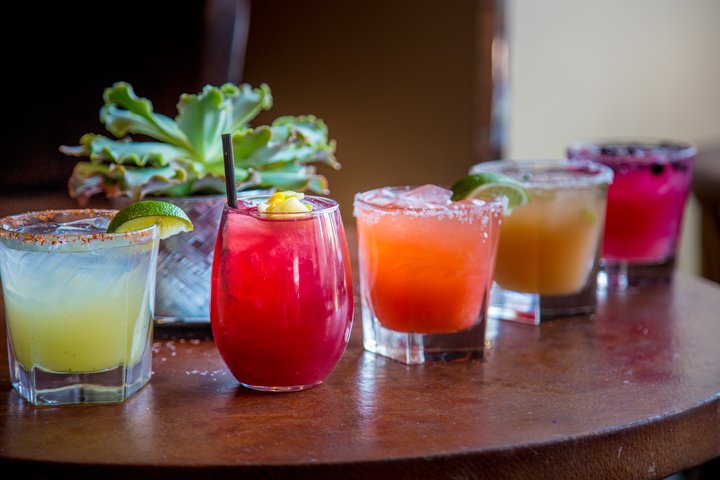 Dive down into the Pedway at 120 North LaSalle and proceed through its City Hall and Daley Center segments. One presumes plenty of drinking goes on in those buildings, but none that has an official liquor license. After progressing past the Blue Line station you'll be in Block 37. This shopping mall's chaotic development history is one of the key stories we share on many custom private tours of downtown Chicago.
Hop into one of the elevators and zip up to Latinicity. A gargantuan food hall which serves delicious fare from all over Latin America, it also has a pretty kickin' bar. There's lots to choose from, but I'd definitely stay in and around the tequila/mezcal section of the menu. Indeed, their Oaxaca Old Fashioned just made my personal "to-drink" list. Be sure to check out the view of the Daley Center and Washington Street while enjoying your drinks. It's the last of the outer world you'll see for a while on this Pedway pub crawl.
Bonus bar: Simply Thalia in the Pedway level of Block 37 serves a mean martini alongside their signature sushi donut. On a Pedway pub crawl you've gotta pace yourself so add this to your itinerary at your own discretion.
InField's at Marshall…Macy's. I guess it's at Macy's.
Take the elevators back down to the Pedway and continue through the Red Line station. Follow the tunnels until you find yourself in a long hall along the north edge of the old Marshall Field's. Just inside Field's you will find InField's, an ingeniously-named sports bar.
This little sports pub is a nice Pedway hiding spot. The seating is tucked away from passing foot traffic and scurrying Macy's shoppers. So you can order a round of whatever looks good on tap, eyeball SportsCenter, and let the world roll by for a little while. A nice, chill spot at the halfway point of this Pedway pub crawl.
Bonus bar: Take the express elevator from the Pedway level up to the 7th floor for the Wine Bar at the Walnut Room, for a classier alternative to the sports bar aesthetic at InField's.
Keep roving past Macy's until you feel the tingle of cold air in the Pedway. That means you've reached the t-junction below Michigan Avenue. Follow the signs for Millennium Station. Once you've fought through the stream of South Shore Line commuters, you can settle in for a drink at MBar. An old haunt from my Groupon days, MBar is probably the dive-iest of the stops on the Pedway pub crawl.
Which is, of course, its own sort of compliment. MBar has little of the pretense from earlier stops. The folks down here are just downing something while waiting for their train to come. In fact, I recommend making that part of the adventure here. Chat up your fellow barflies and see who is traveling farthest on the train after leaving the bar. Whomever in your group finds the furthest destination has their drink bought by the others.
The directions for taking the Pedway from Millennium Station to the Hyatt Regency are too complicated to spell out here. Rely on your Pedway Map, trust your gut, bring carrier pigeons for when you're lost, and you'll be fine. Once you reach the Hyatt, sidle up to the BIG Bar, with its gorgeous view onto the river. Congrats, you've made it back into the outer world. Cheers to that.
BIG Bar gets its name from the claim that it's the longest free-standing bar in North America. Which…is oddly specific. That should mean there's plenty of space for you and your crew to relax in after a long Pedway pub crawl though. Plus, you can make others go through extraneous effort at this point. Bartenders here have to scale the "liquor tower" to retrieve bottles. Quite the spectacle to conclude with.
Enjoy your Pedway Pub Crawl Responsibly
Go have a good time on this Pedway pub crawl, but remember to be good guests along the way. Leave the SantaCon and TBOX shenanigans for Wrigleyville. After all, you'll probably be commuting through these Pedway passages again in the future. You don't want your regular route to the Metra to become a walk of shame. 🙂
– Alex Bean, Content Manager and Tour Guide
ABOUT CHICAGO DETOURS
Chicago Detours is a boutique tour company passionate about connecting people to places and each other through the power of storytelling. We bring curious people to explore, learn and interact with Chicago's history, architecture and culture through in-person private group tours, content production, and virtual tours.