A curious gourmand can find no shortage of interesting and diverse Chicago holiday foods. Our city's many ethnic communities have gifted hungry folks with a wide variety of seasonal specialties. Tracking down these delicious dishes this holiday season is a grand way to celebrate the season while filling your stomach and experiencing the city's rich diversity.
We research stories from Chicago history, architecture and culture like this while developing our live virtual tours, in-person private tours, and custom content for corporate events. You can join us to experience Chicago's stories in-person or online. We can also create custom tours and original content about this Chicago topic and countless others.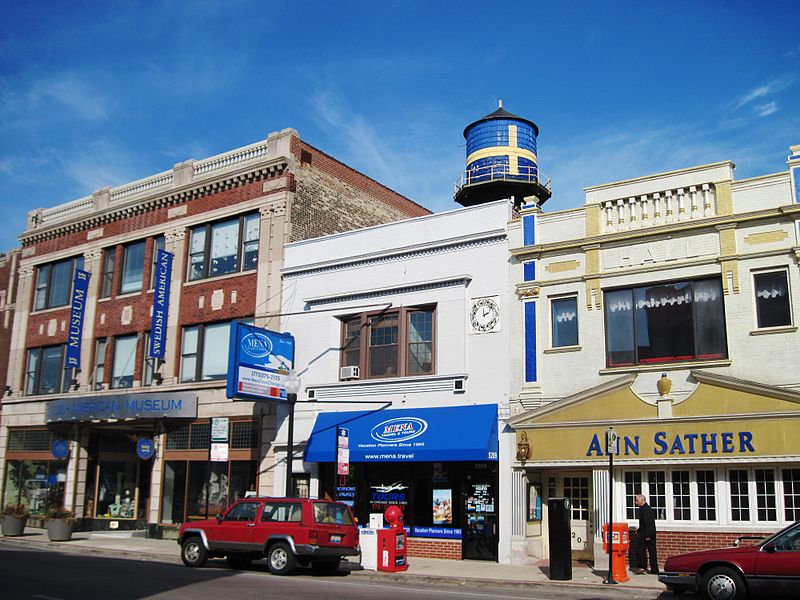 Lussekatter in Andersonville
Let's start off with a treat available for a very limited time. Swedish holiday traditions begin with St Lucia Day on December 13, and Chicago's Swedish neighborhood, Andersonville, celebrates in style. Candle-bearing "Lucia Girls" lead a procession down Clark Street to kick off this wintertime festival of lights. A huge party at the Swedish American Museum invites Chicagoans to learn more about Swedish traditions and to sample Lucia Day treats, like pepparkakor, or ginger snaps.
The star of the Lucia Day celebration is the lussekatter, or saffron bun. For a limited time you can pick some up at Lost Larson, an Andersonville bakery and cafe that features Swedish classics.
Arroz con Gandules y Pasteles in Humboldt Park
This Puerto Rican classic is a combo dish, blending together two favorites into one of the great Chicago holiday foods. Gandules, known in English as pigeon peas, are the key addition to the arroz, or rice. These nutty-flavored legumes ripen just as the holiday season begins in Puerto Rico. The other half of the dish is Puerto Rican pasteles. Somewhat similar to tamales. The masa, made from plantains, is wrapped in plantain leaves and then boiled.
The balance of these two dishes on one plate creates a wonderfully tropical culinary experience in the depths of Chicago's winter. Humboldt Park is the heart of the Puerto Rican community here in Chicago, with plenty of restaurants to choose from. Arroz con gandules y pasteles is a house specialty at La Plena, on Division Street. Perfect place to grab a bite if you're sticking around town during the holidays.
Lechon in Ravenswood
Let's jump to the opposite end of the old Spanish Empire for our next Chicago holiday foods. Lechon is a Filipino favorite, deep fried pork belly. A Filipino gravy or dipping sauce is almost always part of this dish. The most traditional of these is based upon toyomansi, which blends soy sauce with lime. Which, yes. I want to go to there.
Filipinos prepare huge meals during the Nochebuena feast on December 24th. While traditions may differ from family to family on what must be on the table, lechon is a pretty good bet. A distinct Filipino neighborhood never really developed here in Chicago, but there has been a Filipino community in the city for about 100 years. Our Marketing Manager Marie loves Filipino food and recommended this dish to us. Her favorite version is found at Isla Pilipina, out on the Northwest Side.
Feast of the Seven Fishes in River North
Christmas Eve is celebrated in style all over the world. Italian-Americans made it their own with the Fest of the Seven Fishes–another of these tempting Chicago holiday foods. The tradition comes from the Italian Vigilia di Natale, awaiting the beginning of the liturgical feast day on Christmas. The day before church feasts were traditionally fasting days, which meant no meat. So Italian-Americans went all out with a huge variety of seafood dishes on Christmas Eve.
Many Italian restaurants are closed on Christmas Eve, of course. Not all, though! You'll have to venture beyond Chicago's Little Italy to try this particular Chicago holiday food. David DiGregorio, the Executive Chef at River North's Osteria via Stato is holding a Feast of the Seven Fishes. If you feel like taking a day off from slaving away in the kitchen, well, now you know where to make a reservation.
Melomakarona in Greektown
Not all Chicago holiday foods have to be a full meal. Indeed, the holidays are the time of year when I most often indulge my sweet tooth. Greek sweets are an especially unique treat at this time of year. Their bright, Mediterranean flavors are a wonderful contrast to the heavy Germanic chocolates, cakes, and pies which predominate.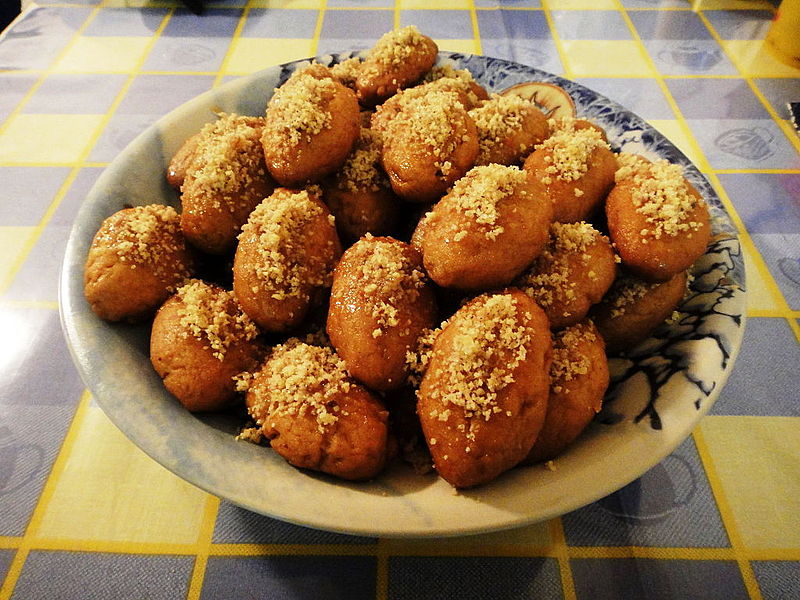 Melomakarona, a honeyed cookie with walnuts, is a longtime favorite for Greek families at the holidays. Appropriately enough, these cake-like cookies (flavored with brandy, orange, and honey–YUM!) are a specialty at Artopolis. We visited this Greek bakery, cafe, and agora near the end of our Neighborhoods and Cultural Diversity Bus Tour. They're a lovely spot to stop in for a bite and carry out some cookies, right on Halsted in the old Greektown.
Gluhwein at Christkindlmarket
It shouldn't shock too many people if I suggest that alcohol is an essential part of a Chicago holiday experience. Long a part of holiday season traditions in Germany, Glühwein is a warmed, mulled wine. Perfect for cold December nights in the Midwest. Hence, it's become a must-get for the countless people who visit Christkindlmarket, Chicago's faux-German Christmas village. Now, what goes into Glühwein?
You know what? Don't worry about what's in it. Just grab a mug and drink with some Chicago holiday foods.
Happy Holidays!
– Alex Bean and Marie Rowley
ABOUT CHICAGO DETOURS
Chicago Detours is a boutique tour company passionate about connecting people to places and each other through the power of storytelling. We bring curious people to explore, learn and interact with Chicago's history, architecture and culture through in-person private group tours, content production, and virtual tours.