It's the spookiest time of the year, so we're checking out Chicago's most haunted historic buildings. Located in and around downtown, these venues have a history of things going bump in the night. They're also grand and glamorous examples of our city's rich architectural and social history. Who cares about that on Halloween? We wanna hear the creepy stories!
Worth noting, I'm a healthy skeptic when it comes to ghouls, ghosts, monsters, etc. I'll buy someone a Coke if they can definitely prove a haunting.
We research stories from Chicago history, architecture and culture like this while developing our live virtual tours, in-person private tours, and custom content for corporate events. You can join us to experience Chicago's stories in-person or online. We can also create custom tours and original content about this Chicago topic and countless others.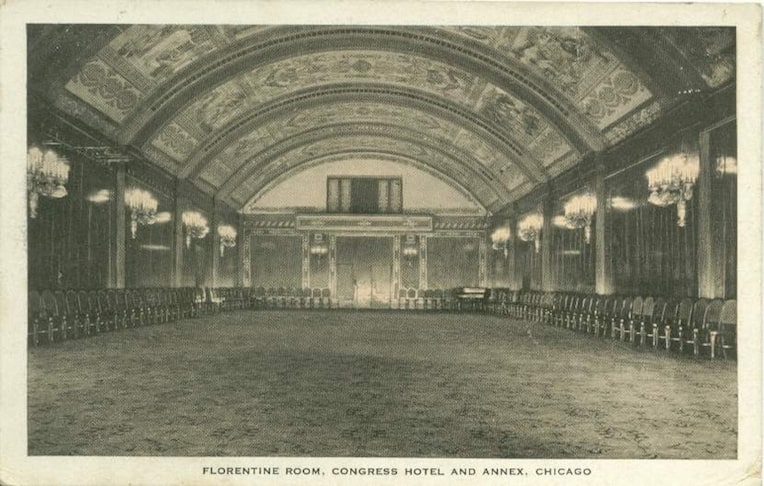 #1. The Congress Plaza Hotel
The Congress Plaza, where we begin our 1893 World's Fair Tour, is reputedly Chicago's most haunted historic building. Originally built in 1893 as an annex to the Auditorium Hotel across the street, it has hosted countless visitors ever since. According to the legends some guests never left. <insert spooky noises here>
The Congress Plaza is the location for a bevy of sightings and stories according to Adam Selzer, who is the de facto encyclopedia on Chicago hauntings. A young boy's ghost is frequently spotted on the 12th floor of the north tower. That specter is connected to a horrible incident where a distraught mother threw her boys from a hotel window. Selzer reports that some employees avoid that floor if they can help it. Personally, I love the supposed haunting of the gorgeous Florentine Room. Guests and employees report strange noises, pianos playing themselves, etc. Plus, the room just looks haunted, right?
#2. Marshall Field's 8th Floor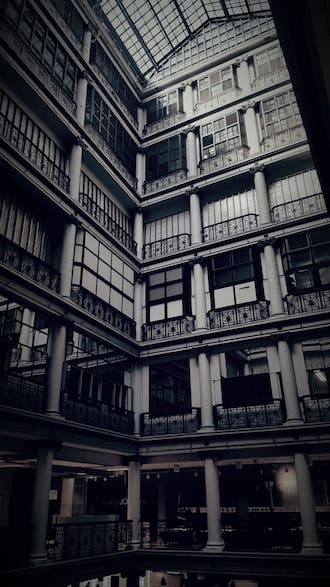 The old Marshall Field's building is famous for its ties to retail and social history, but it may also be Chicago's most haunted department store. The 8th floor is a focus of much of the alleged paranormal activity. The Iroquois Theater, located a block away, burned down during a matinee in 1906, killing 602 people. According to the stories, many of the victims were taken to Field's, where a makeshift hospital ward was set up on the 8th floor.
According to the research we found for our Virtual Holiday Stories Happy Hour, burns were treated with dishtowels and the dead were wrapped with linens from the bedding department. Much like the Congress, workers report feeling a heavy depression if they work on that floor for too long.
#3. The Hull House
Jane Addam's Hull House organization helped immigrants and the indigent make their way in Chicago society. They were the very definition of saintly. Yet demonic stories have haunted their famed building on Halsted Street for over a century. Addams herself even vouched for one ghost. So, hey, if Jane Addams says so, then onto the list of Chicago's most haunted historic buildings it goes.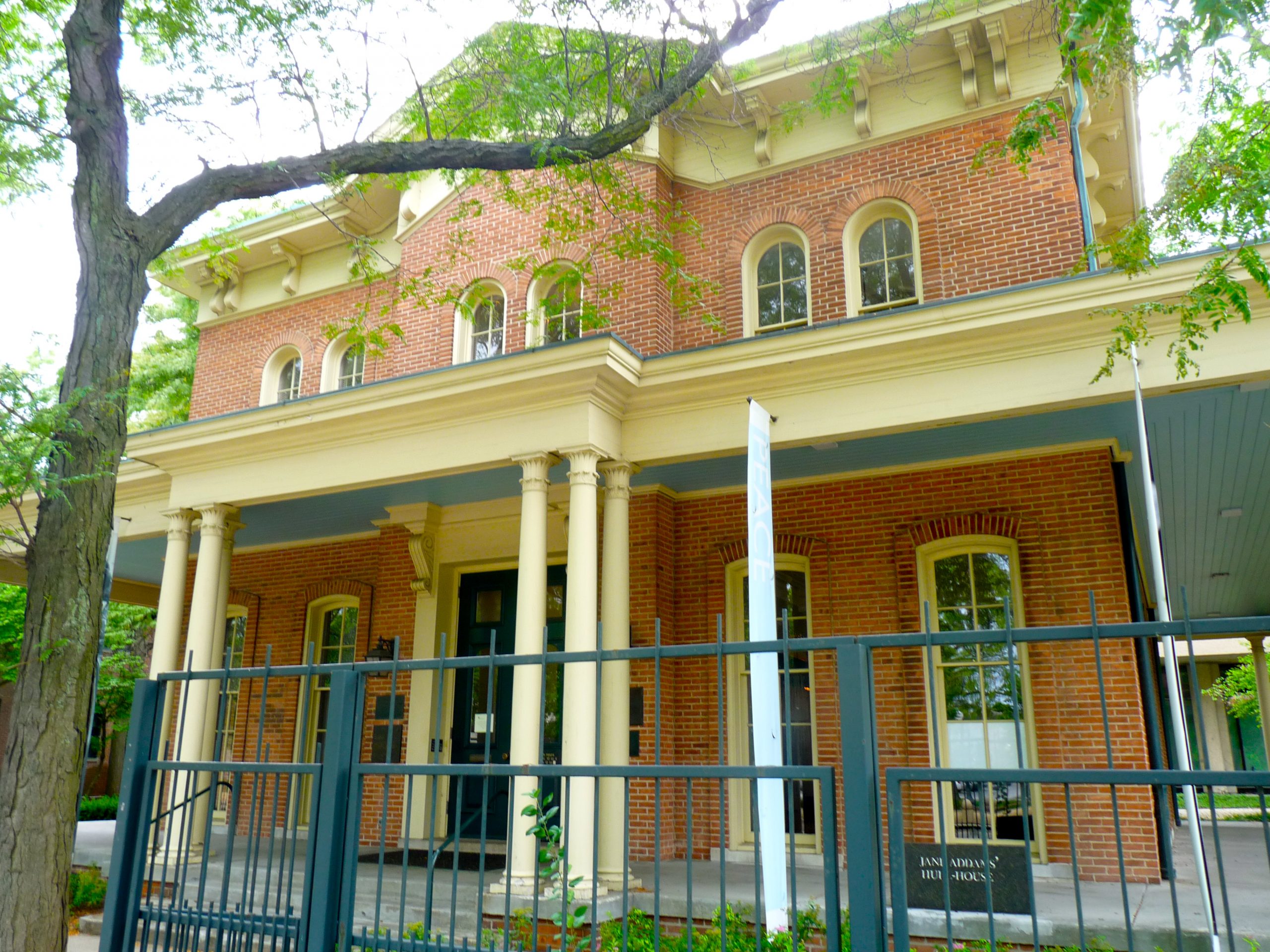 The first Hull House haunting is the ghostly presence of Mrs. Hull herself. Charles J. Hull built the stately mansion in 1856, decades before Addams took it over. His wife passed away in a second floor bedroom. Every person who lived in the room thereafter, including Jane Addams, reported sensing her ghostly presence. Addams wrote that she was awakened by the dead woman's footsteps stomping around the room.
The second, and more infamous, story is the "Devil Baby of Hull House." This legend is deeply implausible, but we'll roll with it. An expectant atheist father said he'd rather have his child be the devil than Catholic. Sure enough, the baby was born with horns, cloven feet, the general Satanic works. So the distraught parents took the monster to Hull House, whereupon it laughed at the priest who tried to baptize it and danced away. Which, uh, no. Never happened. Fake news. Yet visitors have claimed to see it through the attic windows for a century now. <rolls eyes>
#4. The Monadnock Building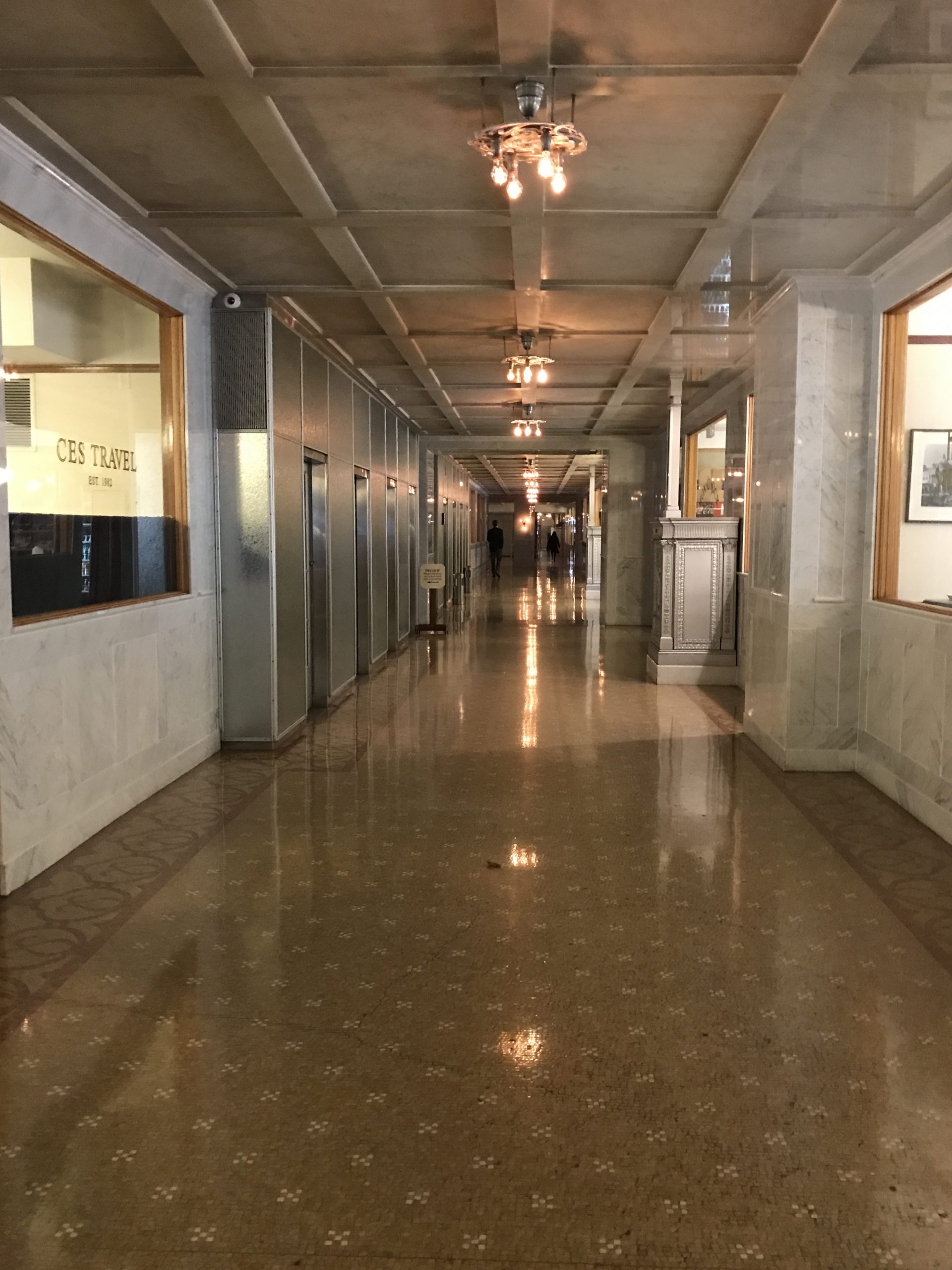 Chicago Detours moved into the beautiful, historic Monadnock Building in 2016. Its lovingly restored interior makes you feel like you've stepped back in time to the 1890s when the building first opened. The period-appropriate lighting makes it seem like 19th-century specters might be lurking in every shadow.
Curious about the building's potential for haunting, our own Marie Rowley recently asked a security guard if he felt the presence of spirits during his overnight shifts at the Monadnock. "Sure," he replied with a shrug. "Any building over 100 years old has some kind of ghost hanging around."
For our part, we have certainly experienced unexplained cold drafts and the elevator mysteriously opening when no one had pressed the button to call it. You might chalk that up to the quirks of a turn-of-the-century skyscraper being adapted for modern use. However, we choose to believe it has a spookier explanation.
If you want to check out the Monadnock's historic charm for yourself, we can visit it on a custom private tour of downtown's highlights.
#5. The Drake Hotel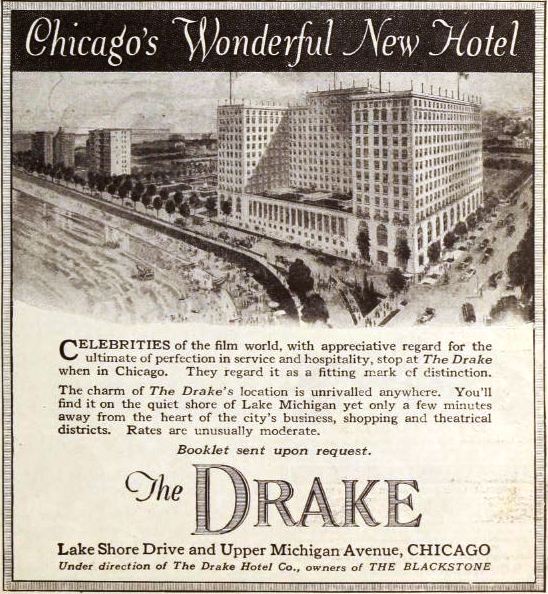 Hotels seem to be hot spots for ghost stories. The Drake Hotel rounds out our list of Chicago's most haunted historic buildings. The earliest ghost story at the Drake, the Lady in Red, goes back to the grand opening of the hotel in 1920. Said Lady supposedly saw her beau dancing with another woman in the Palm Court and threw herself from the new building in despair. Guests have seen her trademark bright-red specter in the hotel's ballrooms and 10th floor.
The other creepy Drake story is an unsolved murder, rather than a ghost story. The "Woman in Black" killed noted socialite Adele Born Williams in her 8th floor suite. The shooter, described as a "a middle-aged gray-haired woman wearing a black Persian lamb coat," has never been identified and the crime is still unsolved. Tantalizing clues point to some kind of inside job. Police found the murder weapon  in a stairwell they had previously searched and Williams' spare room key was anonymously returned to the front desk. Weird!
More of Chicago's Most Haunted Historic Buildings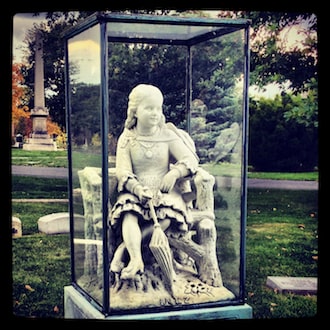 Our list hardly scratches the surface of reputedly haunted spots in Chicago. Galavanting ghost hunters should definitely check out Lincoln Park's Red Lion Pub, Lakeview's Graceland Cemetery, and Bachelor's Grove Cemetery in suburban Midlothian. The latter is always named one of the most-haunted places in America.
Beyond those spots, my favorite local ghost story is probably Resurrection Mary. Beginning in the 1930's a ghostly young woman in white was seen walking down Archer Ave. She asked for rides, or danced with patrons at the nearby O Henry Ballroom. She would always vanish into thin air near the gates of Resurrection Cemetery. The story goes that she was struck and killed on Archer Avenue while hitch-hiking. Her body was subsequently buried in the cemetery, but her spirit wanders back to the ballroom where she danced before her death. Ugh! Love it!
Hope you have a spooky good time if you check out some of these spots this Halloween!
– Alex Bean, Content Manager and Tour Guide
ABOUT CHICAGO DETOURS
Chicago Detours is a boutique tour company passionate about connecting people to places and each other through the power of storytelling. We bring curious people to explore, learn and interact with Chicago's history, architecture and culture through in-person private group tours, content production, and virtual tours.