With so much to say about Chicago's not one but two Christkindl Markets, we are going to make this into two posts. The Christkindlmarket has officially opened in Daley Plaza, and as one of my favorite holiday activities in Chicago, I of course paid it a visit. We pass by it on our "Loop Interior Architecture Tour" and visit it on our annual "Holiday Tour of Drinks, Daleys and Dead Guys." So I have watched it literally rise from the ground over the last few weeks with the installment of the kiosks, nativity scene, and Christmas tree (oops I mean "holiday tree" according to Rahm Emanuel). Chicago Quirk Blogger describes the scene well: "This market is so cute that I can't decide whether I want to squeel like a little kid or throw up."
This market, established with the German American Chamber of Commerce of the Midwest in 1985, has become an annual festivity of primarily German vendors of holiday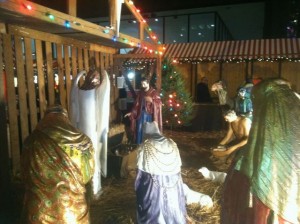 gifts and traditional German fare. Supported by the Mayor's Office of Special Events, the holiday market has challenges as a potentially religious event operating with the city. The Nativity Scene, a Christkindl Market tradition, had been in City Hall years ago, but the issue of separation of church and state was cited, prompting the move to Daley Plaza in 1996. And in 2006 the City almost pulled funding after the Market agreed to a $12,000 sponsorship by New Line Cinema, which was to release a nativity-focused film.
Somehow the "Christ" part of the Christkindlmarket doesn't seem to create conflict with City Hall though! Wouldn't you think that the "Christkindl" part of the word directly refers to Christmas?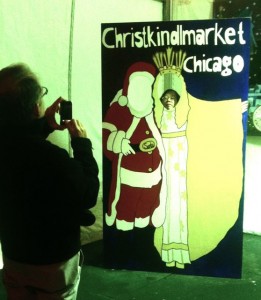 A little digging reveals that the Christkind is actually the fairy princess woman with literally golden locks pictured on the market's banners and even a put-your-face-in-the-hole board. Martin Luther (think founder of Lutherist Church) asserted independence from the Catholic church with the creation of this spirt-like boy of the Christkind who would rival St. Nicholas as gift giver. Isn't it great that in contemporary times ole Saint Nick and the Christkind are friends (see the picture here). In Nuremburg, a city located in the southern Bavarian region of Germany, the Christkind takes the form of this young woman who doles out gifts to well-behaved children. Our Christkindlmarket has distinct ties to this city, and thus we have adopted the Christkind for our Christkindlmarket.
You have until December 24 to pay this Christkindlmarket a visit, and I plan on paying plenty-a-visit with my gluhwein mug. This weekend though the more neighborhood-centered Christkindl Market of Lincoln Square has a shorter run. On Dec 2, 3, and 4, the three-day festival includes the standard German street food options like potato pancakes and brats, as well as lots of great activities for kids and performances by choirs and school bands. A free trolley will shuttle gluewhein-filled guests around the German American neighborhood for shopping attractions, like the historic Merz Apothecary, or other adventures, like a beer at the Brauhaus.  If you go, it's fascinating (though not as cheery) to have a look at the large section of the Berlin wall located inside the Western Brown Line Station. While this holiday market doesn't have the Nuremburg ties of the downtown Christkindlmarket, it uses the name as a place for getting the gifts to give!
Blog post Part "Zwei" will share insights on German food and tips on visiting the Daley Plaza Christkindlmarket, which also has a few events on its roster.
Amanda Scotese
–Executive Director