We'd like to share a few tips to make the most out of your visit for shopping, food, and drinks at the Christkindlmarket. While the size of the Christkindlmarket is by no means intimidating, it's easy to overlook some of the market's most authentic offerings. Of course, you can let us lead you through Christkindlmarket in person on our annual Holiday Tour of Drinks, Daleys and Dead Guys.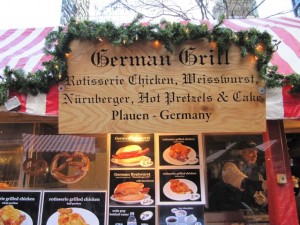 Christkindlemarket Tip #1: Expand Your Sausage Horizons
Our first inclination when getting sausage would be the familiar bratwurst, but sausage comes in many shapes in sizes in Germany. To start, the Nuremberg-style of brat (see the festival's ties with this German city in our last post) is thinner than what most of us are familiar with, flavored with marjoram, and served two in a bun. But let's be adventurous! They've got Leberkäse! Though it means "liver cheese" it's much more appetizing than it sounds, and actually has no liver and no cheese. This marjoram scented sausage contains minced corned beef, pork and onions, and you can find it at the "Traditional German Food" stall, just north of the so-called "holiday tree." (Side tip: don't get the potato pancakes here.)
Christkindlmarket Tip #2: How to Eat Wei?wurst Like a Pro
Now an even more adventurous option would be the Wei?wurst, a white sausage. This traditional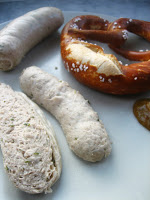 Southern German sausage is made with veal, bacon, parsley, onion, lemon and cardamom.
–       Find it at German Grill Company, which has three stalls, one just south of the cold pigeons hanging out by the "eternal flame."
–       Cut the sausage skin with your fork to peel the sausage and eat it like a banana.
–       Dip the sausage in the sweet mustard you've squirted on your plate (they have it in the smaller plastic bottle)
–       Enjoy before 11:30am! It's a breakfast sausage. It's available all day, but just in case you'd like to be 100% authentic.
Christkindlmarket Tip #3: Try a Bratapfel (baked apple).
Of course sweets are quite a draw at the market, from hot chocolate to sugar-coated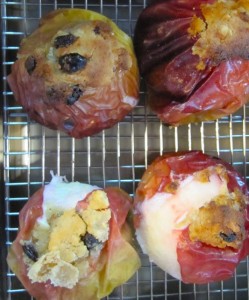 roasted pecans. At Christkindl Market you'll find some standard German treats, like apple strudel and stollen, but how about a Bratapfel?
–       Find it at the stall with the chocolate-covered treats, near the holiday tree. Because they aren't displayed like the chocolates, a lot of people don't even know that it's there!
–       Plan to split it with a friend – it's rich and very sweet! The baked apple, a holiday tradition, is infused with butter and sugar and stuffed with marzipan (almond paste).
–       You have two choices: natural or glazed. Unless you have a serious sweet tooth, go for the "natural" baked apple versus the glazed with syrup and cinnamon sugar.
Christkindlemarket Tip #4: Get Comfy in the Hut!
Now you're going to have to find somewhere to consume your lovely German meal. You could stand outside in the cold at the counters they have set up. But walk toward the Daley Center (the skyscraper of glass and brown metal) and in the middle of the plaza is a warmed wooden hut. A lot of people don't realize that heated seating awaits inside for comfortable dining and drinking of beer or…
Christkindlemarket Tip #5: Order a Glass of Gluhwein!
I asked them specifically what goes in it, but they get it in boxes from Germany and had trouble finding the ingredients on the box!
–       First purchase you splurge on the mug, then your next servings are cheaper because you've bought the mug.
–       Got kids with you? Ask for Kindergluhwein – it's a blend of apple and grape juices with the same spices.
–       Afterwards, ask your kind gluhwein pourer for a bit of paper towel to dry out the mug so that you can bring the mug on your next visit.
Christkindlemarket Tip #6: Check the Events Calendar
The Christkindlmarket Events Page lists all events until the market closes on Dec. 24th,  primarily choir concerts and performances by the Glen Sorgatz and the Alpine Brass Band.
Christkindlemarket Tip #7: Buy Somebody Something!
For gifts you will not find any China-made Walmart quality kitsch. You will find 100% bonafide German kitsch. Possibilities include wreaths made of spices, pewter steins, cuckoo clocks, glass ornaments, beeswax candles, and lace tablecloths. The market is not just about Germany – other cultures with holiday and wintry offerings take up residence in these stalls. The Chicago-based Polish DOM company hand paints ornaments, and in case you get cold wandering around the market the Himalayan stall on the Southwest corner of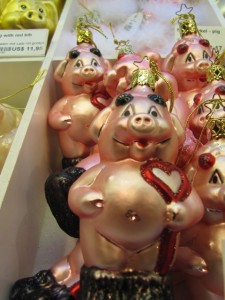 the plaza has silky soft mountain goat wool clothing.
–       Several vendors can ship your purchases for you; ask about rates.
–       You could potentially find a Christmas ornament for anyone here. While you'll find the traditional glass and metal ornaments, the less expected include cows, astronauts, gluhwein bottles, guys in leiderhosen, poodles, ketchup bottles, cowboy Santas, and jungle animals.
For more historic background on the market, see our previous post. And one last interesting tidbit – many people working in the market come from Germany. Each year 15-20 Germans come just to work the Christkindlmarket. They get their flight, hotel rooms, and food covered in exchange for the job.
See you in the hut!
–Amanda Scotese, Executive Director