Chicago books are always at the top of our reading lists. It's thrilling to discover new information, great stories, or illuminating anecdotes in the Chicago books we read. Reading about our fascinating city makes us better Chicago tour guides, of course, and it also provides us with tons of gift-giving recommendations at the holidays. Here are some of our recent favorite Chicago books about the city's history, architecture, and culture.
We research history and architecture like this while developing our live virtual events. Join us for fun events, like our regular general admission virtual events or an exclusive event for your private group.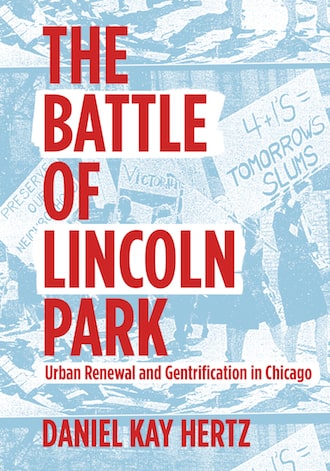 Just published in October, this book by local writer Daniel Kay Hertz is among the most illuminating of the year. Hertz delves into the transformation of the Lincoln Park neighborhood in the generation after World War II. In that time, Lincoln Park started to transform from a fairly poor working class neighborhood into a bastion of upper middle class whites.
I'm a Lincoln Parker myself and found the book's history astonishing. I'd long known that the Old Town neighborhood had been the first part of Chicago to gentrify, but The Battle of Lincoln Park dramatically illustrates the level of acrimony and controversy that ensued. I cannot recommend this highly enough. Hats off again to our friends at Belt Publishing.
Art Deco Chicago: Designing Modern America is the most handsome Chicago book we've gotten our hands on this year. A coffee table book, edited by Robert Bruegmann, it's a labor of love from the Chicago Art Deco Society. The society works to highlight Chicago's "unique aesthetic of the Interwar Period including fine and decorative arts, architecture and fashion that defined the elegant Art Deco and Streamline Moderne era."
This book has reams of gorgeous photographs cataloguing the unique style of Chicago's Art Deco skyscrapers, like the Board of Trade and the Carbide and Carbon Building. Beyond the aesthetic pleasures, the accompanying essays made me appreciate Art Deco and Streamline's place in Chicago architecture history. The cult of Mies often tries to paper over these styles. Hopefully this book starts the process of putting the spotlight back onto this time.
Larry Broutman's Chicago Monumental nabbed a spot on our list of Chicago books last year. It only seems appropriate to include his new book, Chicago Eternal, on our list of great Chicago books for 2018. Another big and sturdy coffee table book of photos, this one concentrates upon the graves, monuments and green spaces of Chicago's historic cemeteries.
I've visited (and taken lots of photos in) Graceland Cemetery, final resting place of big names like Field, Pullman, Palmer, Sullivan, and van der Rohe. Yet Broutman's fine framing and exceedingly high-quality photos still grabbed my attention. Broutman also tracks down the resting places of all sorts of Chicago-related figures like Harry Caray, Emma Goldman, and the Haymarket convicts. The book brings places of death to vivid life.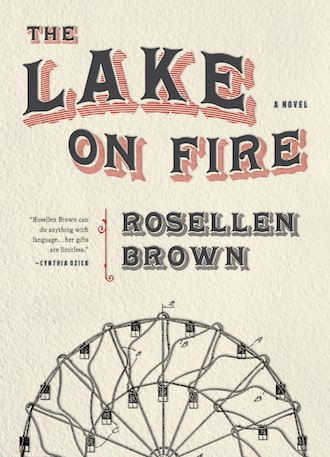 The Lake on Fire is a new novel that should be a big favorite of anyone whose enjoyed our 1893 World's Fair Tour. Author Rosellen Brown, who teaches in the MFA writing program at SAIC, focuses her first novel in 18 years on two young Jewish immigrants amidst the chaos of Gilded Age Chicago. It brings the famed White City to life in a way that'll tickle anyone who loved The Devil in the White City.
Brown clearly did a tremendous amount of research, bringing that era to life with vivid scenes set in Chicago spaces as disparate as the Maxwell Street slum and the mansions of Prairie Avenue. Intriguingly, her main characters, Chasya and Asher, have a rather jaundiced reaction to the Columbian Exposition. Seeing through the facade of the White City must've been completely common, but how often do you hear it 125 years later?
Rising Up from Indian Country: The Battle of Fort Dearborn and the Birth of Chicago recently popped onto our reading list. Specifically, Alex's interest was piqued while researching what Chicago was like when Illinois joined the Union. Local historian Ann Durkin Keating delves into the period when American power and presence came to be felt by the Potawatomi tribes in the Western Great Lakes.
Our sense of the past in the Midwest only goes back to the earliest European or American settlement. We ignore the untold centuries of Native American presence and history, even when it intersects with the American conquest of the region. It's a vital part of how Chicago came to be and I'm excited to be learning more of it.
Where to Buy Your Chicago Books?
You may have noticed that I tried not to link to Amazon in our list. Nothing against the online retail behemoth, but it's fine if Jeff Bezos doesn't get sales straight from us. Instead, we're always thrilled to highlight local businesses, especially our beloved indie bookstores.
This year, I wanted to give a specific shoutout to Unabridged Bookstore, a Lake View staple since 1980. 1980! The owner, Ed Devereux, has impeccable taste and the staff covers the shelves in handwritten recommendations. I can't even guess how many books I've loved after they recommended them. They go beyond the usual trade books, too. The kids, travel, and LGBT sections are phenomenal. Above all, they have the best sale section in the city. You'll find countless titles way below MSRP and the selection is updated weekly.
Unabridged is my platonic ideal of a bookshop. Love them so much. xoxo If you've never stopped by, try to visit during their holiday party from 7-9pm on Saturday, December 8th. They'll have drinks, snacks, music, a photo booth, and a general celebration of the year in books. I will see you there!
– Alex Bean, Content Manager and Tour Guide
ABOUT CHICAGO DETOURS
In business since 2010, Chicago Detours is a passionate team of educators, historians and storytellers. We applied a decade of experience as one of Chicago's top-rated tour companies to become a virtual event company in 2020. We bring curious people to explore, learn and interact on live virtual events of Chicago history, architecture and culture.