It's that time of year when snow is falling, lights are twinkling and you're desperately searching for holiday things to do in Chicago. We get it. We've fallen into the rut of doing zoo lights and the same bar crawl every year. This holiday season you can be more creative with the activities you plan with family and friends. To help out, we've put together a list of cool holiday things to do in Chicago.
While you're here, check out our Badass Women Journal and Virtual Holiday Stories Happy Hour. The former is perfect for gift-giving and the latter is a wonderful way to spend time with family and friends this holiday season.
#1. Take a Holiday Themed Class
The Chicago Glass Collective, located up in Ravenswood, has a spectacular holiday offering. $68 nets you a 2-hour ornament-making workshop. With a blowtorch and everything! You'll craft six ornaments, which are yours to keep along with (presumably) all of your fingers. The hands-on class looks like a fun and unique experience. You can also find myriad holiday-themed workshops through our friends at Dabble. Check out Make & Sip: The Art of Wreathmaking or create your own gifts this year in a woodworking class.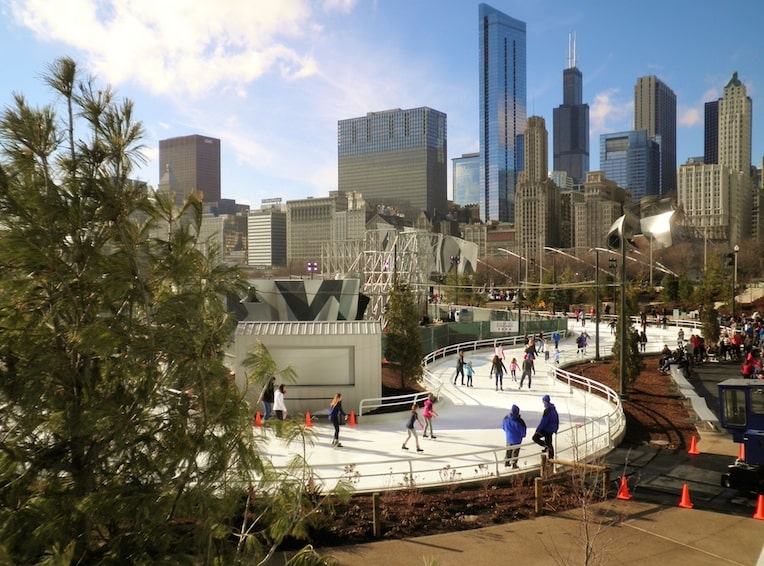 Yes, going ice skating is a standard holiday thing to do, especially at the ultra-popular Millennium Park rink. We still recommend taking those blades of steel downtown though, because the skating ribbon at Maggie Daley Park is just that cool. Wending through the climbing walls at the north end of the park, the ribbon turns ice skating into a journey. You'll get spectacular views of the skyline, take longer laps than usual, and still get the requisite hot cocoa perks. Plus, there's indoor public parking just a stone's throw away.
This pick goes out to all the Catholic School kids! Written by Vicki Quade, the author of Late Night Catechism, the play sends up the very particular traditions and foibles of Catholic Christmases. Personally, I love that the reviews on their website have headers like "Priests love us!" and "Nuns love us!" That's the kind of ringing endorsement that'll appeal to the parents who sent you to Catholic school, Sunday school and weekly mass. The show is performing at the Royal George Theater in Lincoln Park.
#4. Flower Shows at the Garfield and Lincoln Park Conservatories
Are you one of those winter birds who jets off to Miami or San Diego within the first few weeks of January? Well, Chicago's got some sub-tropical heat, you just have to go indoors to find it. The flower shows at the Garfield and Lincoln Park conservatories will certainly be the warmest of our holiday things to do in Chicago. The former, in Jens Jensen's historic structure, is "tickled pink" this year. That certainly promises a big, bold dash of color when the world gets a little monotone in midwinter. The latter has a model train set running through the display. That's both very Chicago and has the distinction of being our Marketing Coordinator Marie's favorite Chicago holiday tradition.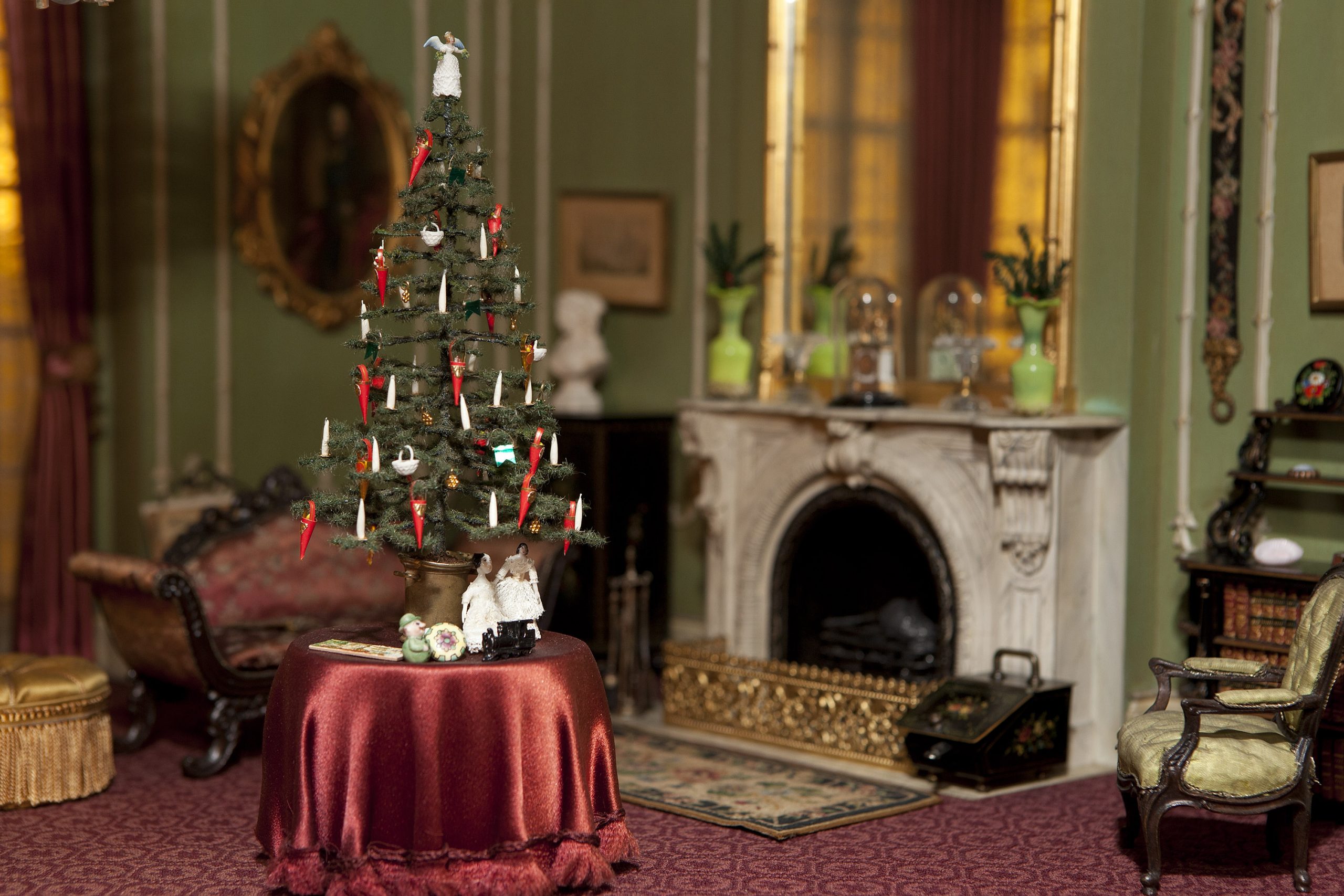 The Thorne Rooms, miniature replicas of historic interior architecture across the centuries, are a perpetual delight during any visit to the Art Institute. Each holiday season, select rooms get their teeny-tiny halls decked in festive decor. The Tudor Great Hall gets a wassailing bowl, yule log and mummer's mask. The California hallway has a menorah and dreidel. My favorite is probably the shadow puppets and instruments to celebrate the Chinese New Year. The Thorne Rooms take the timeworn holiday tradition of viewing the lights and decorations of the city and shrink it down to an adorably tiny level.
Another one of our favorite institutions! The Newberry Library just completed a huge renovation and is showing it off with a bevy of exhibitions and events.  "Pictures from an Exposition: Visualizing the 1893 World's Fair" is well worth a visit if you've enjoyed out 1893 World's Fair Tour. If you're specifically prowling for holiday things to do in Chicago, then line up your visit with "A Baker Street Christmas Caper." It's a live reading of a Sherlock Holmes story by the Shakespeare Project of Chicago. They're performing at 10am this Saturday, December 15th. Plus, they'll have hot chocolate and Victorian caroling. Love it!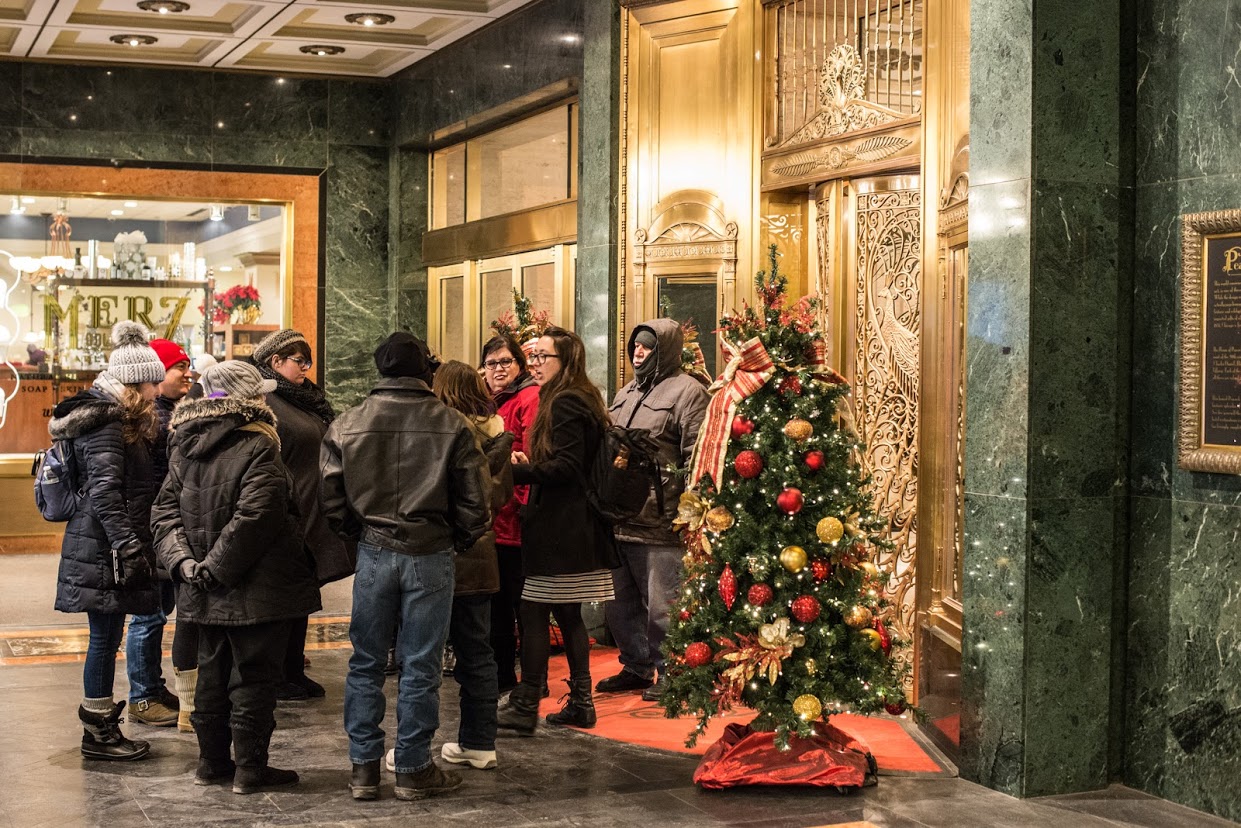 Finally, we've gotta give a shout out to Detours' own Holiday Tour of Drinks, Daleys, and Dead Guys. Running through December 29th, this seasonal excursion stays mostly indoors and leads guests on an exploration of the city's varied holiday traditions. Yours truly finally got the chance to take the tour a few weeks back. I found it delightful to learn about the ups and downs of our local holiday traditions, like the very different feelings regarding parades held by our Mayors Daley. Plus, we got to enjoy a Tom and Jerry cocktail at Miller's Pub and glimpse the madcap chaos of the Walnut Room. The tour will make a nice cap to the season if you're still looking for holiday things to do in Chicago before NYE.
– Alex Bean, Chicago Detours Content Manager and Tour Guide