The oldest buildings in the Loop can be hard to find. Downtown Chicago is justly famous for its wealth of modern skyscrapers. Behemoths like the Willis Tower dominate the skyline and our attention. It always makes me feel like everything in the Loop sprang up in the middle of the 20th century. However, there are a surprising number of buildings from the 1800's scattered around downtown Chicago. We've learned all about these oldest buildings as tour guides in Chicago. Here are four of our favorites.
We research Chicago history and architecture like this while developing our live virtual events and custom corporate events. Join us for our public virtual events or book an exclusive team-building event for your private group. We can also create custom tours and original content creation about this Chicago topic and countless others.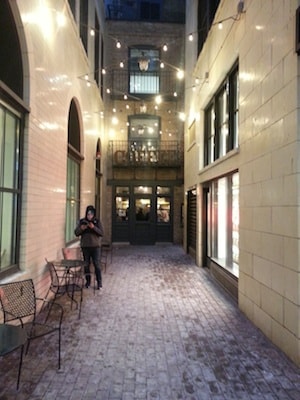 #1. The Pickwick Stable
According to an old blog post, this little structure on Jackson just west of Wabash was once a horse stable and may have been built as early as 1857. However, more recent research has uncovered that it dates back to 1892. An English chophouse served Beef Wellington here during the 1893 World's Fair.
A succession of much larger buildings loom around it. They have boxed the three-story brick building into a small alley. These days it's occupied by the excellent Hero Coffee Bar.
#2. The Berghoff Buildings
The three distinct buildings that now house the Berghoff restaurant were constructed in 1872. That's only a year after the Great Chicago Fire destroyed most of the Loop. These buildings are an example of the Italianate architecture that's among the oldest buildings in the Loop. The rows of adjacent arched windows and decorative cornices evoke the architecture of the Italian Renaissance. The Berghoff moved into one of the buildings in the early 1900s, and then their business grew to other levels and buildings. 
I find it fascinating that one section of the building, its western third, has a cast iron facade. Covering an entire building in precast iron was cheaper and easier than constructing it in brick. Cast iron facades were all the rage before 1871, though not many were used afterwards. The image of molten iron walls melting down amidst the inferno will do that to ya.
These days, the Berghoff Buildings look like munchkins next to their towering neighbors. It's tough to imagine, but little buildings like these once occupied much of the Loop. They give us a glimpse of what the landscape of downtown Chicago looked like in the 1870s. Because Berghoff sold their beer at the 1893 World's Columbian Exposition, we also used to visit this building on our 1893 World's Fair Tour with Bars. We'd be thrilled to show it to you on a custom private tour these days!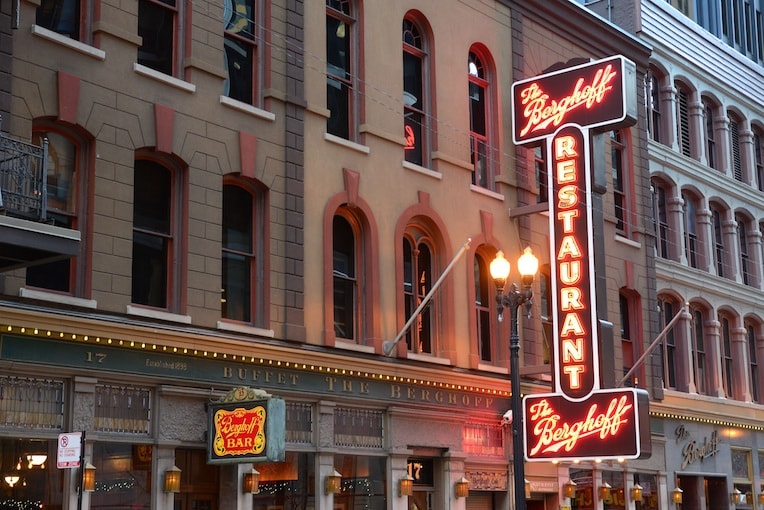 #3. The Haskell, Barker, and Atwater Buildings
This trio of buildings went up on Wabash between 1875 and 1877. They sit on Jewelers Row, between Monroe and Adams. Just like the Berghoff Buildings, they demonstrate the heavy masonry and Italianate architecture that is so common among the oldest buildings in the Loop. The three buildings are most notable for their association with famed Chicago architect Louis Sullivan. He redesigned the lower two levels of the Haskell Building in 1896. His signature cast iron ornamentation on the facade is visible from clear across the street.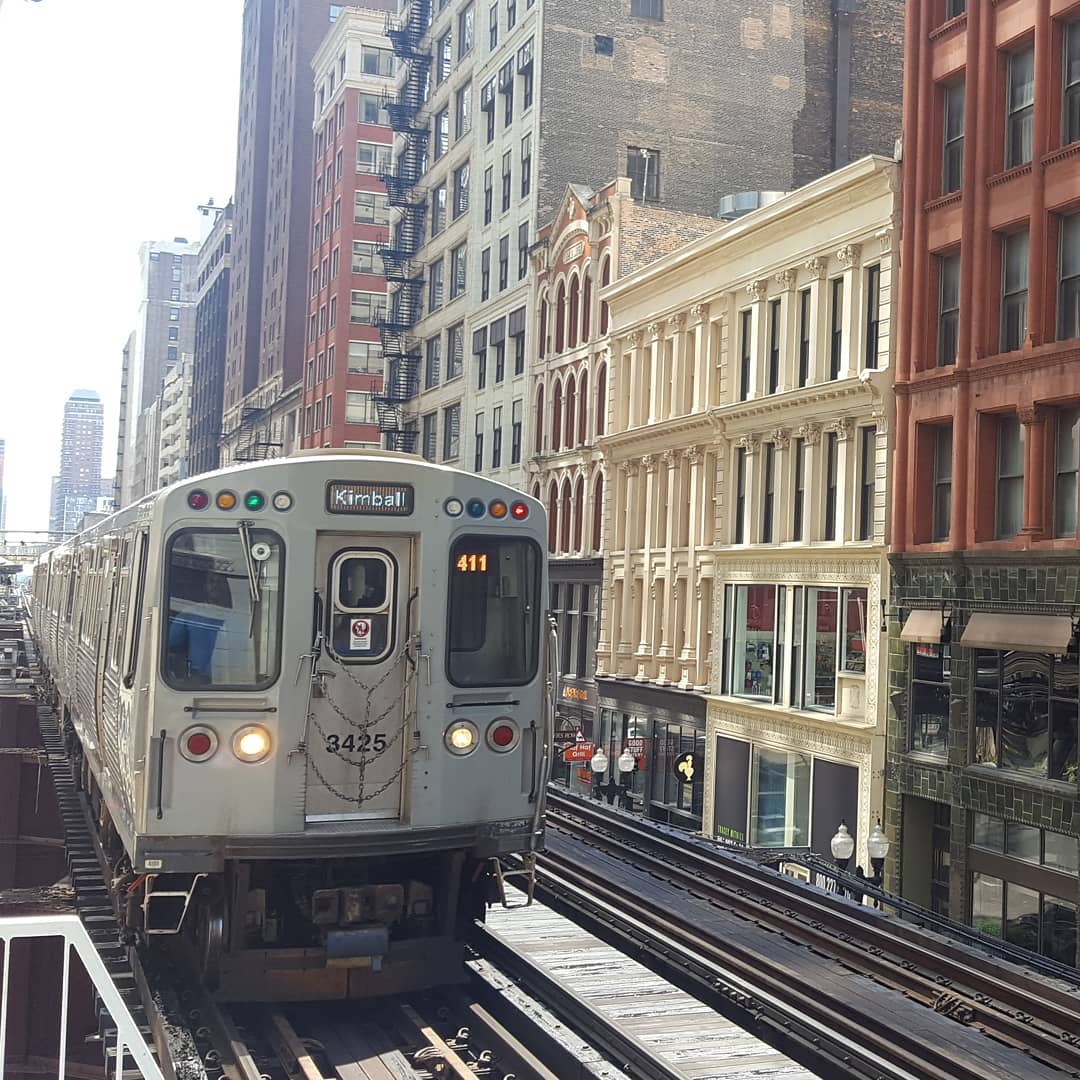 Amazingly, metal sheeting covered up one of those designs in the 1920s. Restoration workers discovered this lost Sullivan work in 2008. I am a huge fan of Sullivan's work, so it's a treat to see his work here and connect it with his more famous work on the Sullivan Center facade a block away on State Street. Speaking of, many Chicagoans have likely been in these historic buildings by virtue of grocery shopping at the State Street Target. That store stretches back and occupies the upper floors on Wabash.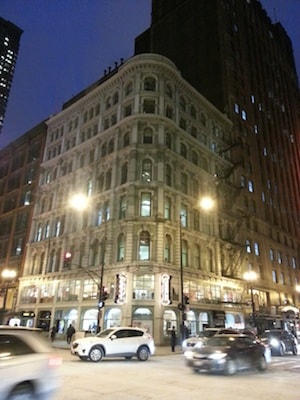 #4. The Delaware Building
Completed in 1872, during the frenzied reconstruction of the Loop, the Delaware Building is a spectacular time capsule. For anyone who came on our old Loop Interior Architecture Walking Tour, the Delaware was once a neighbor to the now-demolished McCarthy Building on Block 37.
Stylistically, the Delaware is similar to the other Italianate post-fire buildings written about here. It's building materials were quite unique for the time though. The facade of arched windows was built with concrete. That's one of the most common materials in construction today, but was ahead of its time in 1872.
The Delaware Building sits on prime real estate at Randolph and Dearborn. It's in the midst of the Loop Theater District and is kiddy-corner from Daley Plaza. You may recognize it as the old-looking building with a bustling McDonald's. As of 2019, the old owners were foreclosed upon, so the Delaware may be getting a facelift very soon.
Many other 1800's buildings dot downtown. These four stand out as easily located and notable landmarks. You can use them as a starting point on your own quest for the oldest buildings in the Loop or give us a call for a custom tour or more original Chicago content.
-Alex Bean, Office Manager and Tour Guide
ABOUT CHICAGO DETOURS
In business since 2010, Chicago Detours is a passionate team of educators, historians and storytellers. We applied a decade of experience as one of Chicago's top-rated tour companies to become a virtual event company in 2020. We bring curious people to explore, learn and interact about Chicago's history, architecture and culture through custom tours, content production, and virtual events.