This year the Chicago Cubs are celebrating 100 years at Wrigley Field. In honor of the centenary, I've reviewed a new book titled Cubs 100: A Century at Wrigley. It's a collection of personal stories and anecdotes from the millions who have watched the Cubbies play at the Friendly Confines. Three stories struck me as particularly resonant examples of why the Cubs' century at Wrigley Field meant so much to so many.
"It Wasn't Work for Jack"
Millions of Americans fell in love with baseball because of broadcast media. There was a magic in listening to the crack of the bat on the radio or watching the speck of a baseball fly out of the park on a grainy TV. For Cubs fans of a certain age, that magical feeling is synonymous with Jack Brickhouse. He was the play-by-play announcer for Cubs games on WGN-TV from 1948 until his retirement in 1981. His call of "Hey! Hey!" for home runs became so iconic that it adorns the foul poles at Wrigley. You might also know the memorial bust near the Tribune Tower on Michigan Avenue. Tour guests often ask about it during our Historic Chicago Walking Bar Tour.
His widow, Pat, writes in Cubs 100: A Century at Wrigley that her late husband was a fan above all. Calling every play of every game for over 30 years seems like pretty trying labor to this football fan. But Brickhouse lived for it. Pat quotes him as saying "I love this job, and maybe I'll have to go to work for a living one of these days."
"Working at the Cathedral"
I found the perspective of the workers of Wrigley Field to be particularly interesting. Their experience is so much more routine than that of a fan. Despite the routine, the stadium and the games remained a remarkable experience for many of them. One account in Cubs 100: A Century at Wrigley comes from Tom Daly, who worked as an usher. He writes, "The fun part about it was there were people coming from all over…they were coming to Wrigley like it was a cathedral."
Whether they were Cubs fans or not, Daly recounts that people would treat the old ballpark at Clark and Addison like hallowed ground. That really stood out, since I know even die-hard Reds and Tigers fans who treat Wrigley with reverence.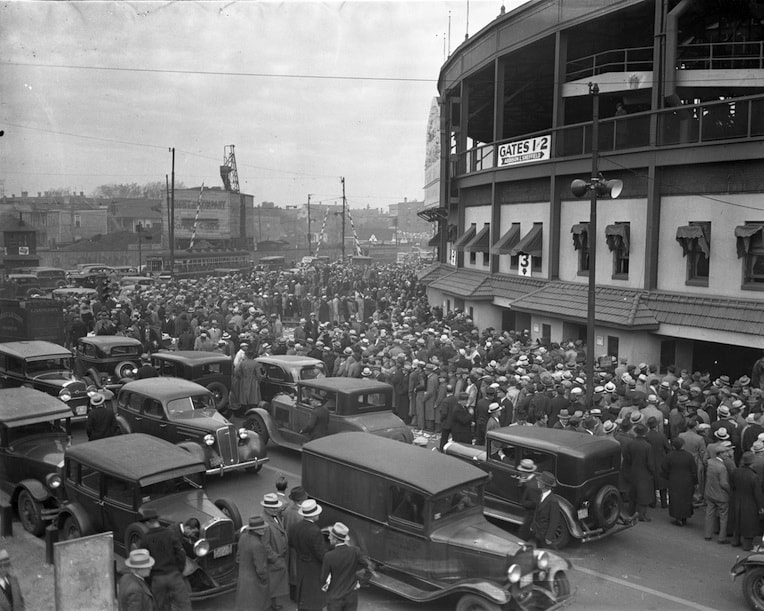 A Century at Wrigley Means Millions of Fans
The book has a bevy of stories from fans from all over recounting big moments for the Cubs or themselves. Of course, the mainstay for both Wrigley Field and the Cubs are the devoted locals. The one that appealed to me the most was by Debra Ann Simon, who grew up within a few blocks of Wrigley Field. She writes that as a child "…we would go to the gate and the Andy Frain ushers would look the other way because we were kids who got out of school…[w]e'd just walk in and take an empty seat to watch the end of the game." That sort of thing is probably impossible these days, but it's hard to imagine a better way to create generations of devotees.
Cubs 100: A Century at Wrigley, published by Arcadia Press, is full of dozens of personalized stories like these. It provides a compelling overview of why a team with no championships since 1908 can still mean so much to so many.
– Alex Bean, Office Manager and Tour Guide
All quotations reprinted with permission from Cubs 100: A Century at Wrigley Field, by Dan Campan & Rob Carroll.