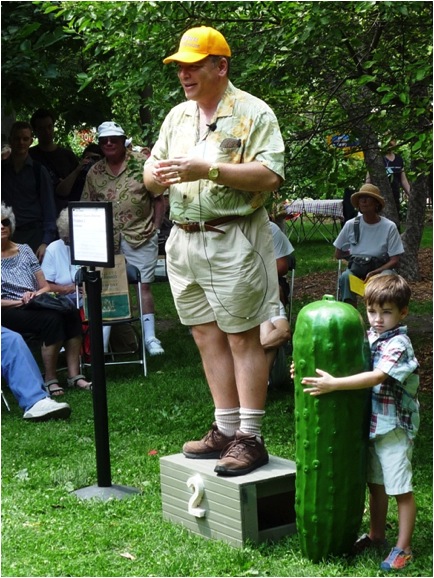 The true spirit of free speech will be exercised this Saturday at the annual Newberry Library Bughouse Square Debates.
In an age of sound-bite journalism and tweets, see the ancient art of oration, inflammatory rhetoric, and soapboxing come to life in a series of curated, public, open-air debates.  You can chime in and heckle speakers. Or you can also kick back and just listen.
Bughouse Square Debate Topics
The central debate for the event will be collective bargaining and the public sector. Is collective bargaining compatible with public service? The "soapboxers" will compete for the Square's annual prize: a giant plastic Dill Pickle. That's in honor of the famed Dill Pickle Club, a cultural hub of the '20s and '30s. It's where Sherwood Anderson and Carl Sandburg liked to hang out, drink illegally, and mix with all sorts of characters. 15 soapboxers will speak about topics including:
Why the Park District Hates Me
Why Jesus Alone Has the Qualifications of Being Both Savior and God
The American Dream of Hypocrisy
Clarence Darrow and the American Dream
In Praise of Shyness
And many others
Part of Chicago's Literary Traditions
In another feat of rare timing and circumstance, the final sigh and liquidation of Borders bookstores earlier last week does not have to be met with trepidation by Chicago booklovers.  The Newberry Library, which presides over the Bughouse Square Debates and houses some of the country's finest rare collections of Americana in the form of maps, correspondence, books and other ephemera, is also hosting what we deem the finest independent used book fair in conjunction with the Bughouse square debates. And just about everything is priced under $2! Check out the Newberry  Library Book Fair before, during or after the Bughouse Square Debates this Thursday or Friday, 12pm-8pm, or Saturday or Sunday, 10am-6pm.
For previous Chicago Detours explorers on our Good Times Around Michigan Avenue architectural tour who want to see the characters who frequented Jack Jones' Dill Pickle Club and the nearby Bughouse Square come alive, this is surely the place for eccentricity, unpredictability, and political passions to come to a Chicago summer boil.
— Nick Fraccaro, Tour Guide