Let's imagine it's the moment when you decide it's time to change up your typical Chicago corporate outing. It is a regular Thursday. You could be eating yet another catered lunch at your desk. You could be standing around at a happy hour at the bar around the corner from the office. Or maybe you're listening to yet another motivational speaker and feeling less than motivated. In any case, you're bored at a corporate work event. It is time to spice things up with some fresh ideas for Chicago corporate outings. We have six suggestions to fit any workplace that needs an energy shake up.
We research Chicago history and architecture like this while developing our live virtual events and custom corporate events. Join us for our public virtual events or book an exclusive team-building event for your private group. We can also create custom tours and original content creation about this Chicago topic and countless others.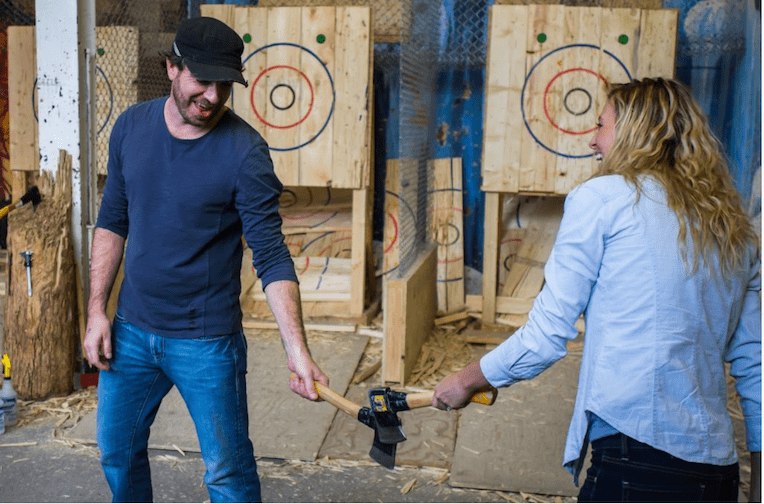 Corporate Outing Idea #1: Relieve Tension with Axe Throwing
Instead of sending (another?) passive aggressive email, throw an axe instead. At Backyard Axe Throwing League, colleagues can relieve stress productively in a safe space with talented instructors. One big bonus is that it currently costs less than competitor Bad Axe Throwing. No alcohol allowed near the axes at this spot, so it is ideal for teetotaling corporate outings. You are welcome to bring outside food and non-booze beverages, though, making your event a complete evening in one location. BATL describes their facilities as "a cross between a battle cage and a bowling alley". Along with tunes courtesy of BATL and friendly competition courtesy of an organized tournament for participants, what's not to love?
Corporate Outings Idea #2: Cook and Sing Together
At Korean barbecue hotspot BellyQ, cook and eat together and even provide your own entertainment in the form of karaoke tunes. Ideal for an office full of independent spirits, at BellyQ you can book private rooms. Stocked with a full bar, the karaoke part of the evening, on top of the delicious eats, will certainly make some memories.
Corporate Outings Idea #3: Compete Over Cake 
At the renowned culinary institution of Kendall College, they offer corporate events where teams construct and decorate a cake. They call this corporate outing "Let Them Eat Cake." Particpants are set-up for success with instruction from a professional, trained chef in one of the school's professional kitchens, along with support from Kendall College students. The chef then judges the teams based on their cake and presentation, maybe there's a prize, and then you eat the cake. Coworkers can tap into a competitive side with a sprinkle of creativity, making "Let Them Eat Cake" a super cool corporate outing for building interpersonal connections. Kendall College is located on Goose Island on the river, super close to downtown offices.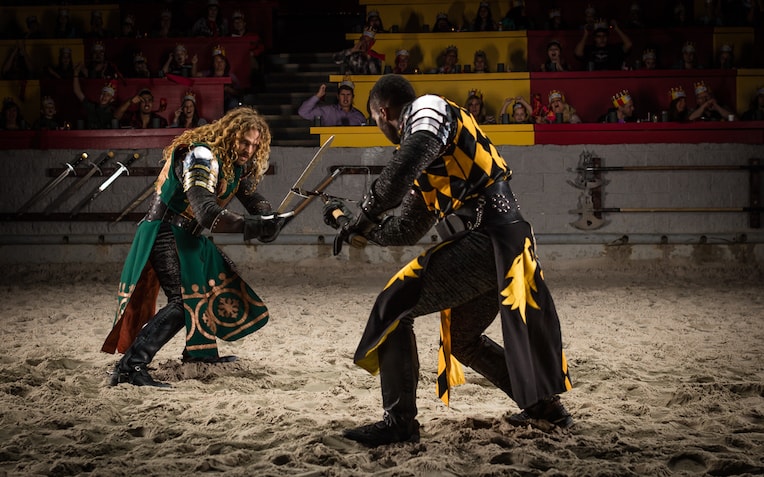 Corporate Outings Idea #4: Indulge in Kitschy Nostalgia
Is Game of Thrones is all anybody talks about around the water cooler? Or do your corporate staff meetings ever resemble GoT combat? At Medieval Times in Schaumburg, you can get dinner and indulge in a little childhood nostalgia with the entertainment. Some may even enjoy a little violent catharsis. Make it happen by booking a private bus, or even a party bus, and make it a fun field trip to the burbs. The Chicago Castle offers special benefits for private corporate groups.
Corporate Outings Idea #5: Laugh with Chicago Improv  
You live in Chicago. And if you haven't attended an improv show or workshop, I'm not convinced you really live in Chicago. Improv is historic to Chicago, it was born here! For a corporate outing in Chicago, this critical Chicago bucket list item. With iO Theater you can bring your corporate team for a private performance or a workshop designed especially to teach these skills for Chicago corporate outings.
Corporate Outings Idea #6: Tour Chicago History
Look, obviously there was no way we weren't going to suggest a private group tour with Chicago Detours. We work with a variety of companies, from small to big and from law firms to tech start-ups. We've got walking tours and bus tours, with or without dinner and/or drinks. You can charter a private yacht for a Chicago architectural boat cruise as well. Our historic bar tours were most popular for corporate outings. Our "Historic Chicago Walking Bar Tour" started right at the Michigan Ave. bridge, walking distance to many downtown offices. For "Big Shoulders Historic Bar and Food Tour by Bus" we picked you up your office and whisk your corporate team off to explore historic bars in the very historic Bridgeport neighborhood.  
— Morgan Lott, Private Tour Coordinator
ABOUT CHICAGO DETOURS
In business since 2010, Chicago Detours is a passionate team of educators, historians and storytellers. We applied a decade of experience as one of Chicago's top-rated tour companies to become a virtual event company in 2020. We bring curious people to explore, learn and interact about Chicago's history, architecture and culture through custom tours, content production, and virtual events.