Today the U.S Coast Guard lay flowers on the site of the disaster along with the people of the Eastland Historical Society to commemorate Chicago's worst disaster of human casualties. In 1916 the ship was ready to head out for the Western Electric Company's annual picnic to Michigan City, Indiana. While the boat had been said to be top heavy, it was not considered to be a threat. The capacity for the Eastland had been approved at almost 1,000 more passengers than it had ever held.
Tragedy Strikes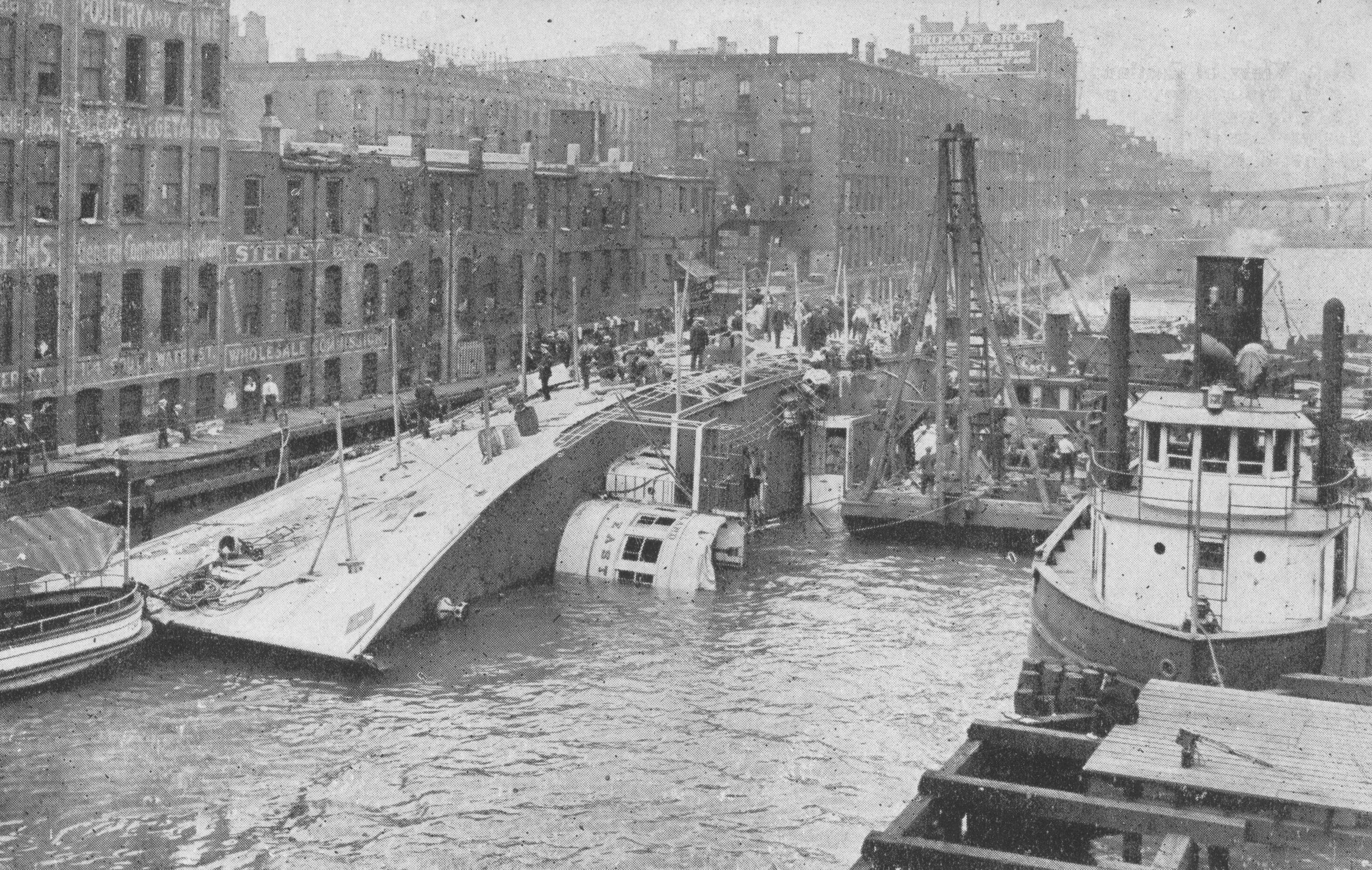 Then, after a gradual tipping, and then a groaning sound, the boat capsized in the Chicago River. People were trapped under the boat. Others were crushed by furniture and other heavy objects inside, and most did not know how to swim. Over 800 people were killed, and a morgue was set up at 110 N. Carpenter St, now the site of the Oprah's Harpo Studios (did you ever read our April Fool's about her?) Nowadays, we visit that spot on our Factories to Calories Fulton Market Food Tour.
Memorializing the Eastland Disaster
The tragedy has inspired and intrigued many, either out of morbidity, empathy, familial relations to the passengers, or…who knows? Apparently people printed postcards of the disasters?! A man named Dale Fowler is in the process of creating an endearing "digital book" entitled the Journey of the Eastland. "Eastland: An Original Disaster" will be on Lookingglass Theatre's line-up for next year. Entire books have been published about it. And here is even a photo montage of contemporary video of the site of the disaster mixed with historic photos. Skip ahead to 5:45 for a bizarre photo of the morgue. What I find so strange is not the bodies, but the man just sitting in a chair like his job is to guard them while someone else is walking through the space.
If you want to read a little more in-depth on this event, WTTW has a great article online in relation to a program that aired today, and the Eastland Disaster Historical Society shares names of those who died, details of the technicalities of the boat troubles, and photographs.