In choosing a Chicago architecture tour, you have so many choices that I decided to split the post into two parts. Part One considers the idea of "breadth" in a tour. We can choose to cover a lot of geographical ground and see a lot in an architectural tour, but not delve so much into deeper concepts of Chicago architecture and history. For "depth" you will see much less, but the tour guide will share more backstory on the buildings you will see to create a more educational experience.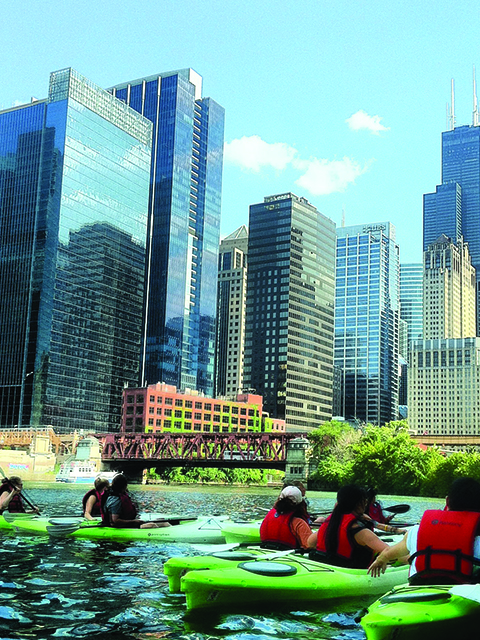 Boat Tours
Generally the architectural boat cruises move by buildings so quickly you cannot really absorb more than a fleeting impression, so for a more active boat tour and a closer connection to the river, you could venture into a kayak. Urban Kayaks, Kayak Chicago and Wateriders are your options for kayak tours. Because you're down much closer to the river, the buildings will seem even bigger and the slower pace will allow for more eye-candy time. However the tour guide commentary may not necessarily be so in-depth on these tours, which are often billed as "architectural tours," simply because of the logistics of the tour group being in multiple boats.
Bike Tours
Chicago bike tours can cover a good amount of space in a short amount of time. Plus you get the lake wind blowing through your hair! Bike tours provide the sights and sounds of the city. Part of the allure also comes from the freedom to explore. Bobby's Bike Hike has a Lakefront Neighborhoods Tour that ventures along the more residential side of the Mag Mile. It ultimately reaches the tiny side streets of the Old Town neighborhood. You even get to hop off your bike and see the nooks and crannies of the neighborhood on this Chicago architecture tour. night owls, their "City Lights at Night Tour" rolls by Gold Coast Mansions to the aforementioned Museum Campus view.
Running Tours
For the most active option of tour, go for a run! City Running Tours takes you for a jog while telling you grand stories of Chicago history, primarily along the lakefront. I've been meaning to try this out for some time, actually. I loved running when I used to work as a tour guide in Italy. It gave me a great perspective on the city I was in.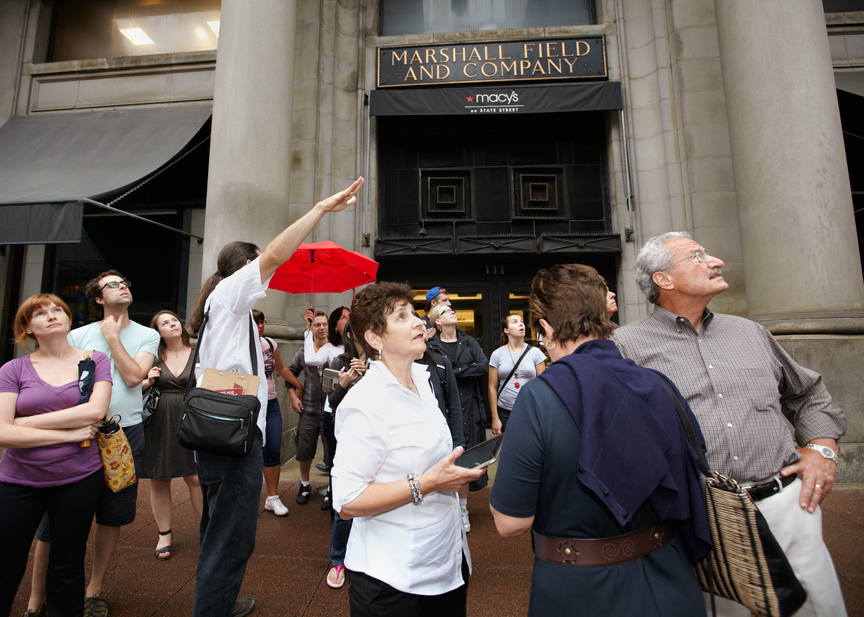 Walking Tours
The slowest and most in-depth way to explore architecture is of course by foot. Walking affords you the time to soak in the beauty of architectural detail of building exteriors and the possibility to step into magnificent lobbies and contemporary interiors. Joyce Walks Chicago ventures into neighborhoods like Chinatown. Chicago Architecture Foundation has a multitude of docent-led walking tours that visit anywhere from the mansions of Astor Street to the Palmer House Hotel to Wicker Park, and tend to focus on the technicalities and styles of architecture. Multiple tour companies offer Pedway tours of our underground system of passageways. Or stop by the Chicago Cultural Center to pick up a Chicago Greeter, a year-round walking tour service that gives visitors the opportunity to explore Chicago with a volunteer leading the way. What hospitality Chicago gives, right?!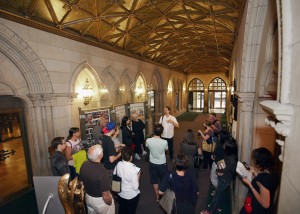 For in-depth perspectives on actively, visually engaging with our surroundings and how to relate to architecture, try my company, Chicago Detours. Our highly trained guides are experts in Chicago history and architecture. They'll take you inside buildings to see the workings of the city and the beauty of interior architectural spaces. In order to understand architecture, we have to step inside. Architecture can be as much about the spaces we inhabit as the structures that surround us.
— Amanda Scotese, Chicago Detours Executive Director