So many fun things to do in Chicago for summertime, and tourism in Chicago is booming. How about a Historic Bar Pub Crawl of Chicago entertainment history? We've been offering this Chicago pub crawl tour on Thursdays and Saturdays and the big news is that we just added on Fridays, too. To celebrate we are running a special promotion this week, so keep reading below. I will warn you – this post is a rare moment for us to talk about what we do with Chicago Detours rather than the usual explorations of architecture and history on this blog.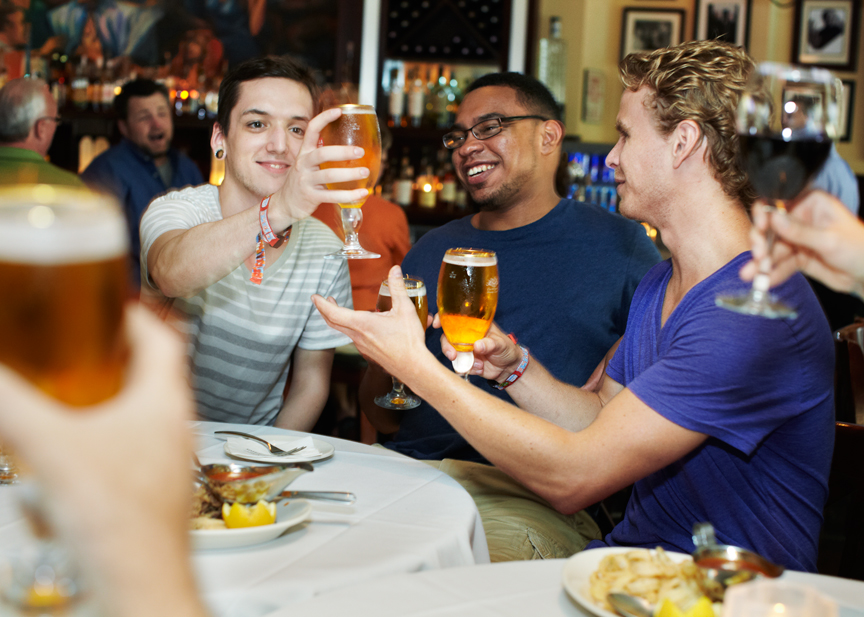 Nida, an "Elite Yelper," came on the Historic Bar Tour and here is what she said in her five-star Yelp Review: "I don't want to spoil the details for you, but this tour is well worth your money…I love learning about history and Amanda really put things into perspective for us when she showed us pieces of Chicago's past. This tour digs a little deeper by showing details from Chicago's past and tying it together with how the city is in present day. The architecture in and on these buildings is incredible and I love how we learned the back story for each. I doubt the locals even know most of the information she told us…Words cannot describe how great this tour is and you wouldn't know what I was talking about unless you experience it for yourself." I don't mean to brag. Really these kinds of comments bring joy to my day, especially when deep in the infinite black hole of managing email!
This historic pub crawl tour is of course not an excuse to get drunk – that just wouldn't be our style. Instead this walking tour creates an educational dynamic, as we actively engage with some stunning works of architecture and hear forgotten stories of the many ways that Chicagoans have had fun in the city over time. Guests share iPads with historic photos and video clips while the tour guide shares the commentary, as pictured above. We drink and eat while learning about both iconic and overlooked places just off the Mag Mile. Despite that we tour around this very flashy and fancy area of the Chicago, we uncover some pretty unexpected places and stories.
Reservations are required for the Good Times Historic Bar Tour, and guess what?! We are offering a special promotion this week. Get together a group of 4 or more and take 30% off your tour tickets. You have to reserve by this Friday, June 28th and use this honor system code of 4GUESTS30 to get your discount. With four guests that is a savings of $40, equal to more than a tour ticket. You must book all guests in one reservation to be eligible. Hope to see you!
— Amanda Scotese, Executive Director