It's the middle of October, which means its time for Open House Chicago! Even though the Chicago Architecture Center is technically our competition we can still unconditionally love this awesome annual architectural event. So here's a list of some awesome neighborhood locations we recommend visiting during Open House Chicago 2018 to visit Chicago architecture. We also highlight some Open House spots you can explore with us on a walking tour. See ya around town this weekend!
We research stories from Chicago history, architecture and culture like this while developing our live virtual tours, in-person private tours, and custom content for corporate events. You can join us to experience Chicago's stories in-person or online. We can also create custom tours and original content about this Chicago topic and countless others.
Neighborhood Sites for Open House Chicago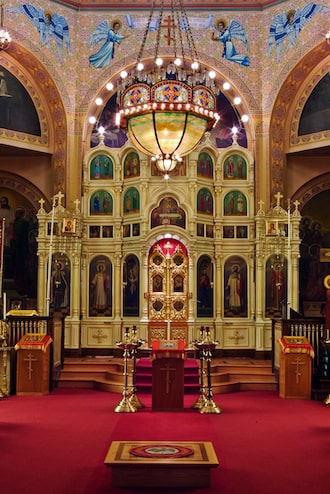 I had to list this church at #1 because it's one of only two churches designed by architect Louis Sullivan. The church was built in 1903 and contains both traditional Orthodox designs and touches of "Sullivan-esque" architectural detail work. Which…oh my god. How have I never been there? THAT SOUNDS SO AMAZING! I am going to try and visit this weekend come hell or high water.
It's located in Ukrainian Village, near several other Eastern churches that are also part of Open House Chicago. You can have a religious architecture pilgrimage all Saturday afternoon.
The iconic bright pink lakefront apartment building is an Open House staple. Built in 1928, it was part of a large beachfront hotel and recreation complex. It's a little confusing how a massive building on the other side of Lake Shore Drive had a beach, but basically LSD added onto the lakefront, thereby cutting the building off and leaving it with the name and no beach. I've visited Open House Chicago in previous years and seen dozens of friends gush over the ornate Beaux Arts swimming pool.
The nearby Edgewater neighborhood is dotted with other Open House sites, including a few notable mansions from the early 1900s.
A historic music venue, built in 1897, this is one of the last architectural remnant of Bronzeville's early 20th century entertainment heyday. Famed entertainers like Nat King Cole once entertained multiracial audiences inside the cavernous hall. The Forum sat empty for decades and was nearly demolished, and now restoration work is getting underway. Seeing the Forum this weekend will be a chance to get a glimpse before the restoration goes full steam ahead. You can also plan a trip to Bronzeville as part of our custom neighborhood tours for private groups.
Other Open House sites in Bronzeville include several historic churches and Mies van der Rohe's iconic Crowne Hall on the IIT campus.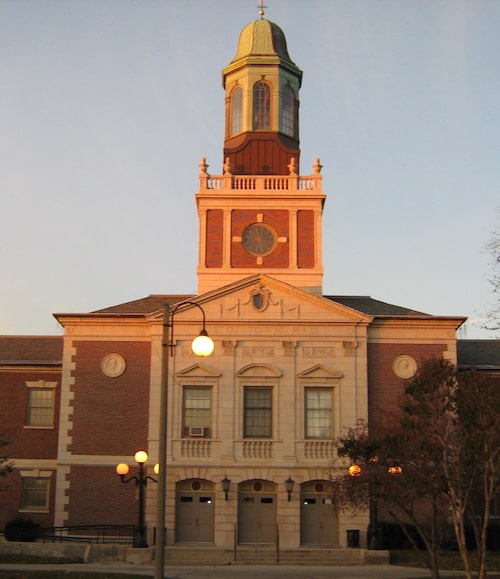 Austin Town Hall Cultural Center, a stately Georgian Revival structure, was built in 1930 and is a West Side architectural landmark. In all honesty, I can't think of another building in Chicago with architecture that looks quite like this. It's the kind of structure I associate with suburban civic centers or historic recreation villages. Perhaps it's because this style of architecture, Georgian and Colonial Revival, was most popular at a time when many Americans were turning inward and rejecting the ideologies and styles of the Progressive Era. And of course, because it was during the Great Depression and not a lot was being built then.
Austin has several other sites, including several gorgeous churches (just like about every Chicago neighborhood), and is just a stone's throw from the Prairie School Style of architectural sites in Oak Park.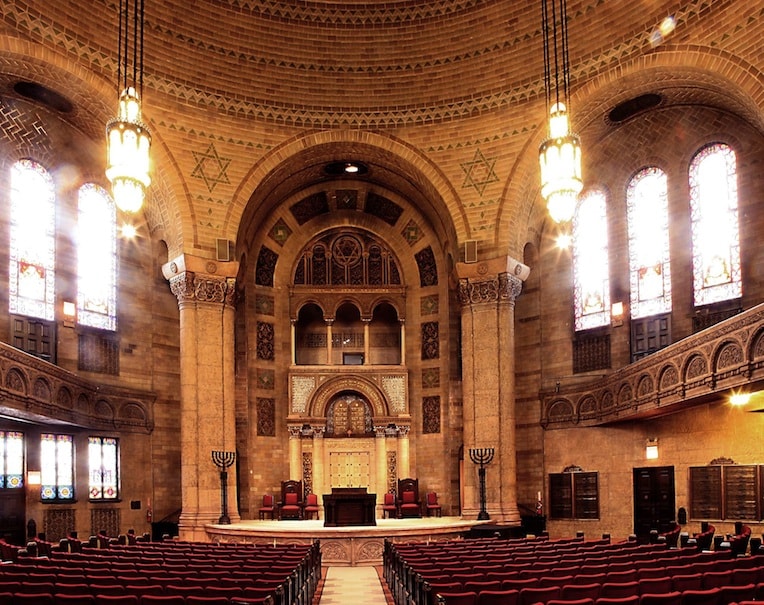 If you're swinging down to Hyde Park during Open House Chicago, then I've got to recommend KAM Isaiah Israel. The building, constructed in 1924 and designed in a neo-Byzantine style, is unlike anything else on this list. Stepping into their sanctuary feels like you've been transported thousands of miles away and centuries into the past. In fact, I wrote a whole article about its incredible architecture a few years ago. Plus, it's right across the street from President Obama's house!
Hyde Park is always worth of visit and its Open House sites include the soaring Rockefeller Chapel, the neo-Classical delights of the Hyde Park Bank and Trust, and Jeanne Gang's brand-new Solstice on the Park. <drools>
Downtown Sites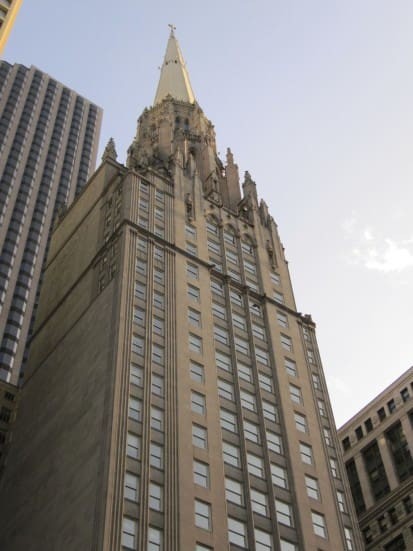 See the famous church inside a skyscraper! The First United Methodist Church of Chicago is, of course, one of the main architectural highlights of our Downtown Bucket List tour for private groups. I can tell you from experience that this site is extremely crowded during Open House Chicago. You can save yourself some time and learn all about it by coming on a tour with us.
Holabird & Root one of the most prolific and famous architecture firms in Chicago history. Even better, their offices are in the historic Marquette Building, which the firm designed in 1895. Incredible! Our aforementioned private tours often visit the lobby of the Marquette. With Open House Chicago, you could schedule yourself to pop up to see the firm's offices and then come right back downstairs and join our tour.
This State Street mainstay might be the most famous hotel in Chicago's storied history. The first Palmer House opened only 13 days before the Great Chicago Fire. Of course, mere flames couldn't stop old Potter Palmer and his eponymous hotel. The current building, which we stop and admire from the outside on private tours is a grand example of old fashioned luxury. The current hotel dates to 1927, but it's hard not to shake the feeling of the Gilded Age when you experience its architectural interiors. You may see one of our guides if you visit, since many of our step-on private group tours begin there.
The fabulous Carbide and Carbon Building has a new tenant. The former home of the Hard Rock Hotel was revamped and rebranded as the St. Jane, named after Chicago's Nobel Peace Prize winner. Regardless of the new name, this Art Deco masterpiece has been justly acclaimed since it was built in 1929. You can pop into the lobby during Open House Chicago or learn all about the tower's architectural style on our Downtown Bucket List tours.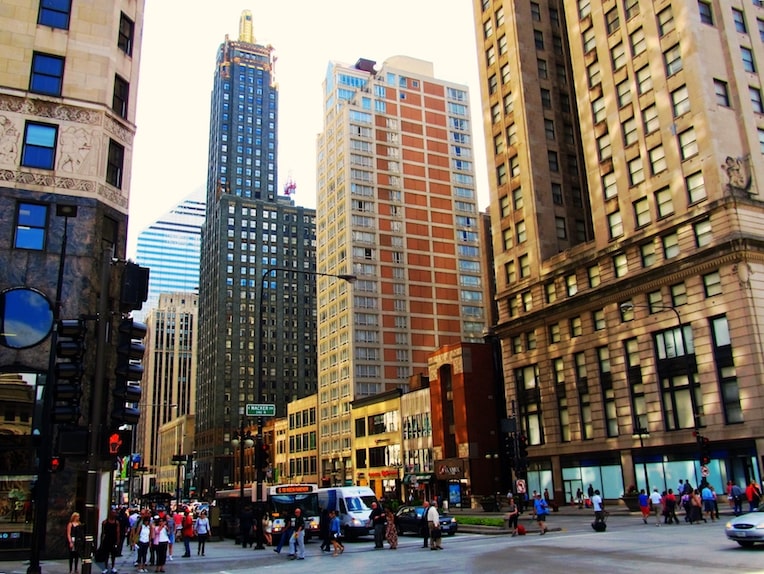 You'd never guess, but the soaring skyscrapers of River North and the Magnificent Mile once hosted a neighborhood of mansions. Known as McCormickville during the Gilded Age, this was the North Side's equivalent to Prairie Avenue in the South Loop. Only a handful of buildings remain from that time, including the Driehaus Museum. The ornate mansion, built in 1883, gives you a stunning glimpse of the wealth and power associated with the city's industrial magnates of that time. If you'd like to see another example of architecture of the Gilded Age, we view some mansion exteriors of old McCormickville when our custom tours take us through River North.
Hope you have a fun architectural experience during Open House Chicago this weekend!
– Alex Bean, Content Manager and Tour Guide
ABOUT CHICAGO DETOURS
Chicago Detours is a boutique tour company passionate about connecting people to places and each other through the power of storytelling. We bring curious people to explore, learn and interact with Chicago's history, architecture and culture through in-person private group tours, content production, and virtual tours.