Next Monday, October 8th, is Indigenous Peoples', er, Columbus Day. Here in Chicago, that means the annual Columbus Day Parade will go down State Street, sponsored by the Joint Civic Committee of Italian Americans. It also gives us a good opportunity to look at sites and ideas associated with the history of Italians in Chicago. For over a century, Italian-Americans have been one of the most prominent ethnic groups in the region. They have left an indelible mark on this city's history, culture and cuisine. You can see their historic impact on the city in these five important sites for Italians in Chicago.
Columbus Day has historically been very important to Italians in Chicago. A group of Italian-Americans sponsored the first Columbus Day Parade in Chicago in 1868. Columbus' arrival in the Americas in 1492 is, of course, one of the most significant moments in the history of civilization. The Columbian exchange changed the world in countless, overwhelming ways. But Columbus also began a horrific genocide of Native Americans and inaugurated the Trans-Atlantic slave trade. Many feel he's a monster and does not deserve to have a holiday in his honor. In fact, over 50 cities officially celebrate Indigenous Peoples Day instead of Columbus Day.
#1. Little Italy and Hull House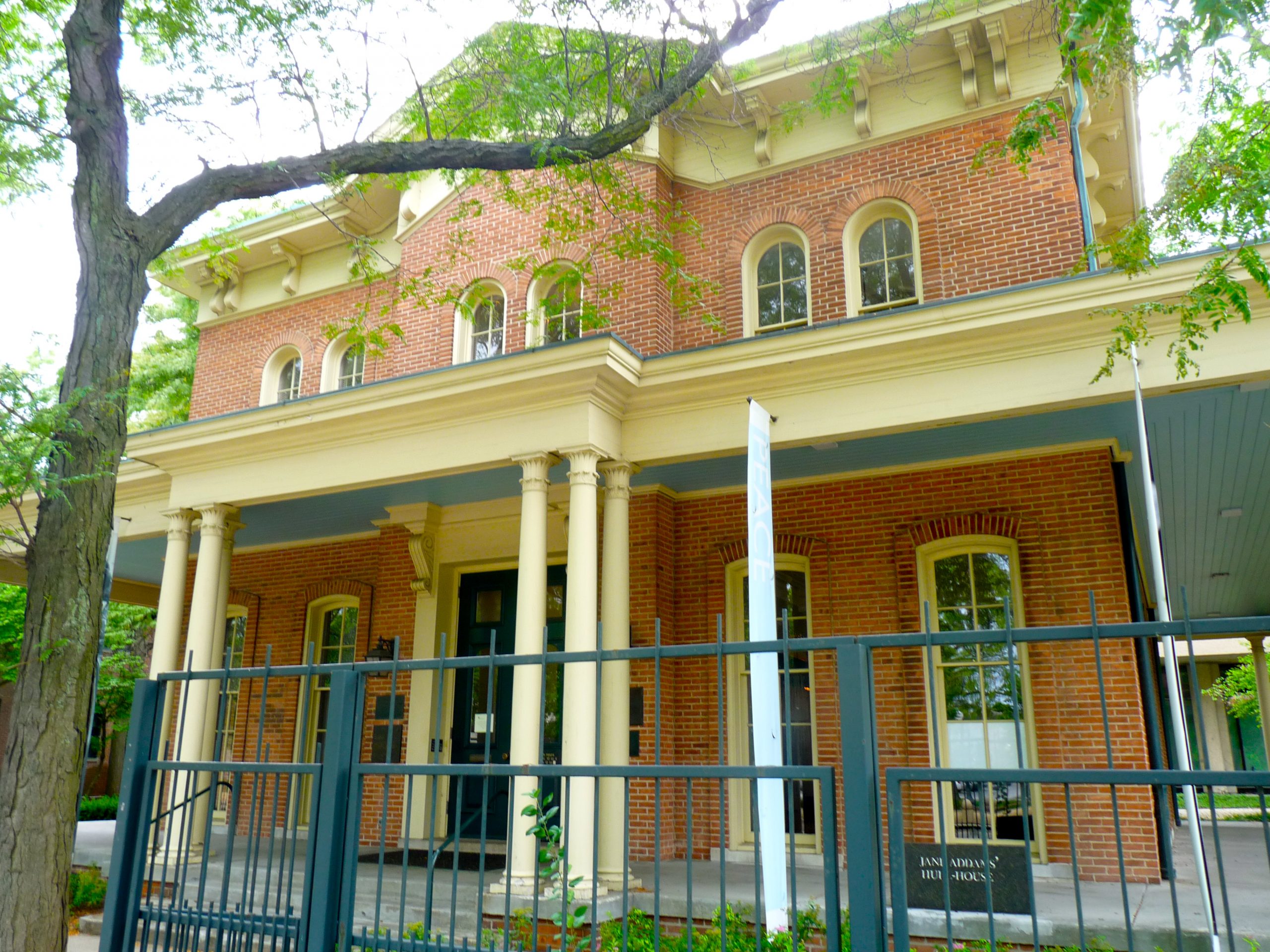 The story of Italians in Chicago has to start on the Near West Side, just across the rail lines and the river from The Loop. This neighborhood has historically been a clearinghouse for new emigrants. Germans, Eastern European Jews and African-Americans all lived there for a generation before moving into other neighborhoods. Italians came to Chicago en masse in the early decades of the 20th Century and built up a Little Italy neighborhood centered on Taylor Street. We traverse the area on our Neighborhoods and Cultural Diversity Bus Tour for private group tours.
The city demolished most of Little Italy to make way for the UIC campus back in the 50s and 60s. However, one of the most significant buildings in the neighborhood is still there: Hull House. Founded by Nobel Peace Prize-winner Jane Addams, Hull House was a settlement house association. Its mission was to provide social and educational opportunities for the working-class immigrants in the surrounding community. Hull House workers helped acclimate countless recently-arrived Italians in Chicago to the very different social, economic and political world of the industrial city.
The surviving Hull House buildings are on Halsted, surrounded by the divisive Brutalist architecture of the UIC campus. The main mansion is a graceful example of the Italianate architecture which dominated post-Fire building stock in Chicago. I've always thought it looks like an oasis of Progressive Era spirit amidst the monolithic feel of the surrounding area. I imagine that's how it felt to those earlier Italians in Chicago as well.
#2. Italian Village Restaurant
The Italian Village, located on Monroe right across from Chase Tower, claims to be the oldest Italian restaurant in Chicago. The Capitanini family has owned and operated the Italian Village since 1927. Today the third generation of the family keeps it running just like their forebears intended.
Personally, this is probably the site I know best on our list. We talk about the restaurant's historic facade on the Loop Interior Architecture Walking Tour. I have, in all likelihood, spent several days of my life comparing its faux-Old World look to those of the neighboring buildings. That being said, I'm overdue for a serving of Chicken Vesuvio; it's been many years. Need to fix that.
#3. The Balbo Monument
Alright, now we're into the segment where I'm gonna rant some.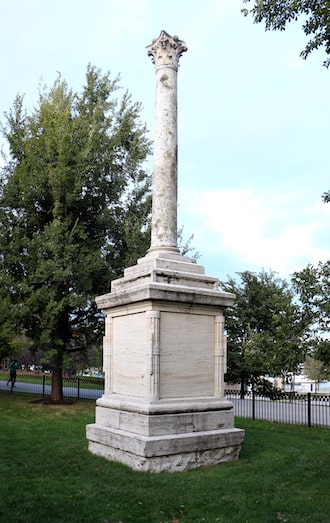 The commemoration of Italians in Chicago continues with the Balbo Monument. Fascist dictator Benito Mussolini and his murderous stooge Italo Balbo gifted an ancient Roman column to Chicago during the 1933 Century of Progress Expo. The gift was received before the Axis of Steel with Hitler and the awful war to liberate Italy from Fascist and Nazi control. That campaign cost the lives of up to 70,000 Allied soldiers. Mussolini's puppet government also fought an ugly colonial war in Ethiopia, oversaw the stigmatization of Italy's Jews, and signed off on their extermination in the Holocaust.
<rant>We've got a holiday named after a mass murderer and a monument (and major downtown street) named after a Fascist. We need to pick better Italians to honor. Chicago has been home to many of them, including Italian-Americans like Enrico Fermi and Harry Caray. We could also choose to honor the countless Native Americans who lost their lives and land directly or indirectly due to European and American imperialism. </rant>
The Balbo Monument is located outside Solider Field. Nearly 2,000 years old, it's almost certainly the oldest extant object in Chicago. So maybe stop by after a Bears game and flip off Mussolini's ghost? It's what I'd do.
#4. St. Frances Xavier Cabrini Shrine
Hey, look! An Italian-American with a notably positive impact on society. The Saint Frances Xavier Cabrini Shrine is a more uplifting site to celebrate the impact of Italians in Chicago.
As I wrote a few years ago, the National Shrine of Saint Frances Xavier Cabrini is one of the great hidden gems of Lincoln Park. The church sits hidden in the courtyard of a recent high-rise condo building. Much like her contemporary Jane Addams, Cabrini devoted her life to serving recent immigrants. The Catholic Church canonized her in 1946 – the first naturalized American citizen to become a saint. The church, which dates back to the 1950s, was part of a Catholic hospital which catered to working class immigrants. The hospital was named after…<sighs>…Christopher Columbus.
#5. The Missing Garibaldi Statue in Lincoln Park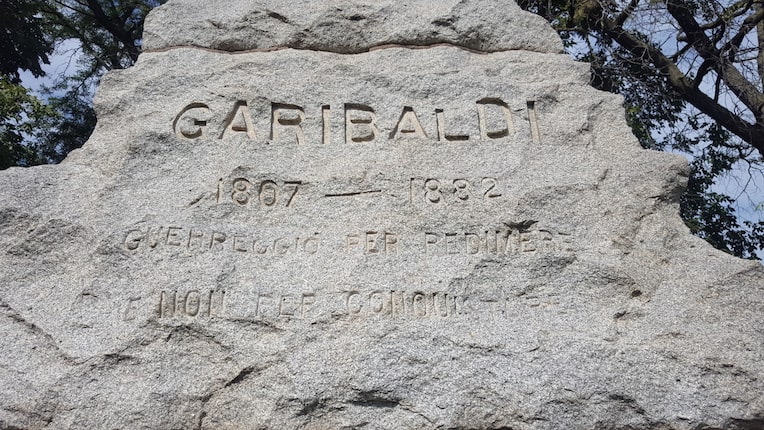 If you're looking for an awesome Italian, then Giuseppe Garibaldi is your man. Military leader of the "Redshirt" militias and armies, he led campaigns of defense in South America and mounted armed campaigns which led to the unification of Italy. He even offered to lead the Union Army during the Civil War. Lincoln turned him down because Garibaldi insisted on immediately liberating all the slaves, which was still politically untenable in 1861. Garibaldi was among the most famous people of his day and consistently fought on the side of democracy and liberty.
<rant resumes>THAT'S THE KIND OF ITALIAN WE SHOULD BE HONORING! </end rant>
Garibaldi has been honored all around the world. Accordingly, Italians in Chicago commissioned a statue in his honor back in 1901, which they placed in Lincoln Park. Garibaldi gazed upon Lincoln Park's South Pond until the 1980s. As a token conciliatory gesture to the Italians in Chicago who were displaced to build UIC, the statue was moved across town to the newly-renamed Garibaldi Park in Little Italy.
Oddly though, the Park District created a new base for the statue and left its original behind. So today, just a stone's throw from the U.S. Grant Memorial, one can stumble across a 63-ton boulder emblazoned with the name "GARIBALDI." It is strange, to be sure, but there's a surprising amount of weird stuff tucked into Lincoln Park. We point out a few other hidden oddities on our Detours 101: Chicago Highlights Bus Tour for private group tours.
Regardless of the holiday's name, Italians have contributed mightily to Chicago. Anyone whose ancestors were paisan and those who appreciate the incredible diversity of our city should appreciate the role of Italians in Chicago history.
– Alex Bean, Content Manager and Tour Guide