We've asked people to identify a Chicago woman of history beyond Jane Addams, Jane Byrne, Oprah, or Michelle Obama. Sadly, they get stumped. Here we spotlight places of women's history that you may not have visited or heard of. Or that you wouldn't necessarily know as a place of women's history at all!
Marshall Field's (111 N. State)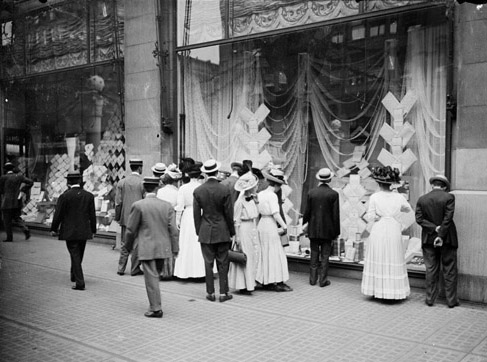 The recent book A Shopper's Paradise by Emily Remus has shined a light on Chicago women's history at the end of the Gilded Age. The theaters and sidewalks of the Loop and the department stores of State Street, especially Marshall Field's, were an active battleground over changing social customs. Women were not an active public presence in pre-fire Chicago. Social custom of the time dictated that genteel American ladies were domestic–the home was their castle. As such, it was incredibly rare for women to be in public without a male escort.
Field's changed all that. Their famous motto–"Give the lady what she wants!"–obviously catered directly to the female shoppers who began flocking to the Loop. The sudden presence of women in the public sphere unleashed a tempest of controversy. We delve into an interesting story on this topic when we visit Field's on the Loop Interior Architecture Walking Tour. Remus's book spells out much more, especially the repeated attempts to ban female fashions like hoop skirts and feathered hats.
Art Institute of Chicago (111 S. Michigan Ave.)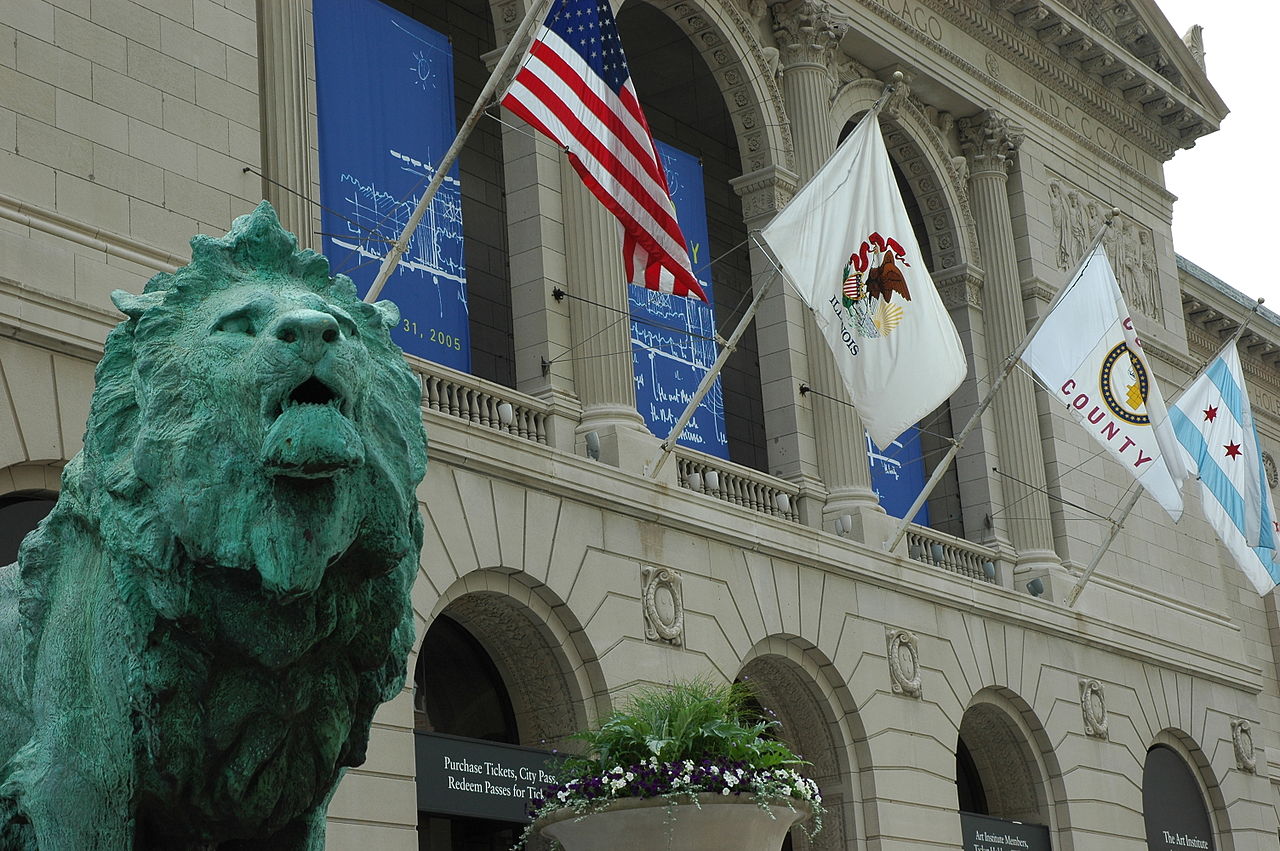 A lot of Chicago women's history revolves around the Art Institute. Even from its founding, it was an institution that contained strong female voices. That said, many women artists, from the White Rabbits to the Monster Roster, did not find mainstream success because of the AIC's traditional nature. That didn't stop one of our favorite women artists, Lee Godie, because she quite literally worked outside the walls of the academy. Godie was most often found outside the Art Institute, selling her artwork on the steps.
Godie rarely talked about her personal life, but her life spirit was unmissable. She unmistakably ruled the roost outside the Art Institute for roughly 30 years. Godie was often dressed in huge swatches of fabric or fur coats and bright orange circles painted on her cheeks. She sold her original paintings (which were inspired by Cezanne) on the steps. She often slept outside merely steps away. Multiple sources state that she was the most collected artist in Chicago in the '80s. Indeed, Mayor Daley II proclaimed September 1991 to be "Lee Godie Exhibition Month" because her fame and acclaim were so great.
Rush More Mural (78 E. Washington)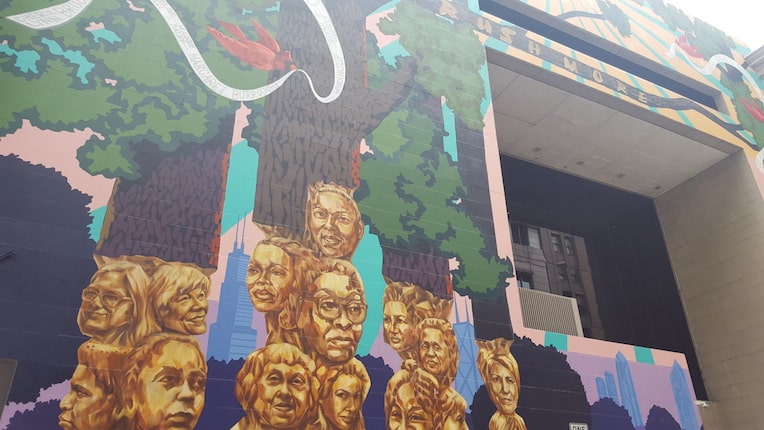 The backside of the Chicago Cultural Center is a monument to Chicago's women. "Rush More" is a gigantic mural which honors 20 of the most influential women in Chicago history. The Detours staff have been huge fans from the drop, since we're very into badass Chicago women as evidenced from our event for Women's History Month. A non-profit called Murals of Acceptance commissioned the work from South Side artist Kerry James Marshall.
According to a DNAInfo story, the artist "aim[ed] to brighten up the narrow, alley-like street by adding a 'parklike view' with a bright sun and trees." Visitors will definitely spot recognizable faces like Oprah Winfrey and Maggie Daley. I love that women a little further from the spotlight, like Sandra Cisneros, Gwendolyn Brooks, and Harriet Monroe, also made it onto our Rushmore.
Chess Records (2120 S. Michigan)
At 2120 S. Michigan Avenue is a landmark of Chicago blues history. People often highlight blues greats like Howlin' Wolf, Muddy Waters, and Willie Dixon. Let's remember that the queen of Chicago blues, Koko Taylor, recorded there, too! Her performance of "Wang Dang Doodle" took fun to another level. Read more about her in "Three Chicago Musicians of Maxwell Street."
Fine Arts Building (410 S. Michigan)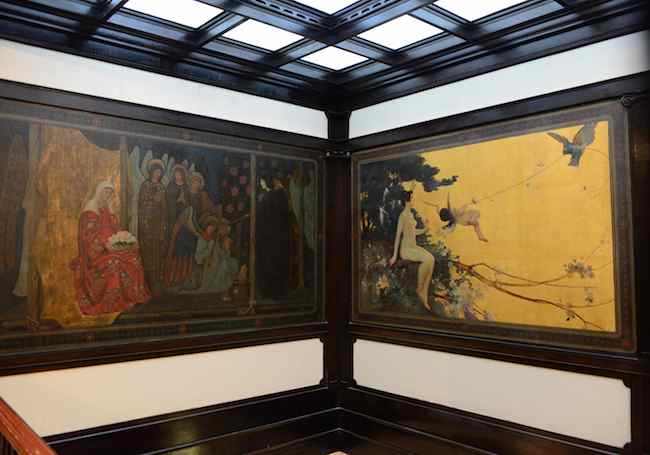 Many women in the arts found work in this building, originally built in the late 1800s. Carrie Jacobs Bond had her music publishing company here. She had received rejections at every company she had approached. After she decided to go into business on her own, she became the most successful publisher of the era.
If you were to visit all of the above sites, it would surely comprise an afternoon for a tour of women's history in Chicago!