Lions and liveliness and tranquility, oh my! You can find that in the Lincoln Park Zoo the surrounding neighborhood. We always delight in bringing guests up to the zoo and Lincoln Park's charming green spaces on our Chicago Highlights Detour 101 Bus Tour.
Meet Klaudia
My name is Klaudia Siczek, and I'm delighted to be the new intern at Chicago Detours. I grew up in the northern Chicago suburbs, studied in Champaign, and moved to Chicago a couple of years ago. I've also spent some time in Poland, where my family is from.
I don't want to sound sappy, but almost every time I take a walk in Chicago, it's like I'm seeing it for the first time–I see new angles, discover new details, my heart beats a little faster, and my knees usually get weak (am I a romantic, or should I see a doctor… am I right?!). So I'm a perfect fit for Chicago Detours, and I'll be blogging about the architecture of Chicago neighborhoods during my Editorial Internship here.
Lincoln Park Zoo
So we begin with Lincoln Park. About six months after I moved to Chicago, I was jogging on Cannon Drive when I suddenly saw the open gates of the Lincoln Park Zoo. Since I had not yet been there, I thought I'd jog through it quickly and call it a day.
It was almost dusk in Lincoln Park, and it had just started to drizzle. Through the gates I saw empty paths–there was not a living being to be found; it looked like an abandoned theme park.
I jogged through the gates to the first patch of fenced flora to see if there were any critters, and I came to a halt. There before me was a tiger.  Just chillin' in Lincoln Park. Here I was, alone, in the middle of the third largest city in the United States, making eye contact with the third largest land carnivore.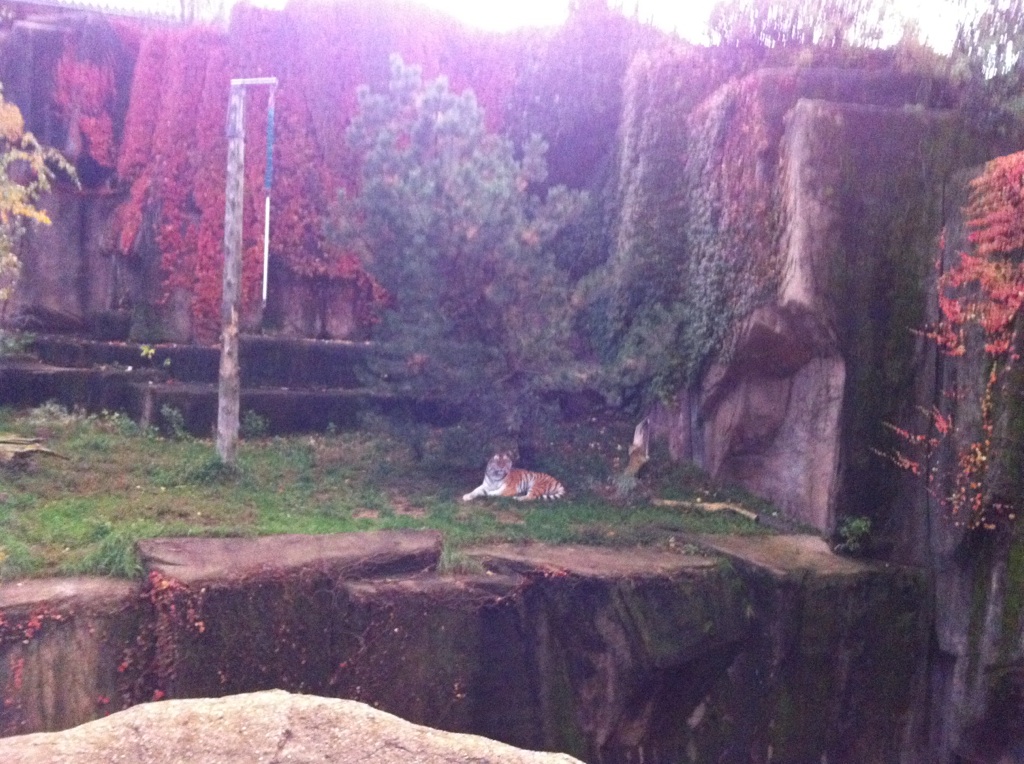 Zoo Architecture
I was mesmerized and disoriented–I had just been jogging past a boisterous crowd on Clark Street eating fro-yo! I couldn't get enough of the accidental transition I just made–from the center of action to complete seclusion.
This experience was made possible by the Park's open gates and free admission. And this is only one of several paths of contrast that one can experience in the Lincoln Park neighborhood. In this vertical city, the birthplace of the skyscraper, there is also horizontality to be celebrated. Lincoln Park may be the prime example of this.
After checking in with the Amur Tiger, you can be thankful you're not Daniel in the Den of the Lions and consider some Chicago architecture. You could pay a visit to the enthralling yet escapable Kovler Lion House, built in 1912. Designed by Dwight Perkins, this wide brick hall with terracotta ornament and lion mosaics shows the Prairie School architectural style, which aimed to emulate the expansive–and very horizontal–Midwestern prairies.
Alfred Caldwell Lily Pool
To cool down after your interaction with the big cats, visit the sanctuary of the Alfred Caldwell Lily Pool. It's on the North end of the Lincoln Park Zoo. This is another "Prairie Style" space, designed to resemble a "river running through a great Midwestern prairie." The two shelters form a horizontal structure that in combination with the waterfall echo Frank Lloyd Wright's Falling Water.
The carefully chosen Midwestern plant palette succeeds in enveloping you, providing a comfortable cushion between you and the city. Who would have thought that within just two blocks you could go from vivacity to serenity?
I would suggest you never leave, if it weren't for all of the other adventures Chicago has up its sleeve…
– Klaudia Siczek,  Editorial Intern