As the weather gets nicer, I get excited for the open air markets in Chicago, chief among them the Maxwell Street Market. With the Chicago Blues Festival just around the corner and our annual custom private tours in full swing, tour guests often ask me, "Who are famous blues musicians from Chicago I should know?" So let's celebrate three famous Chicago musicians who played Maxwell Street Market.
We research stories from Chicago history, architecture and culture like this while developing our live virtual tours, in-person private tours, and custom content for corporate events. You can join us to experience Chicago's stories in-person or online. We can also create custom tours and original content about this Chicago topic and countless others.
Music and Life on Maxwell Street
The Maxwell Street Market was a thriving open-air marketplace on the Near West Side, which began in the late 19th century as immigrants from Eastern and Central Europe settled in the neighborhood. Like an early flea market, Maxwell Street would come alive on Sundays, the street lined with stalls selling everything under the sun, with people from all walks of life crowding in to find good deals or simply have a good time. A Tribune reporter who visited the market in 1947 described it:
"Hawkers, spielers, pitchmen, and hucksters shout their wares while radios boom and customers haggle in a dozen languages. Merchandise drapes from awnings, spills over sidewalk stands and creaking pushcarts, litters the pavement and walks wherever the hawkers elect to take their stand. There is the sharp odor of garlic, sizzling redhots, spoiling fruit, aging cheese, and the strong suspect smell of pickled fish. Everything blends like the dazzling excitement of a merry-go-round."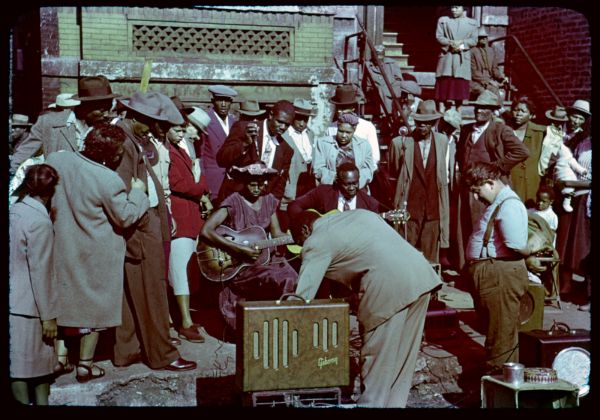 Musicians were soon playing in the street for spare change. From the 1940s until the University of Illinois displaced it in the 1990s, Maxwell Street Market was one of Chicago's premiere destinations for live blues music. Many famous blues musicians got their start there, playing for the rowdy crowds of shoppers on Sunday mornings.
Muddy Waters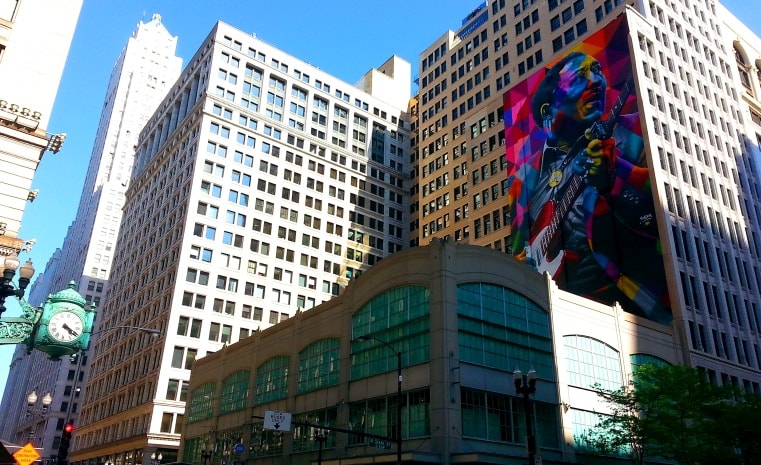 Any list of famous Chicago Blues musicians has to start with Muddy Waters. Waters was born in the Mississippi Delta, just like the blues. He moved to Chicago in 1943 and married the Delta blues with big city life to create the Chicago sound. He recorded for Chess Records before it was Chess Records. Then he toured the world to inspire the next generation of popular music, rock n roll. These are only some of many reasons why he was immortalized in a 10-story mural in the heart of downtown Chicago. Muddy Waters is easily the most significant Chicago blues musician. Seems fair he tops this list of musicians with roots in Maxwell Street Market.
Howlin' Wolf
Next up would be Howlin' Wolf, whose song "Killing Floor" defines the Chicago Blues sound. The song compares romance to the slaughterhouse with a raw beauty that could only come from Chicago. He also came from Mississippi and owes his early recordings to Chess Records. His backstory might sound like a stutter, but it should be no surprise that so many of these famous musicians travelled similar paths to Chicago as part of the Great Migration. Wolf would often point out, however, that he was the only one to drive his own car to get here. That spirit and drive are evident in his music.
Little Walter
The logical third to this list of famous Chicago musicians who played Maxwell Street Market is Little Walter. As a sucker for lyrics, I must admit he is the musician on this list I know the least. Little Walter was a harmonica player. Indeed, he's the first harmonica player to be inducted to the Rock N Roll Hall of Fame. He is known as the first musician to use electronic distortion, as he competed with electric guitarists and pushed boundaries of amplification. Little Walter played in Muddy Waters' band and on his records for years. He got his start in Chicago on the Ora-Nelle label, which was headquartered at the back of a record store on Maxwell Street, Abrams' Maxwell Radio and Records.
More Maxwell Street Market Musicians
Let me add a couple of my personal favorites to this list of famous Chicago musicians with Maxwell Street ties. Maxwell Street wasn't always a temporary market. Maxwell Street Market was also a street full of stores that existed all week long, but thrived on Sundays. That's because many families in the neighborhood were Jewish and observed the Sabbath on Saturday. The most famous Jewish musician from the Maxwell Street neighborhood is easily Benny Goodman.
Growing up in the Tieri house, we learned the clarinet, which made Benny Goodman a household idol. Goodman was born in 1909 in the Near West Side to Russian Jewish emigrants. He played in the Hull-House band as a kid and went on to make his mark all over the Chicago music scene on the south side, playing with some of Bronzeville's greatest musicians. So it's no surprise that he led one of the first integrated jazz groups. They played an important role in the struggle for racial equality in the music industry.
And let's not complete this list without a woman, or really I should say the woman of Chicago Blues, Koko Taylor. She often hung out at Maxwell Street to listen to the musicians. She eventually made friends and became part of the scene herself. My favorite of her songs is Wang Dang Doodle. It's a raucous romp about pitching a party. An ideal showcase for her strong, rough vocals. Listen to her sing her iconic song accompanied by Maxwell Street fixture Little Walter:
So many of these stories start with Maxwell Street, because it was the place to be for Chicago music. If you'd like to hear more stories about Chicago music history and to see some of these sites, including the Chess Records building and Maxwell Street, book a private tour during the Chicago Blues Fest weekend.
– Elizabeth Tieri, Lead Tour Guide
ABOUT CHICAGO DETOURS
Chicago Detours is a boutique tour company passionate about connecting people to places and each other through the power of storytelling. We bring curious people to explore, learn and interact with Chicago's history, architecture and culture through in-person private group tours, content production, and virtual tours.