Recently, we were asked why State Street was not straight, but jogged over at Madison Avenue. It's a spot we know well, but couldn't answer off the top of our heads. So, these past two weeks I've been researching Chicago. Usually, the Chicago Detours guides make Chicago architecture and history look easy, but let me tell you. It's not. At least not this time.
We research stories from Chicago history, architecture and culture like this while developing our live virtual tours, in-person private tours, and custom content for corporate events. You can join us to experience Chicago's stories in-person or online. We can also create custom tours and original content about this Chicago topic and countless others.
Researching Chicago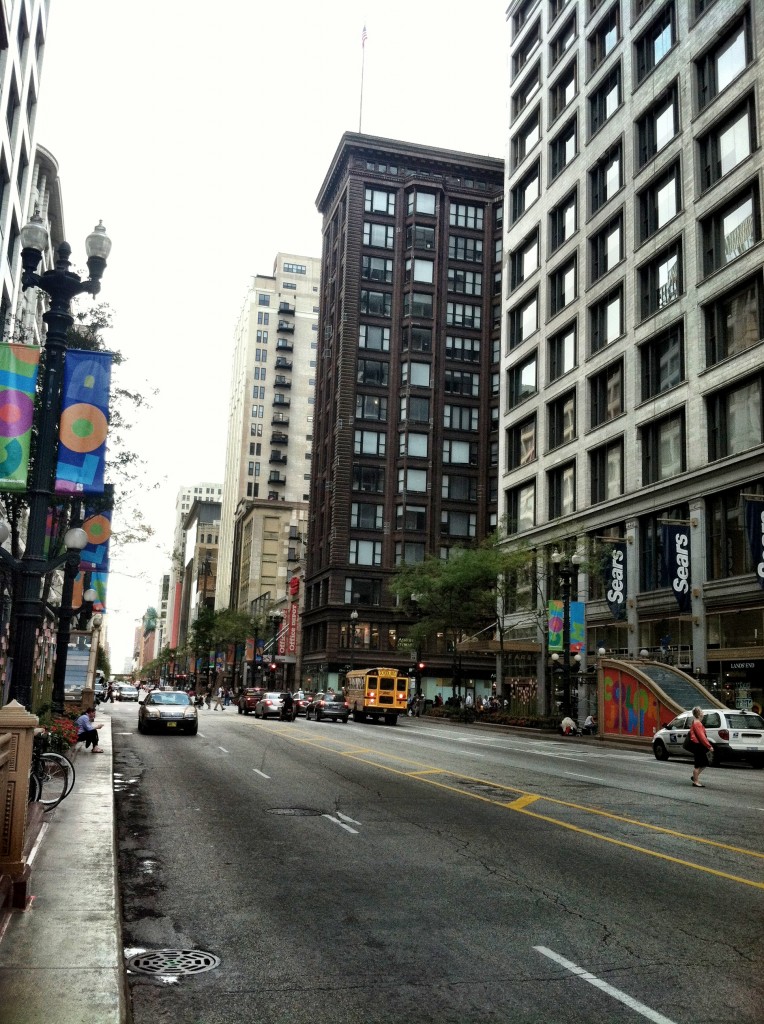 While I truly enjoy the thrill of archival digging, there were points in this endeavor when I wanted to rip my hair out trying to answer this. I am by no means an expert at researching Chicago, so experienced hands may have known the shortcuts. Still, here's just a shortened version that shows the "behind the scenes" of Chicago Detours and how we come up with answers to tour questions.
I wasn't really sure where to start but most of my research ended up looking at tons of maps from the UIC Digital Collection, the University of Chicago Library's Map Collection, maps of streetcar routes, the Chicago History Museum Research Center, to the Harold Washington Library's Chicago City-Wide Collection of original, oversize maps.
This was frustrating though because most maps of the city don't even acknowledge the slight misalignment of the intersection. Two helpful resources were the Sanborn Fire Insurance Maps as well as GoogleMaps, but maps wouldn't suffice enough information on their own, I'd have to find documentation from Chicago's earliest days. Researching Chicago never ends!
Librarians to the Rescue!
The friendly staff at Harold Washington Library's Special Collections assisted me at this point. They found multiple articles from historical Chicago Tribune articles that referenced the development of the State and Madison intersection. From this historical newspapers here is a brief synopsis of State Street:
State Road began as a Native American mud trail between Chicago and Vincennes, Indiana, called the "Vincennes Trace."
A 60-foot-wide street was laid northward from Madison to the river in 1839. The portion south of Madison was laid in 1858. This was done to accommodate the first street car lines of the city.
I thought I may have hit the jackpot with this article of the Chicago Tribune, dated August 30, 1891:

"You may have noticed how much wider State street is from the river to Madison street than it is from Madison street south…In the early days there was a two-story brick market-house in State street at a point between the river and Randolph street. Of course, in establishing the market-house in the street it was necessary that the thoroughfare should be wider than the ordinary street. At that time State street did not extend any further south than Madison. The old market-house occupied the place until nearly 1860."
A "market-house" was a public, multiple story building. It had a market on the ground level and housed public and civic functions on the top level. Market-houses required lots of outdoor space surrounding it for gatherings and foot traffic.
What's in a Plat?
So then why is State Street not as wide all the way south? For this, Chicago Detours turned to the experts of the Committee on Geographical Studies at the University of Chicago. Professor Michael P. Conzen, chairman of the Committee answered our question:
"State street, technically does not bend at Madison, but narrows south of it. This is because, heading south at that point, you pass from the ORIGINAL TOWN PLAT (1830, Illinois Canal Commissioners) to the SCHOOL SECTION (Sec. 16, township and range system), and those who bought land there platted narrower streets, wanting more land in private space to maximize profits."
What Dr. Conzen is referring to is the first survey taken of Chicago showing proposed lots taken in 1830. That's before Chicago was even a township. The areas south of Madison were sold and developed 3 years later than the those areas north of the intersection. In just those three years, land value had raised substantially. Those landowners, like real-estate magnate and retailer Potter Palmer, pushed their plots to the very edge. After all, they'd make more money that way.
Maps, historical newspapers, expert advice – I gave this question my all! Hopefully this gives you an idea of the of strategies and effort research entails.
– Marianna Foral, Research & Editorial Intern
ABOUT CHICAGO DETOURS
Chicago Detours is a boutique tour company passionate about connecting people to places and each other through the power of storytelling. We bring curious people to explore, learn and interact with Chicago's history, architecture and culture through in-person private group tours, content production, and virtual tours.