A brand new year is the perfect time to think of the new buildings in Chicago in 2018. With the huge downtown building boom right now, we have tons of new architecture to look forward to. Recent additions, like 150 N. Riverside, have already become iconic architectural parts of the Chicago skyline. It'll be fascinating to see which of these new buildings in Chicago in 2018 become similarly famous. To be honest, this is also a fun way to start planning additions to our tours.
Lincoln Common
Some of the Windy City's biggest building projects are going way beyond just one single structure. Lincoln Common  is an example of a multi-building mega development. Upon completion, it will add a ton of new residences and shopping to the heart of the Lincoln Park neighborhood.
Lincoln Common is located at the six-way corner where Halsted, Fullerton, and Lincoln meet. For over a hundred years this was the site of the Children's Memorial Hospital. The site came up for redevelopment when the hospital moved to Streeterville in 2012. Sadly, two historic hospital buildings, the Nellie Black and Martha Wilson Pavilions, were demolished in 2016.
Lincoln Common is going up in the footprint of those demolished buildings. Two anodyne mid-rise glass and steel condo towers dominate the design. Below them, a series of smaller structures scatter across the site. Happily, among these smaller structures, the architects of Lincoln Common have preserved and will reuse several historic buildings. Abundant rooftop green spaces and a public plaza should help integrate Lincoln Common into the neighborhood. Construction is still in an early phase, so we don't expect these to open for a while yet.
New McDonald's Headquarters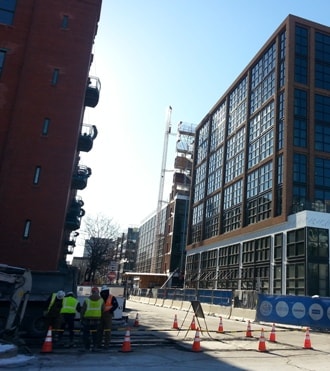 Fulton Market is a jungle of construction cranes and demolition zones these days. Oodles of hotels and offices have moved into the West Loop neighborhood in the wake of its restaurant-driven revival. The most consequential of the architectural projects right now has got to be the new McDonald's headquarters. The fast food Goliath has operated from suburban Oak Brook since 1971. The lure of a brand-new architectural space for its executives and "Hamburger University" training center has brought the golden arches back to Chicago's center.
The new HQ building is located at Randolph and Carpenter. The site itself has quite a history. The goddess herself, Oprah, used to haunt the lot since her Harpo Studios stood there. Long before that, the building, which was originally built for cold storage, was filled with hundreds of corpses. Bodies were taken there for examination after the nearby Eastland Disaster a century ago. Yikes!
Among the new buildings in Chicago in 2018, the new McDonald's HQ itself is, um…nothing to write home about. I wish I could say something nicer, but it's just another glass, steel, and brick mid-rise box. Sterling Bay, the developer of the site, has built a million of these in the past few years and they're all pretty interchangeable works of architecture to me. But I still encourage you to check it out on our Factories to Calories Food Tour in Fulton Market.
Solstice on the Park
There's no hotter name in Chicago architecture than Jeanne Gang and her Studio Gang architecture firm. Their most notable building (for now) is the already iconic Aqua tower in downtown. When it was built, it was the tallest building ever designed by a female-led firm. She'll break her own record in 2020, when the Vista Tower is expected to become the second-tallest building in the whole of Chicago.
But Studio Gang has been busy outside of downtown in between these massive projects. Solstice in the Park, which is our most anticipated of the new buildings in Chicago in 2018, will be their third project in Hyde Park. The rental apartment tower began its development as a condo building over a decade ago. The financial crisis stalled the project and changed the plans. But when renters finally move in this summer, they'll get to enjoy stunning views of Lake Michigan, Jackson Park, the Museum of Science and Industry and (in a few years) the Obama Library.
Personally, I'm looking forward to Solstice in the Park because of its unique facade design. Mid-rise towers of tinted glass and steel are a dime a dozen in Chicago these days. Studio Gang have played with this aesthetic by tilting their window panels at a 45 degree angle. To me, that tweak sets Solstice apart from its peers, kind of like the neighborhood of Hyde Park itself.
Redevelopment in Wrigleyville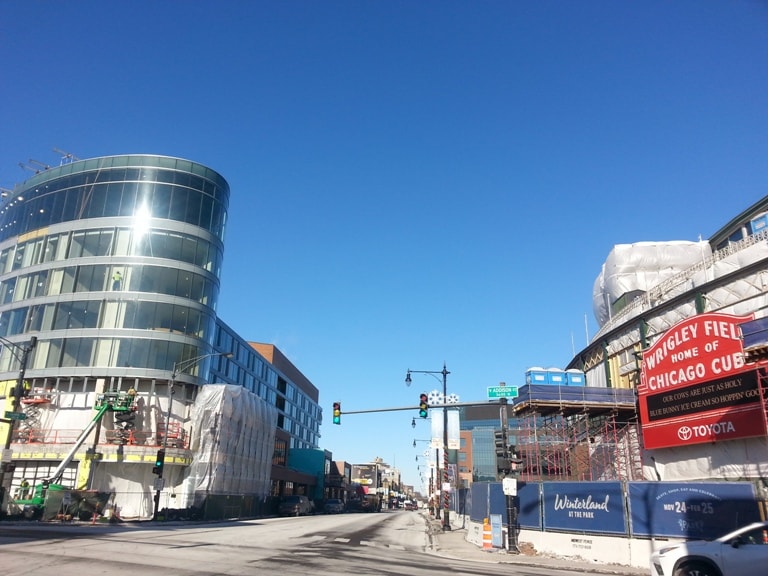 Anyone who went to a Cubs game recently can tell you that several new buildings in Chicago in 2018 are almost ready to go. Wrigleyville, that baseball and sports bar haven, is in the midst of a historic building boom. Wrigley Field itself has undergone extensive renovations since the Ricketts family bought it. With that project nearly finished and the Curse of the Billy Goat finally broken, the rest of the neighborhood is scrambling to catch up.
2018 will see two big new developments open up. Hotel Zachary, which is named after Wrigley Field's original architect, was built by the Ricketts. It will open across Clark Street from the new Park at Wrigley, which opened in 2017. Its website describes the Zachary as a "boutique hotel," which will also host shopping, restaurants and a bank. For a long time this lot hosted the (in)famous Wrigleyville McDonald's. So it's only fair that Hotel Zachary will be home to a new McDonald's franchise.
Kitty-corner from Hotel Zachary is another massive new building project. Addison and Clark, named after the intersection, is the kind of mixed-use development that city planners dream of. It'll add over 100 apartments, 100K+ floor space of shopping, a movie theater, and hundreds of indoor parking spaces. The new building stretches across the block, with frontage directly across from Wrigley Field on Addison and on the bar strip on Clark. With the new hotel, offices, and stadium revamp, Wrigleyville is neck-and-neck with Fulton Market for the city's busiest construction zone in 2018.
– Alex Bean, Content Manager and Tour Guide