The dawn of a new year has us thinking about the new architecture that will change Chicago's skyline. Construction on major buildings slowed to a crawl after the Great Recession, but the tide has turned. Several new high-rises are popping up quickly, and showing us that the way we live and work in the city is changing. Let's talk about Chicago's skyscrapers that are slated to open in 2016.
Wolf Point
I frequently ride the Brown Line and always take in the scenery when the train goes across the river. Over the past year or two, I've observed the riverside construction of several new buildings in River North. First to the finish line is Wolf Point West, another apartment building. It will be joined by two others on the same spit of land. The tallest proposed building, Wolf Point South, won't open for a few more years and is planned to be one of the tallest in the city.
Block 37 Apartment Tower
Those who have joined us for the Loop Interior Architecture Walking Tour will know all about the epic saga that is Block 37's redevelopment. It literally takes a whole book to grasp Block 37, or we share a more concise version on the walking tour. And here's an even more concise version: the Pedway passage, office tower, and mall at Block 37 have all been open for a few years. The planned apartment towers and transit center were not built on-time because of financial issues. But construction finally began on the apartments a few years ago and it topped out just a few months ago. The new building holds 690 rental units and opens mid-year. All those new renters, a new AMC dine-in theater that just opened in December, and upscale Latinicity food court just might draw some crowds. Little by litte, Block 37 is getting there.
MILA
Block 37 isn't the only spot where new apartment towers are appearing. In fact, the biggest trend for new buildings in Chicago seems to be downtown luxury apartments. Just a few blocks from Block 37, a 41-floor tower dubbed MILA will open in 2016. The developers got that name from the building's intersection – Michigan and Lake. It's on a stretch of Michigan Avenue between the river and Millennium Park called the "Millennium Mile." MILA is just one part of a recent boomlet in new apartment, hotel, and retail buildings in that stretch. Though, I will admit that none match the panache of Carbide and Carbon, which we admire on the Architecture Walking Tour for Design Lovers. I traverse that spot a lot, since I teach at nearby Harold Washington College, so it will be interesting to see if that relatively sleepy corner of downtown comes alive this year.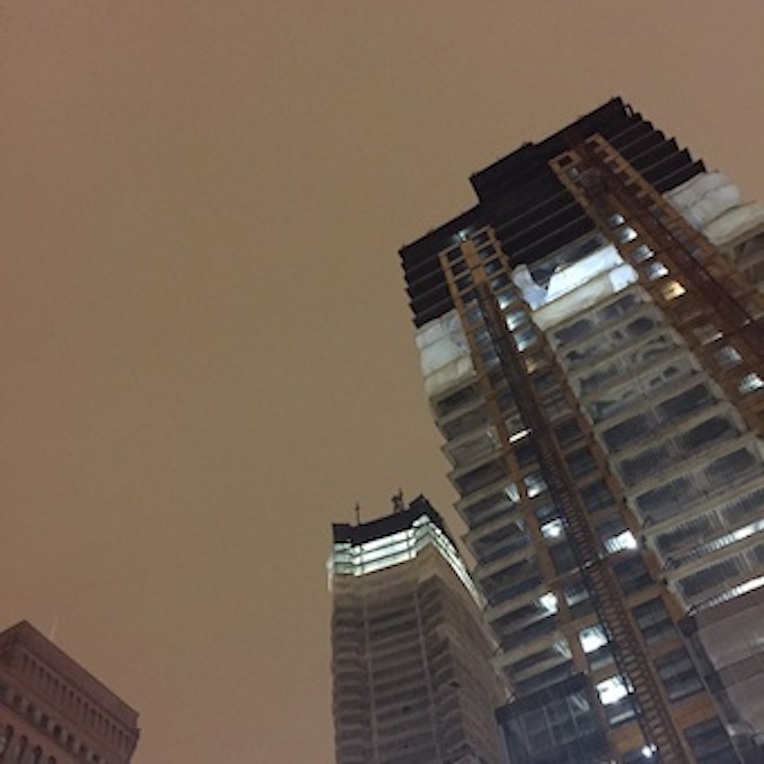 Riverside
Over in the West Loop, two new office towers that climb over 50 stories tall are under constructions. Incidentally, both buildings occupy the air rights above the tracks heading into Union Station. One of them, called River Point, has a design that caught my eye. I love the soaring arches that will curve into the building's shape at its top and bottom. They read as an abstracted echo of the bend in the river below.
These new buildings in Chicago will radically alter the skyline and where people live, work, and move about. Years ago no one would even think of living in downtown Chicago (except maybe the pastor in the Temple Building). With more people living in the Loop, there will be more shopping, restaurants, and things to do. And with plans for even more super-tall buildings beyond 2016, it's an exciting time to be an architecture nerd in Chicago.
– Alex Bean, Chicago Detours Tour Guide