We want to share some of the best holiday cocktails in Chicago's historic bars with you! It's been a blast exploring Chicago's holiday traditions on our annual Virtual Holiday Stories Happy Hour. Our guests have especially enjoyed the holiday cocktails (and other drinks) available during the tour. That got us thinking. The spirit of giving defines this time of year, so here we give you some of the best holiday cocktails to enjoy in our historic Chicago bars!
While you're here, check out our Badass Women Journal and Virtual Holiday Stories Happy Hour. The former is perfect for gift-giving and the latter is a wonderful way to spend time with family and friends this holiday season.
Tom & Jerry at Miller's Pub
Cocktail number one is a star attraction on our Holiday Tour of Drinks, Daleys and Dead Guys. The Tom & Jerry at Miller's Pub is a classic cocktail and perfection during the brisk Chicago holiday season. For the uninitiated, a Tom & Jerry is a warmed cocktail. The bartender spikes what is essentially eggnog, that beloved Christmas staple, with both rum and brandy. As you can see above, the Tom & Jerry at Miller's Pub is served piping hot in a mug.
Miller's Pub is one of the most famous, and long-lasting, historic bars in downtown Chicago. It (sort of) dates back to 1935 and you'd have to come on our Holiday Tour to better learn its history (wink, wink). This historic Chicago bar has been a popular hangout for everyday Chicagoans and big-name visitors like Marilyn Monroe and Jay Leno. Personally, I've always loved the old-fashioned decor and atmosphere in there. It's also right downstairs from where the Chicago Detours office used to be, so I got to know it fairly well.
Glühwein at Christkindlmarket
Is it cheating to include spiced wine at a seasonal outdoor market in this list? Probably. But I don't care! This is simply too essential a part of the holiday experience in Chicago. Glühwein is a warmed, mulled wine that's long been a part of the holiday season traditions in Germany. It's become a similarly big tradition for the countless people who visit Christkindlmarket, Chicago's faux-German Christmas village. Now, what goes into Glühwein?
Maybe they'll have a better ingredients list this year? Regardless, Glühwein is super delicious and well worth the endless elbowing that makes up much of a visit to Christkindlmarket.
Glögg at Simon's
If we're including Glühwein, then it's only fair to mention glögg, Chicago's other famous mulled holiday wine. Like Glühwein, glögg mixes port wine with raisins and mulling spices. The best recipes call for the glögg to steep for an hour before heating and serving. Swedes of all ancestries have been glugging glögg at Simon's for nearly a century. Simon's, a legendary dive bar in Andersonville, never lost touch with the old world drinking habits that now show up as speciality holiday cocktails.
The drinks are served with a side of fascinating history. The bar's founder, Simon Lundberg, is a legend in Andersonville. In his time, Lundberg and his family sold groceries, cashed paychecks, and served "coffee" for mobsters during Prohibition. Simon himself operated a coffee-free speakeasy called the "No Name Club" out of the basement. (P.S. Apparently if you can spot five animals hidden in their mural you get to wear the bar's Viking helmet for the rest of the night. Fun!)
Santa's Cranpeppy at The Cove
Once upon a time, your author here spent a good many nights at the Cove, a classic dive bar in Hyde Park. My friends and I discovered this historic Chicago bar while enrolled at the University of Chicago. It wasn't an "every night" sort of place (no time for that). But after big assignments or deadlines, it was a great place to meet up and hang out for hours over cheap drinks. No longer being in need of commiseration after a term paper, I reached out to the Cove to discover if they had any holiday cocktails.
Friends, it's a doozy. Santa's Cranpeppy mixes 1.5 oz of Rumple Minze peppermint schnapps with a splash of carbonated cranberry juice and serves it on the rocks. That sounds perfectly Christmas-y and delicious. In fact, I may be planning a trip down to Hyde Park before my family gets into town.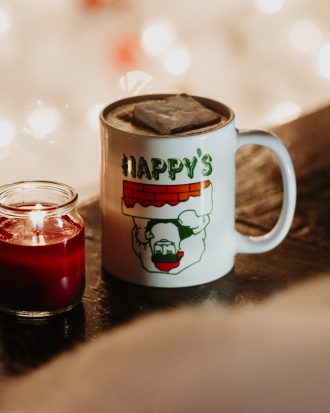 Santa's Hot Mug at Happy's
Santa is apparently moonlighting as a holiday cocktails bartender this year! He whipped up the Cranpeppy at the Cove and then whisked up to Happy's, the holiday-themed pop-up bar at the Chicago Athletic Association Hotel. The CAA is, of course, where we end our 1893 World's Fair Tour with Bars. The fabulous Venetian Gothic architecture from 1893 defines its 2nd-floor bars. Happy's, on the ground floor, is the latest in a series of pop-up bars and events that the CAA has hosted since re-opening. When I stopped in a few weeks ago it was a bustling, festive space filled with revelers.
Santa's Hot Mug, created by the cocktail maestros from Land and Sea Dept., is a delicious holiday treat. Served in a souvenir mug that you get to keep (!), the drink mixes hot chocolate with Cynar and mint. Before you go diving to Google, I had to look up Cynar as well. It's a bittersweet Sicilian liquer distilled from artichoke (among other things). The end result, of course, is a cozy and delicious drink that's perfect after a blustery walk down Michigan Avenue.
Got other holiday cocktails that we should sample? Send us a message on social media or email us at info@chicagodetours.com. And we hope your holiday cocktails are delicious and the historic atmosphere is grand!
– Alex Bean, Content Manager and Tour Guide