Our Chicago Holiday Gift Guide 2017 is here! This year's list runs through our favorite unique local presents for all the Chicagophiles in your life.
We're going all out on the holidays this year! Not only is there this list, you can find last year's gift list and our Virtual Holiday Stories Happy Hour.
While you're here, check out our Badass Women Journal and Virtual Holiday Stories Happy Hour. The former is perfect for gift-giving and the latter is a wonderful way to spend time with family and friends this holiday season.
#1. Art of Words Chicago Prints
Art of Words is the creation of Dan Duffy. He's spent nearly a decade creating paintings of handwritten words relating to the subject. For the Chicago skyline, pictured above, he worked in the names of neighborhoods, streets, and landmarks. The overall effect is eye-catching and engrossing. Personally, I think it'd make a perfect gift for someone who's just moved here.
#2. Membership at the DuSable Museum of African-American History
A lot of Chicagoans are likely members of the big downtown museums. And rightly so! Museum memberships are perfect for families or folks who have lots of visitors. But the city's smaller and less-central museums provide more bang for the buck. Members of the DuSable Museum, for example, get admission and other benefits to one of the South Side's great cultural institutions. But members also get complimentary free admission at the Chicago History Museum, Peggy Notebaert Nature Museum, Adler Planetarium, and National Museum of Mexican Art. Cha-ching!
#3. Discounted Train Tickets through Amtrak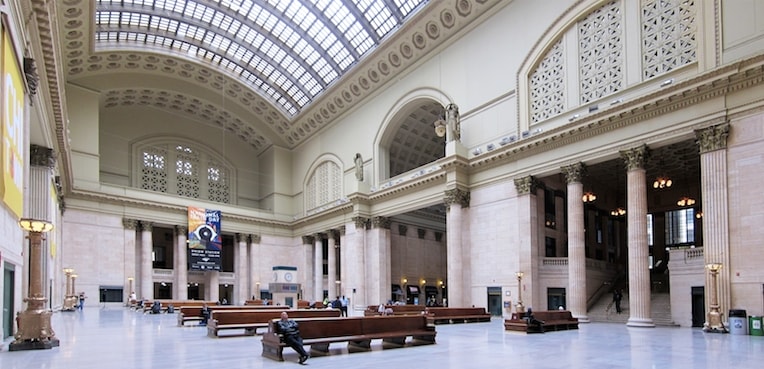 Chicago is a global hub for travel and transportation. Of course, most travelers these days drive or fly. But the original, and most authentic, Chicago travel experience is to ride the rails. Union Station, which is undergoing huge renovations, is still the biggest hub for cross-country Amtrak service. This could be a perfect spin on the mid-winter family getaway to spots like Los Angeles or New Orleans. Amtrak also offers discounts of up to 30% if you book early enough. Getting train tickets for your partner or your kids would certainly make for a unique stocking stuffer!
#4. Chicago Detours Gift Card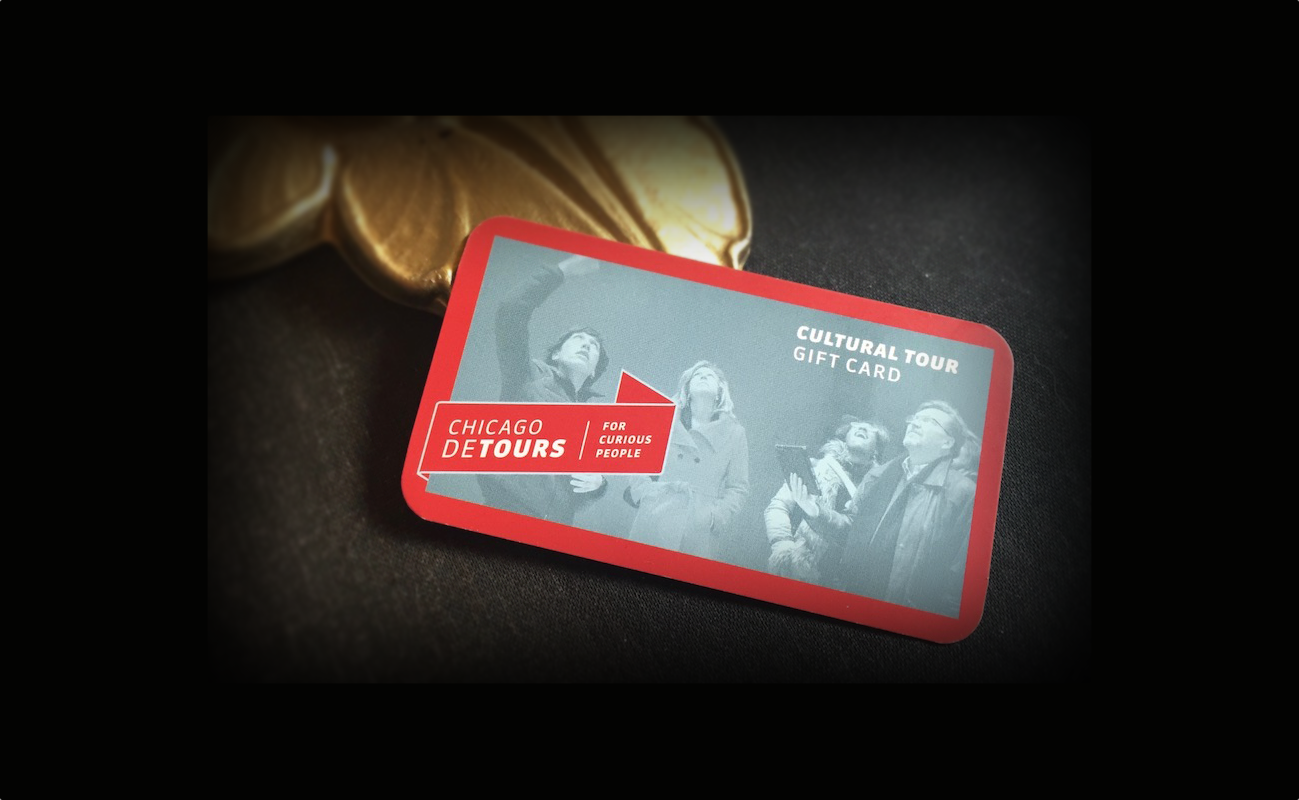 You knew this was coming! After all, no Chicago holiday gift guide 2017 without our gift cards. 😀
With a Chicago Detours gift card, your loved ones get an exploratory experience of Chicago's history, architecture, and culture. You can buy our gift cards in increments of $25, $35, $50, $75, $100, and $200. They're good for any of our regularly-scheduled public walking tours. Outings like the Historic Chicago Walking Bar Tour or Loop Interior Architecture Tour stay mostly indoors, so they can use the gift card year-round. Act fast and you can even spend one of these gift cards on our Holiday Tour of Drinks, Daleys, and Dead Guys, which runs until December 30th.
#5. Skyline Socks
It can be tough finding a Chicago-centric gift that doesn't feel like tourist junk. Who wants a cheesy Blues Brothers t-shirt? Who needs yet another Cubs keychain? And God help us all if people are gifting "Chi-rish" gear from one of those Michigan Avenue storefronts. Thankfully, Skyline socks is here to save the day. These socks feature the Chicago skyline (naturally) in a variety of colors. It's local and funky without feeling like overdone. Personally, I think they're just-the-right-kind-of-kitschy and a fun gift for friends or cool cousins.
#6. Fragrances of Chicago Votive Box
Does your dad have an especially strong love for the Cubs? So much so that the smell Clark and Addison is something he knows by heart? Well, then consider your shopping finished. Waxman Candles offers a Fragrances of Chicago Votive Box. They claim to have captured "10 specialty fragrances representative of the iconic Chicago neighborhoods."
Worth noting that, with the exception of the gentrifying South Loop, every one of these neighborhoods is a hipster or yuppie haven on the North or Northwest sides of town. Maybe not the most representative of the whole city! Still, there's something sort of ludicrously appealing in the idea of a candle that makes your home smell like Halsted Street in Boystown on a hot August night.
#7. Chicago History Books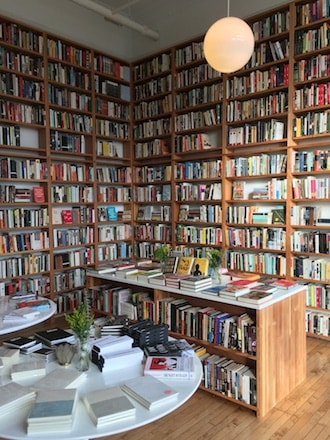 If you're reading this blog post, then I feel safe in assuming that you and yours are into Chicago's history. If that's the case, then it only makes sense for the Chicago Holiday Gift Guide 2017 to mention our recent post about some of the best Chicago history books. Beyond the titles in that post, we've recently gotten recommendations to read Boss by Mike Royko and Sin in the Second City by Karen Abbott. The former, written by perhaps out most iconic journalist, brings to life the rise and power of Mayor Daley I. The latter is delves into the famously scandalous Everleigh Club. It was the most popular brothel in the old Levee District and a hotspot for controversy and reform. Take it from us, a good history book is always a gift well given.
-Alex Bean, Content Manager and Tour Guide