We've been hinting at our second, quarterly "Detour" for some time, and now we have the details for you. "From Cuts to Cult: Chicago Meat Past and Present" is an exclusive, one-time-only food history tour around the Fulton Market Meatpacking District. We're doing it Saturday, June 1, 1:30pm-4:30pm, and the $125 tickets go on sale this Friday at 10am. It is limited to 20 guests, so once it sells out you can contact us at info@chicagodetours.com to get on the waitlist. We must say in advance – sorry to the Chicago meat lovers who miss out! (But if you're reading this from years in the future, we eventually turned this outing into our regular Factories to Calories Fulton Market Food Tour!)
Guest Expert
I'm pretty excited to have collaborated with Saveur Magazine Editor and culinary writer David McAninch in designing this tour of food culture and meatpacking history. For this June tour, the group will visit a meatpacking facility, a historic butcher shop, Northwestern Cutlery, and the "new school" artisan butcher shop of Publican Quality Meats, and we will also walk around the Fulton Market neighborhood to discover clues to its meaty past.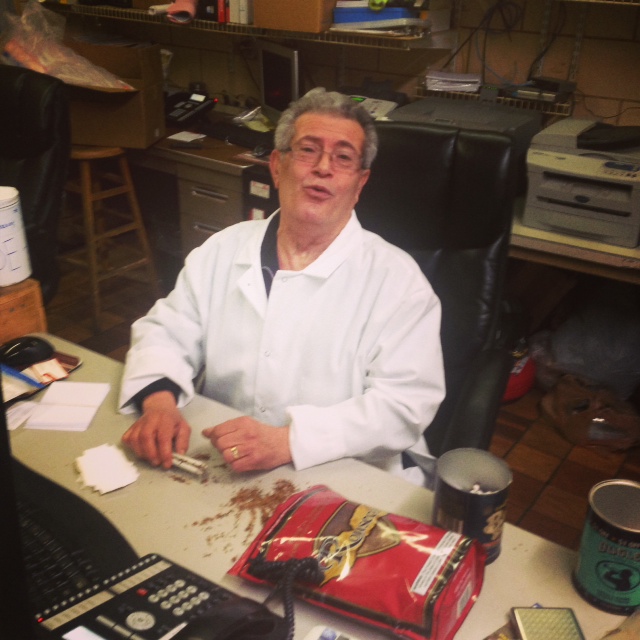 I've had some fun and some shock at exploring the area for our first food tour. I stopped at Grant Park Packing to meet the owner, Joe Maffei. He jokingly invited me into his office only if I would help him roll cigarettes. I'm pretty sure that Joe thinks I'm crazy for devising the plan to watch him butcher an entire pig on the tour. But he agreed to it. It will be a great learning experience for people to see the different cuts of pork. Plus, everyone will get to take a cut home as a gift (the first to reserve get first dibs).
Since we're both fluent, Joe and I chatted a bit in Italian. I learned that he came to America from Southern Italy. I told him a bit about my days as a travel writer and tour guide in Italy with Rick Steves.
Fulton Market Meat History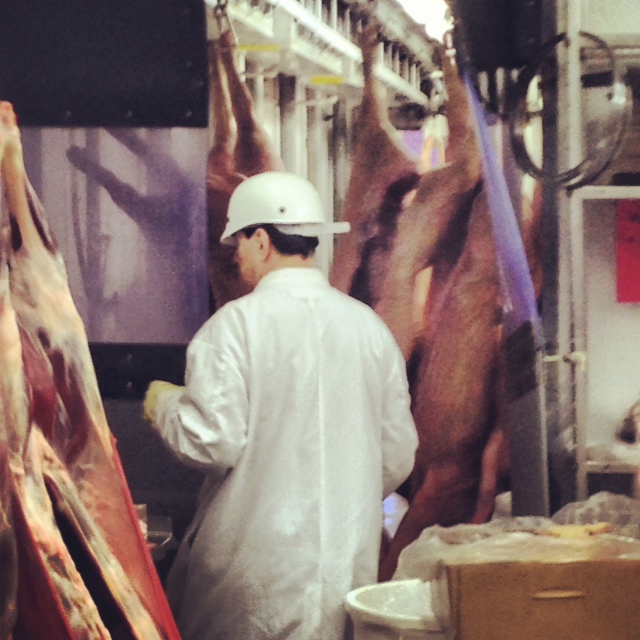 The shocking side of the explorations comes from the inevitably gory aspect of this industry. Animals, death, blood and guts – it's all part of the reality of the slaughter. The final product that we consume results from this industrial process.
Around Greek Easter, you would see whole little goats hung on hooks in Fulton Market. Their wide-open eyeballs practically popping out of their little heads are vivid in my memory. Our Chicago meat history tour will certainly include some gory glimpses inside meatpacking facilities. So the faint of heart have been forewarned!
The tour's culinary expert, McAninch, has collaborated on cookbooks with a number of notable chefs including Chicago's own Rick Bayless. He will share informed perspectives on Chicago meat, such as the curious origins of Chicago's famous Italian beef sandwich. We'll stop at Northwestern Cutlery to learn about the use of different knives and techniques in cutting meat and also to ogle at their beautiful implements. This food tour will of course include eating meat! We'll sit down at Grange Hall for a taste of grass-fed beef from Tallgrass, along with some non-meat dishes and a glass of wine or beer.
See You Soon!
Come hungry. The experience culminates with Publican head chef Chris Kuziemko hosting the group to an exclusive tasting of encased meats and other charcuterie in the basement of Publican Quality Meats Butcher Shop and Café. More details and bookings (beginning May 17, 10am) at the Chicago Detours website.
— Amanda Scotese, Chicago Detours Executive Director