This past Saturday we held our sold-out second "Detour", called "From Cuts to Cult: Chicago Meat Past to Present," which was a walking tour around the Fulton Market with meaty tastings. With 20 guests, we had a full group for this one-off special event. We've since turned this event into our regular Factories to Calories Fulton Market Food Tour.
Tour Highlights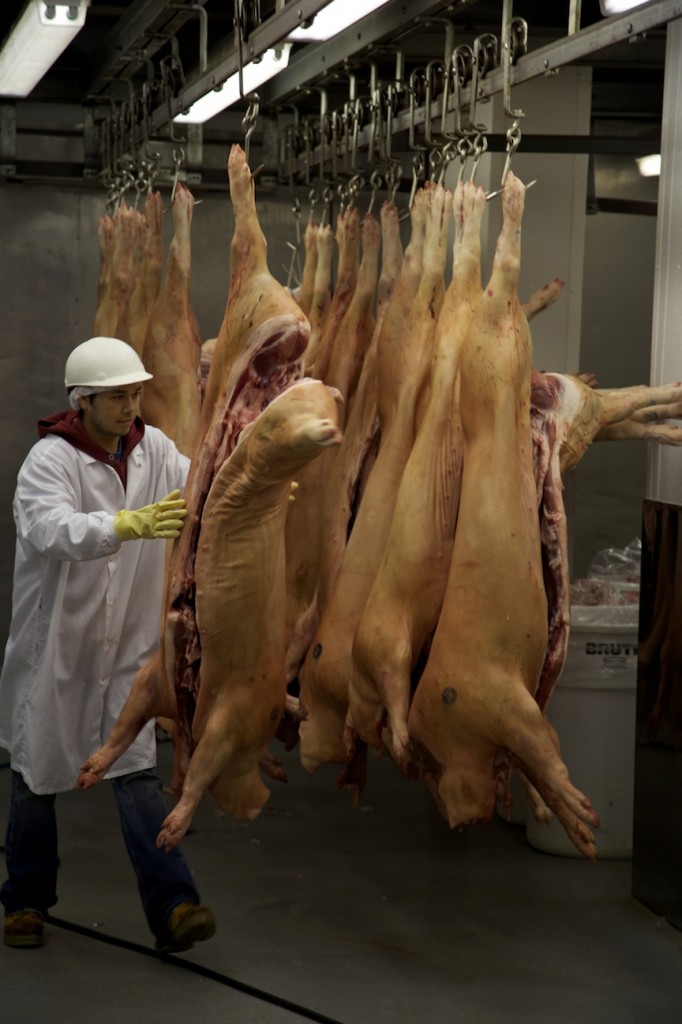 First we went into Grant Park Packing to learn about the cuts of pork while watching a whole pig get cut apart. Then we packaged up cuts so that everyone could go home with anything from pork shoulder to jowl to tenderloin.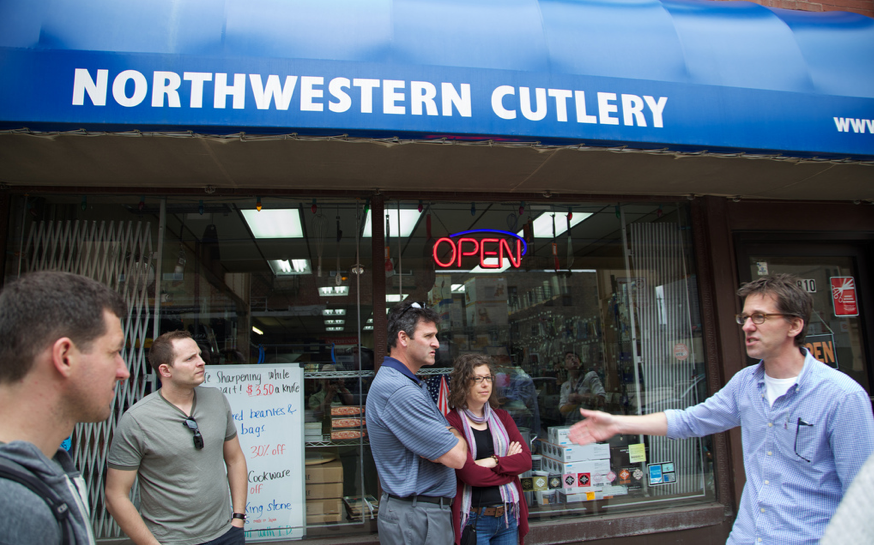 Then we went to Northwestern Cutlery to get a debriefing of the different knives used in cutting meat. This place has beautiful knives, with price tags from $3 to several hundreds of dollars. Saveur Magazine Editor-at-Large David McAninch, who is pictured above, presented for the culinary-focused portions of the tour, and I shared the more architectural commentary.
Art Galleries in Fulton Market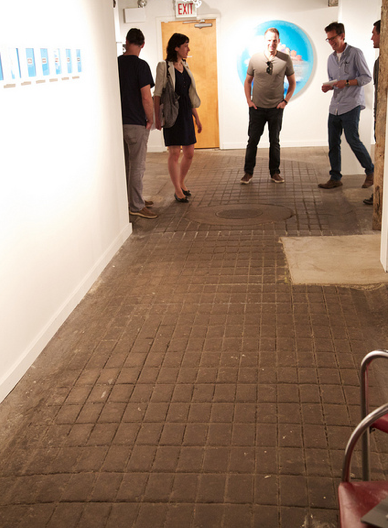 Then we popped into the Packer Schopf Gallery It's right by the flashy new Morgan CTA stop on Lake Street. The very cool contemporary art here has nothing to do with meat history. Instead we entered this 1880's building to talk a bit about the history of the Fulton Market neighborhood, including the raising of the street level for the building of sewers. In this historic building you can descend to the original ground level and walk on the original flooring, while upstairs a steel beam is a relic from the building's many decades as an auto repair shop for the trucks that would pick up meat, eggs, poultry, and produce from the area for delivery to mom-and-pop shops around the city.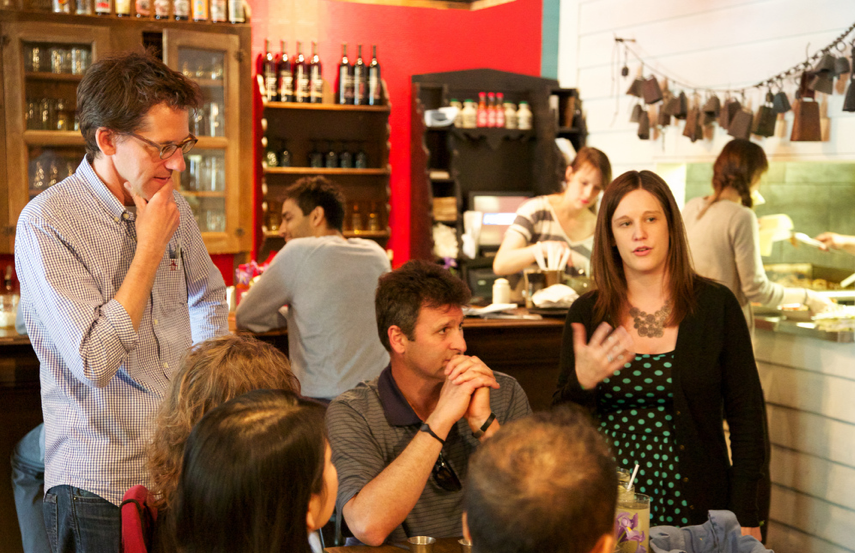 Old-Fashioned Butchers
We then popped into Nicholas Meats to experience an old-fashioned, sixty-year-old butcher shop. Owned by a Greek family, this is where one goes to procure less standard animal cuts, like baby goats! At Grange Hall Burger Bar, which was our sit-down tasting for this meat history tour, we got a great explanation of the bonuses of grass-fed beef before indulging in fried pickles, chips and French onion dip, and of course their delicious burgers.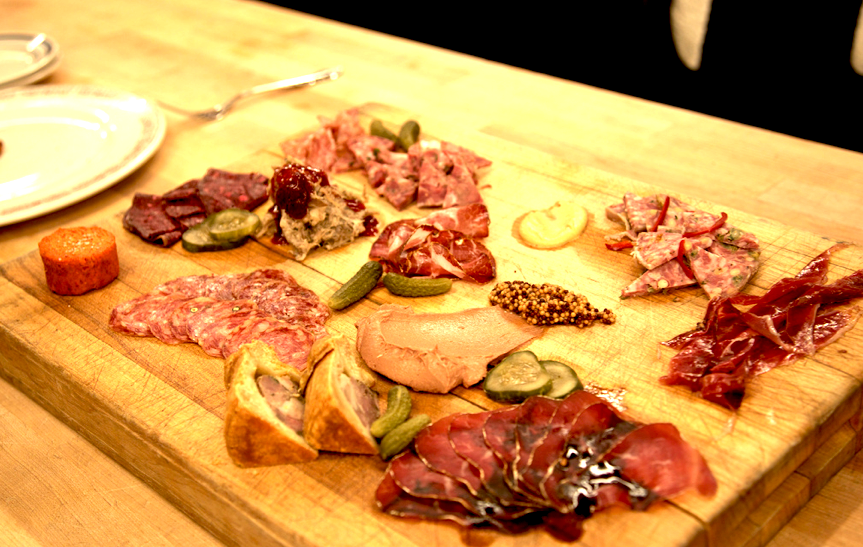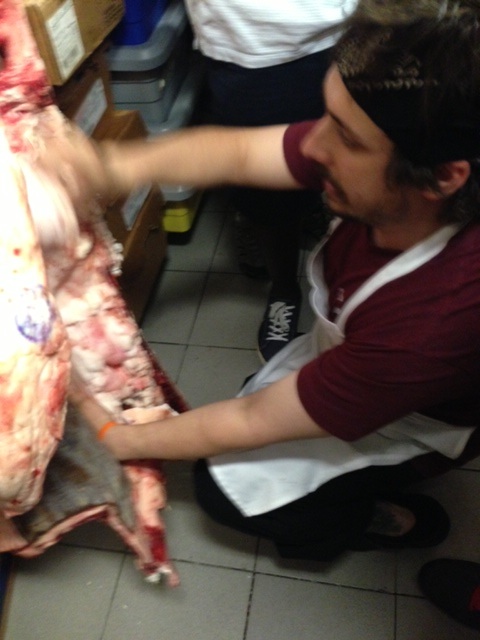 At Publican Quality Meats we toured the kitchen with charcuterie master Cosmo Goss and chef de cuisine Chris Kuziemko. We got to walk in to the cooler, which was crammed with hams, legs, and animals of all kinds. Pictured here is Cosmo as he opens up the skin of a cow carcass to show their butcher shop's coveted skirt steak. And of course we tasted plenty of their charcuterie along with some wine.
Everybody left with some cool schwag, including pork cut postcards, a hand-screen-printed poster (done by Spudnik Press), beef jerky from the Bridjford factory down the block, and cuts of pork from the pig we saw broken apart. The Fulton Market tour did sell out in thirty minutes after releasing tickets. So do we plan to offer it again? Maybe next year, and maybe we'll offer it for private group tours! Stay in touch with Chicago Detours and you will be one of the first to know.
— Amanda Scotese, Executive Director