A few weeks back the Chicago Detours staff had a night out at the Chicago French Market. It's a European-inspired market located near the Ogilve Transit Center in the West Loop, just a few blocks from where our Fulton Market Food Tour runs. We were invited as part of a VIP event to celebrate the unveiling of new restaurants and some new additions to its decor.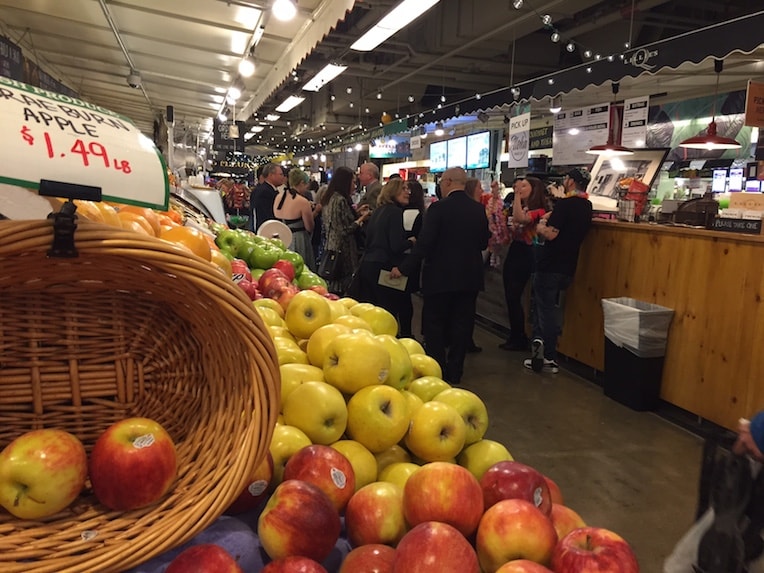 What's a European-inspired Market?
Before walking into the Chicago French Market I had little idea what to expect. I didn't think there was an equivalent to London's sprawling and chaotic Portobello Road Market hiding in the West Loop. I knew that Elizabeth, one of my fellow tour guides, had spent years in France and speaks French. She said her understanding was that the French Market was designed to resemble the old fresh food markets like Les Halles in Paris. She also did a survey to find people who speak French at the French Market – and there are a few!
Upon arriving, I discovered that the Chicago French Market is a rather lovely space underneath the Metra tracks. Locally-owned restaurants and produce sellers fill every stall in the market. For this unveiling event, we roamed around, sampled the variety of foods, and enjoyed the ambience. We dove into the food and drink with gusto, of course, while trying to suss out some more about the Chicago French Market's history and inspiration.
Why a French Market in Chicago?
Our Executive Director, Amanda, was able to track down Sebastien Bensidoun, the French owner of the Chicago French Market, during our visit. (I'm glad that she did, because I was too busy doing "culinary research," aka eating samples of macarons and sipping craft beers.) His family has historically managed markets in France, and so Amanda asked Mr. Bensidoun, "Why Chicago?" He has found Chicago to be incredible ever since he first visited the city when he was four years old.
The Bensoudin family operates the largest chain of markets like these back in France and another 15 of them in New York and the greater Chicago area. The rest of the markets in the Chicago area are suburban, open-air, and seasonal – more like a farmer's market. So the downtown Chicago French Market is a unique operation.
What's New at the Chicago French Market?
The Chicago French Market was unveiling their recent facelift during our visit. A huge new hand-drawn mural depicts the Paris cityscape. It's flanked with an original photograph of Buckingham Fountain and Chicago's skyline. The imagery is an homage to Paris's status as one of Chicago's 28 sister cities.
The mural fits into the market's Parisian street scene aesthetic, which is complete with authentic address plates from Paris and a historic storefront façade. New lighting and seating also give the 2009 market a fresh update. The overall effect made the space feel very relaxed and welcoming when we visited.
The Chicago Detours team had a great time at the Chicago French Market for our team outing. The highlight for Pawel may have been meeting a fellow who is the spitting image of Rick Steves. The food, of course, was superb (try the vinegar place and the pastrami!). Offerings range from home-style meatballs made by Polpetti or sushi bowls from Aloha Poke or vegan soul food from Vegan Now. It's definitely worth a visit if you work in the West Loop or or can only dream of a Parisian trip.
-Alex Bean, Office Manager and Tour Guide