Spring Break is finally upon us! It's an exciting time to be a kid this week. However, Chicago's public school parents might be stressed about figuring out what to do with all this free time. So we came up with a list of the four great kids activities in the Loop.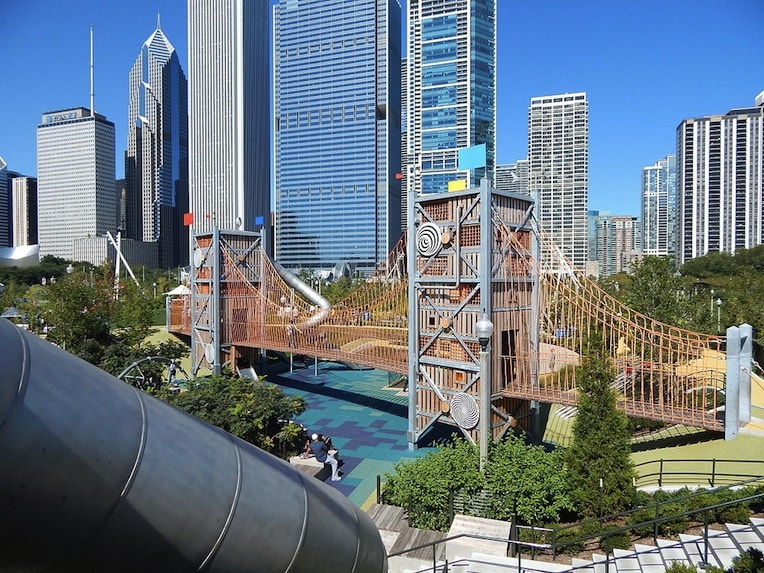 #1: Playing at Maggie Daley Park
Maggie Daley Park, which opened back in 2014, has quickly become one of the premier kids activities in downtown Chicago. The highlight for any kids will be the Play Zone, which covers a whopping three acres. The Play Zone is broken into six different areas. Each area caters to a different age group and they encourage diverse types of play. I walked through Maggie Daley Park last summer and couldn't help but note that the Play Zone looks awesome. It's been quite a long time since I ran around on a playground, but seeing those jungle gyms made me a wee bit jealous.
There are plenty of other kids activities in Maggie Daley Park as well. A rock-climbing wall, tennis courts, picnic lawns, and a winding walking path offer plenty of diversions. Our Architecture Walking Tour for Design Lovers concludes in Maggie Daley Park as well. Maggie Daley Park also connects to the next entry on our list.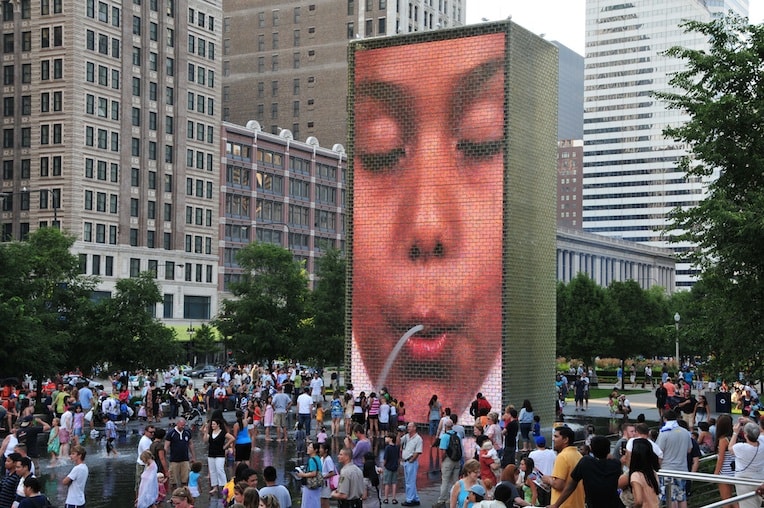 #2: Visiting Millennium Park
Millennium Park has been drawing crowds of kids and adults for over a decade now. I often send guests right over after concluding the Loop Interior Architecture Walking Tour. Its highlight is Cloud Gate, the sculpture more popularly known as "The Bean." (Hey, that's my name too!) One of the great kids activities in the Loop is wandering around The Bean watching your reflection change and warp. Just a few yards away, Crown Fountain is another perpetual delight. The "spitting" faces and shallow pool make for a piece of public art for all ages. Depending on how warm it is this week, your kids may get in their first splash of the season.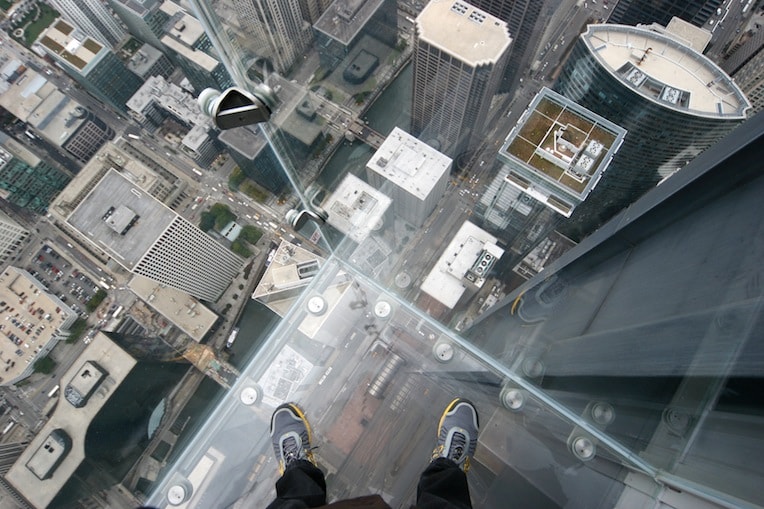 #3: Stepping onto The Ledge at Willis Tower's Skydeck
Here's a spot for all the daredevil kids. Back in 2009, the Willis Tower's Skydeck added a series of reinforced glass boxes. Called The Ledge, they each jut 4.3 feet out from the tower's 103rd floor. It's a knee-buckling experience, even as an adult. My wife still makes fun of me for being so nervous when I visited The Ledge a few years back. Make sure to swallow your pride if you're afraid of heights. There are discounts of tickets for children up to 11 years old. The "For Kids" section of the Skydeck's website helps nail this down as one of the essential kids activities in the Loop.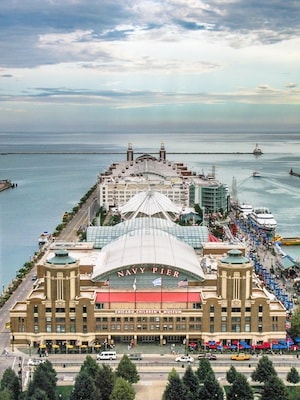 #4: Exploring Navy Pier
This is another mainstay for kids activities in the Loop. Navy Pier is chockfull of kid-friendly attractions and distractions. Its signature ferris wheel is currently being replaced by a newer and bigger model. We'll have more details about this new attraction and its history in Chicago in a few weeks. Despite that, there's still plenty to do and see out on the Pier. The Chicago Children's Museum is full of educational play experiences. If you want to some eye-popping family fun activities in Chicago, then the IMAX theater is worth the higher ticket price. Of course, you can always just march your kids out to the end of the pier. The view is magnificent and the walk might wear them out.
#5: Going on the Loop Interior Architecture Walking Tour
Not to toot our own horn, but Chicago Detour's Loop Interior Architecture Walking Tour makes for a great kids activity in the Loop. We only walk a half-mile, so the little ones won't get worn down. During that walk, we weave through the inside of famous and obscure buildings as well as the Pedway system of underground tunnels. We'll introduce your kids to some of the core concepts of Chicago history. They'll also get to experience some marvelous architecture and take in historic photos and videos on an iPad. I can tell you from experience that the kids who've come along have had a great time.
-Alex Bean, Office Manager and Tour Guide