Team building events can be a great time or a chore, depending on what your group decides to do. As someone who has worked for both a massive company and a small local business, I can tell you that getting to know my co-workers outside of the office is always worthwhile. Heading to the closest bar to grab a drink can be fun, but I've found that an experience can make team building a lot more fun (and lasting) than a run of the mill open tab. Here are four unique ideas for corporate team building in Chicago.
We research stories from Chicago history, architecture and culture like this while developing our live virtual tours, in-person private tours, and custom content for corporate events. You can join us to experience Chicago's stories in-person or online. We can also create custom tours and original content about this Chicago topic and countless others.
1. Virtual Team Building
Working out a time and place that works for everyone in your team can be a pain and a half. So why not opt for a virtual team-building event? These allow everyone to log in from wherever they happen to be while still having fun and bonding. Simple mobile-friendly games ghat can be played together online are ideal if you're just looking for fun. The Detours team has had fun playing Drawful 2, which lets your team flex their creative muscles while laughing along with the game's silly and surreal challenges.
If you'd like to go for more than just games, then you can reach out to us to arrange a private virtual tour. You and your group can adventure around Chicago to remotely experience neighborhood architecture, skyscraper, parks, restaurants and bars. Our professional Chicago tour guides share commentary on the city's design, history, geography and culture. We've hosted these events from groups as distinct as corporate outings and scout adventures and on topics ranging from the badass women of Chicago's history to delightfully bizarre local food history.
2. Clue-based Games
Several Chicago companies offer clue-based team games, either as escape rooms or scavenger hunts. The escape scenario has been quite popular recently. Room Escape Adventures is, well, just what it sounds like. Fox in a Box offers a similar set-up, but with smaller group sizes and more available scenarios. Being a history nerd, I am particularly intrigued by their "Bunker" scenario.
Waxwing Puzzle Company has a different angle. They unleash teams into sprawling venues as they try to solve puzzles rather than merely survive. Any of the three are unique ideas for corporate team building in the Chicago area, since they create fun, high-pressure situations that encourage camaraderie.
We've even gotten into this fun, creating a clue-based Visual Scavenger Hunt of the Chicago skyline. Private groups can reach out and book one of our guides for an evening at the 26th-floor hotspot of Apogee Lounge. The group will see a wide variety of buildings reflecting different architectural styles and historic eras – anything from itty-bitty 19th-century commercial storefronts to 1980s post-modern high-rises to the glistening new flagship McDonald's. Famous architectural landmarks that are viewable include the Tribune Tower, Holy Name Cathedral, and the modernist AMA Building. The group splits into teams, tasked with interpreting our clues and photographing the corresponding building on the skyline. It's tons of fun without breaking a sweat.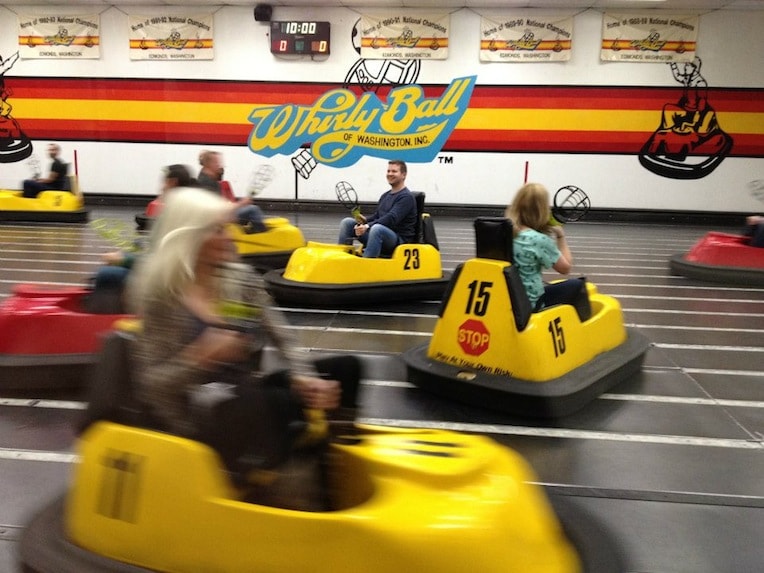 3. Games with Drinks
Of course, you may be looking for unique ideas for team building in the Chicagoland area that falls between action-packed and sedate. Fortunately, there's a bunch of establishments that mix fun games with drinks.
Looking for games of skill? Then a round of Whirlyball might be in order. Whirlyball is a hilariously difficult sport which "combines lacrosse, hockey and basketball with bumper cars." The sport defies traditional athletic skill sets, which should make for an even (and terribly fun) playing field. And there's a bar for drinks!
Of course, you can always opt for an arcade night as well. Spots like HQ Beercade, which mixed old-school arcade games with a sizable bar menu, have been popping up in the past few years. Organizing a massive tournament with games like NBA Jam or Pac-Man will thrill any child of the 80's or 90's. Or Logan Arcade is another fave, especially for a team pinball tournament!
4. Take a Class
Taking a group class can be a blast. Check out Dabble, which lists dozens of classes across the region. I came across topics that ranged from physical, like dance and yoga, to crafty, like woodworking and welding.
You can also track down some of the larger companies that offer one specific type of class. For example, Femme du Coupe is well-known for its cocktail-making classes. One business that caught my eye, and must certainly be among the most unique ideas for corporate events in Chicago, is a group trapeze class from Trapeze School New York (which is in Chicago).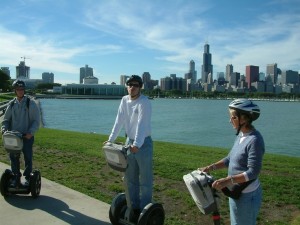 5. Take a Private Group Tour
Everyone has taken a tour, so it behooves you to find something unexpected for this sort of team building in downtown Chicago. Try getting out of downtown with Spice of Life Tours. They offer neighborhood tours that focus on the culinary and cultural traditions in outlying neighborhoods like Chinatown and Little India.
Of course, you can always run in the opposite direction and be as touristy as possible with a Segway Tour. Absolutely Segway offers tours based on a variety of themes and locations, like Gangsters or the Museum Campus. Segway tours may sound a little hokey, but team-building events are hokey, right?
And of course I must mention that Chicago Detours offers private group tours by foot and by bus. Your private tour with us could take you to see sparkling mosaic ceilings, drink beers in some of Chicago's oldest pubs, or learn how to play blues harmonica with a live musician on a moving bus!
Any of these could make for a great team building in Chicago outing. Truth be told, half the reason I worked on this list was so that the Chicago Detours staff would have a template for our future fun, as we like to go out as a team ourselves. Maybe we'll see you on your own adventure around town!
– Alex Bean, Office Manager and Tour Guide
ABOUT CHICAGO DETOURS
Chicago Detours is a boutique tour company passionate about connecting people to places and each other through the power of storytelling. We bring curious people to explore, learn and interact with Chicago's history, architecture and culture through in-person private group tours, content production, and virtual tours.